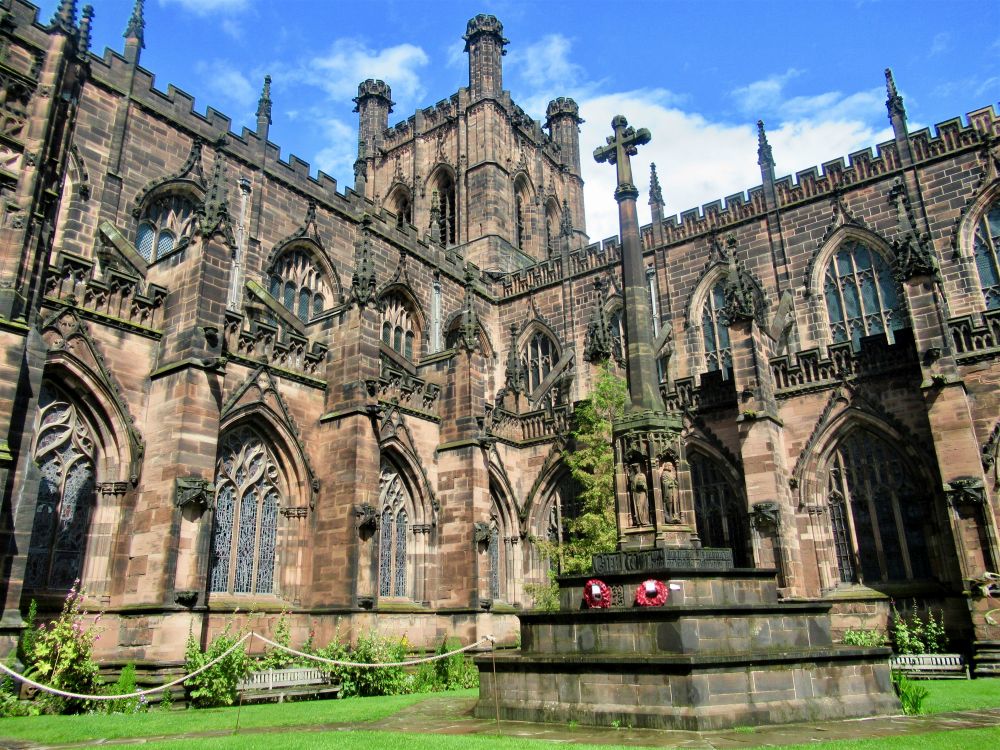 Full View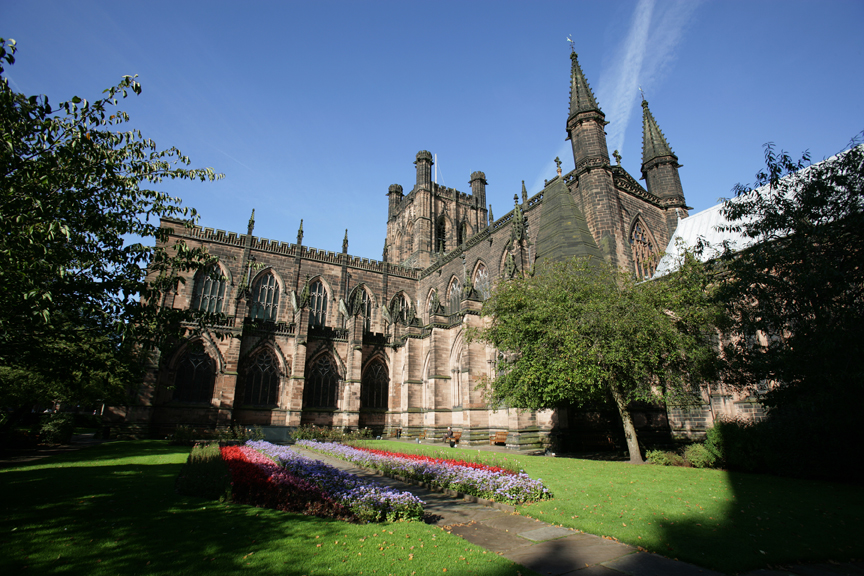 Full View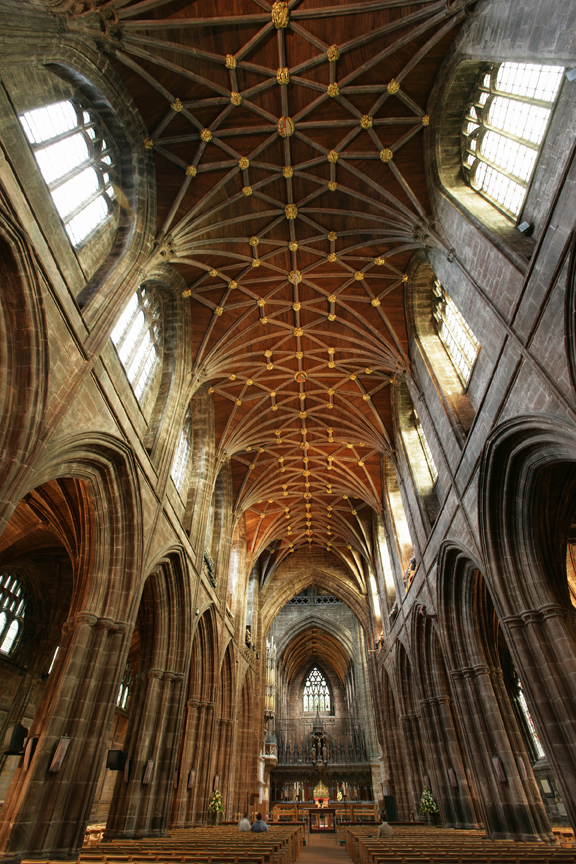 Full View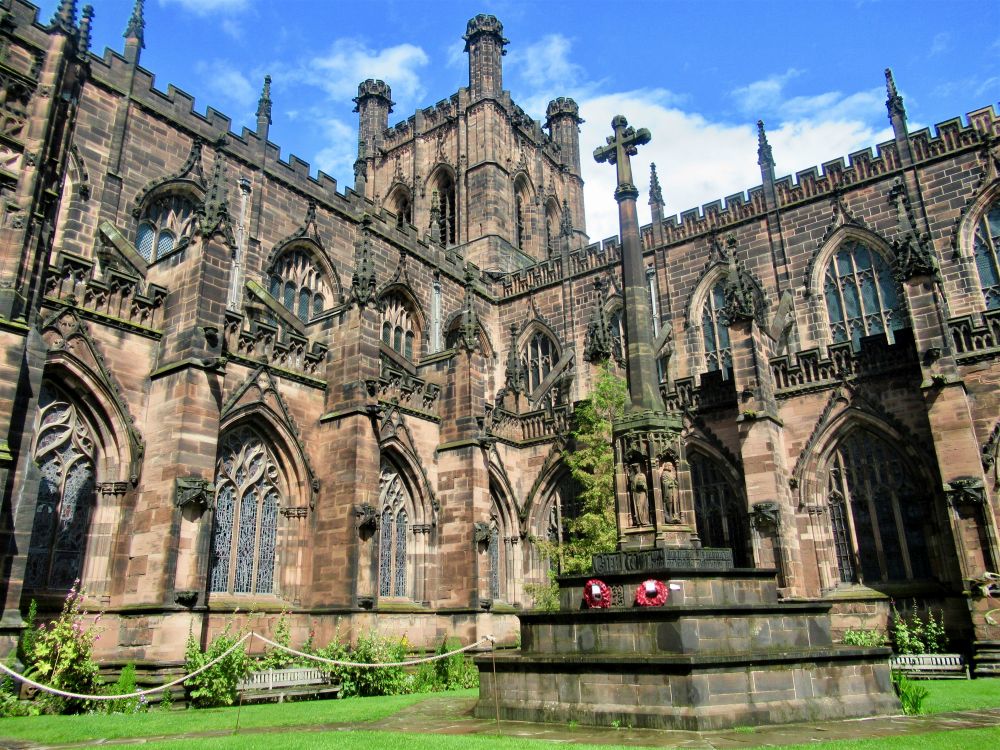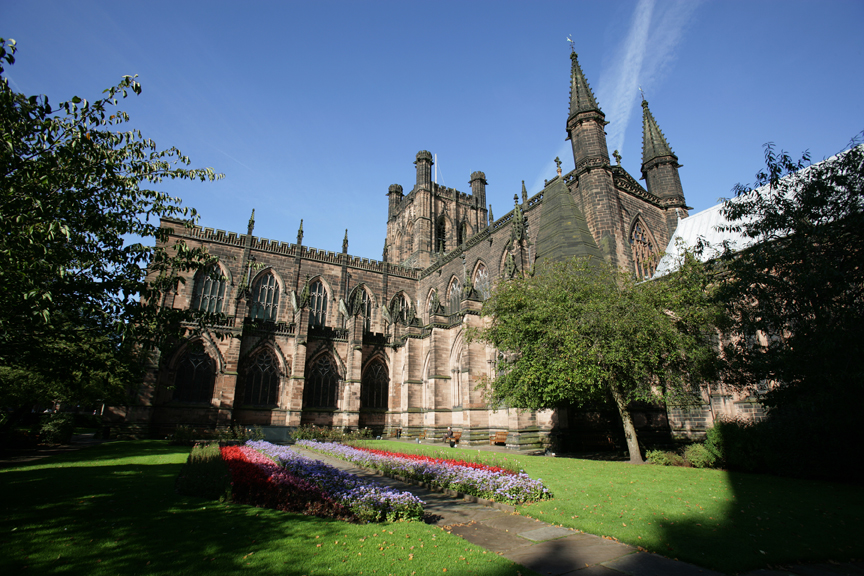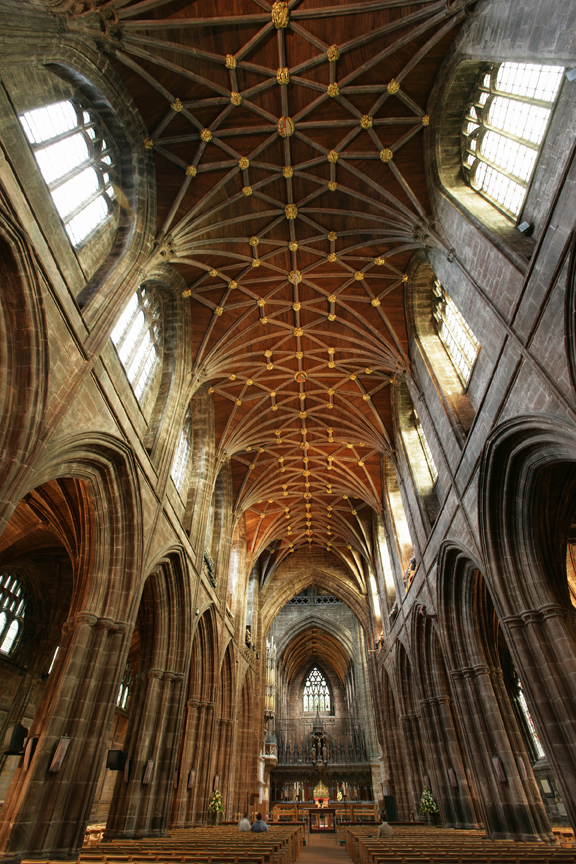 Photos of Chester Cathedral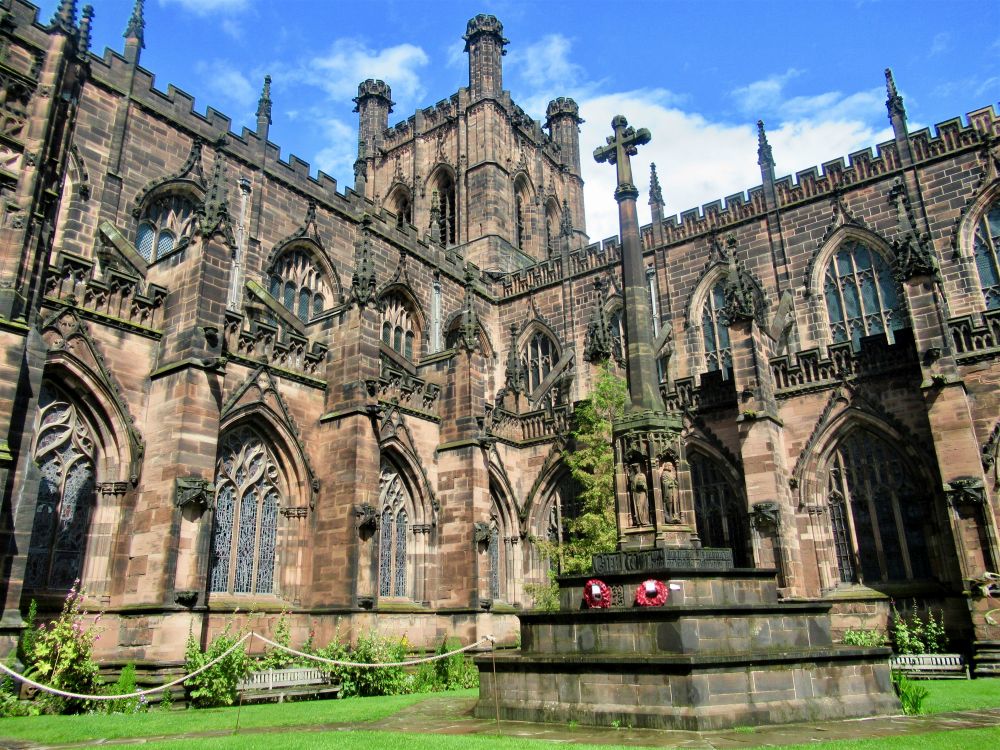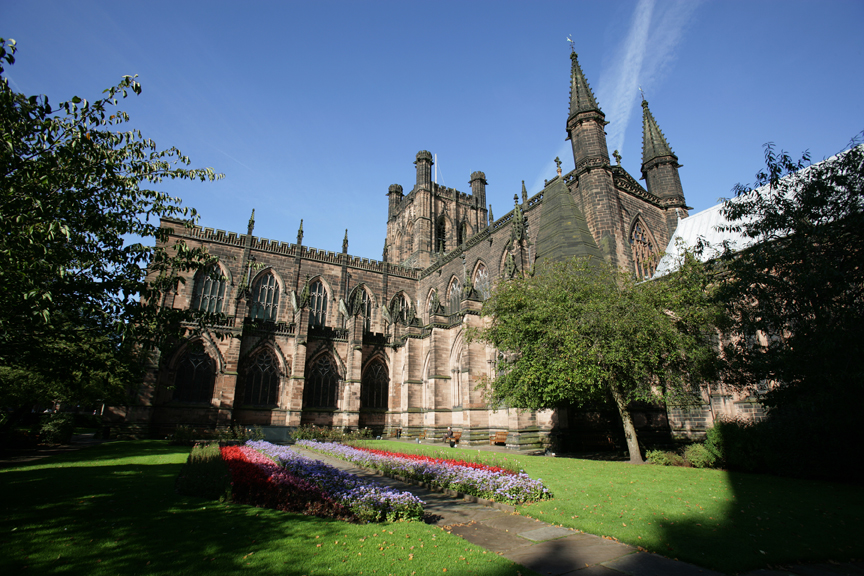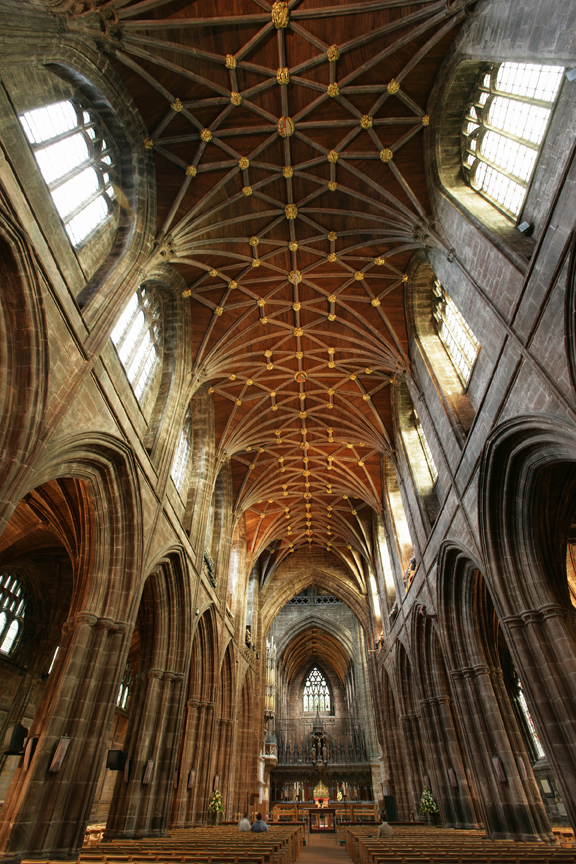 What will students see and do?
Founded as a Benedictine Abbey in 1092, Chester Cathedral has a rich history. The building has been restored over time, as is common with English cathedrals. The church was gradually rebuilt from 1250 and onwards in Gothic style. This feat took 275 years and resulting in its current incredible structure.
These days, it is considered the heart and soul of a vibrant community, a cultural hub and a centre of musical excellence – performances, events and exhibitions are hosted at the cathedral throughout the year. Take a look at Chester Cathedral's website to see what's on.
The cathedral also offers an award-winning tour, Cathedral at Height. On this hour-long journey, you'll climb right to the top of the central tower and see one city, two countries and five counties. Along the way, you will catch inspiring views of the cathedral from an elevated position (perfect photo opportunities), see almost the full length of the building and discover lots about its history.
---
How does the trip link to the curriculum?
Chester Cathedral offers tours and workshops for schools to suit all curriculums, from Key Stage 1 to A-Level. The education department – consisting of a full-time Education Officer and a team of volunteers, all DBS checked and working within the safeguarding policy of the Diocese of Chester – are happy to work with schools to develop a plan of activity that fits the desired learning outcomes of the visit and scheme of work across a variety of subject areas.
For example, Chester Cathedral can be used to explore local history for creative and visual arts or to enhance classroom teaching. The site has previously hosted KS3-4 workshops relating to remembrance and memorial, Anselm's ontological argument, Eucharist, rites of passage, and crime and punishment in the Consistory Court.
The site also hosts regular bible talks, mosaic workshops delivered by artist Aleta Doran, writing workshops by volunteer poet Julia McGuinness, and it is also home to possibly the oldest library in the North West. While visitors can't leaf through the ancient texts, nearly 3,000 of which pre-date the 1800s, there are several in glass cases available for viewing.
Subjects covered
---
Teaching resources provided
Contact Chester Cathedral directly to discuss your curriculum objectives and the sorts of learning resources they may be able to provide.
---
Minimum and maximum group size
Contact Chester Cathedral directly to discuss group sizes.
---
Details of risk assessment
Chester Cathedral has adopted the national Church of England's robust procedures and guidelines regarding safeguarding, which you can read about on the Church of England's website.
Contact Chester Cathedral directly to discuss further safety measures and risk assessments.
PLANNING
Don't miss our downloadable A-Z guide on completing a risk assessment
---
Facilities On-Site
As well as the historic church, the site hosts the Refectory Café, which is the perfect pit stop for coffee or lunch, and a gift shop full of souvenirs to remind you of your visit.
---
Opening Times
Chester Cathedral is open 10am-6pm Monday to Saturday, and 10am-5pm on Sundays.
The Refectory Café is open 10am-4pm Monday-Saturday, and 12pm-4pm on Sundays.
The gift shop is 10am-4pm.
Visit the Chester Cathedral website for any specific closure dates.
---
Pricing
Ground floor tours: £5
Tower tours: £6 (30 minutes), £8 (60 minutes)
---
Travel arrangements
Chester Cathedral is located in the heart of Chester, Cheshire, making it easy to reach.
The nearest bus stations are Hunter Street, a 3-minute walk away; Bull & Stirrup, 6 minutes away; and Pepper Street, 7 minutes away.
The nearest train station is Chester station, a 17-minute walk away.
Address
Chester Cathedral Office
9 Abbey Square
Chester
Cheshire
CH1 2HU
---
Enquire Now
Book your school trip to Chester Cathedral
For information on booking your school trip to this venue, click below.