The breadth of roles across AQA is vast; opening up opportunities for all kinds of careers, as associates and specialists.
We're excited to be shining a light on Robin Drummond's career path that took him from teaching and working with us as an associate, through to joining us internally as our assessment design training manager within our organisational development and training team.
Read on to hear more about the path that Robin took.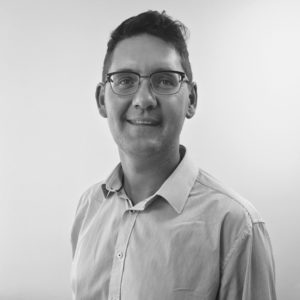 Tell us about your current role
As an assessment design training manager, my focus is on identifying and meeting the training needs of our associates responsible for creating AQA's assessment materials (ie question papers and mark schemes), to ensure those materials are as good as they can possibly be.
Our vision is for our associates to be the leading assessment practitioners in the UK. What led you to this point?
I started my career in education working as a schools and youth worker for Christian Aid. This gave me the confidence to apply for teacher training, where I went on to teach philosophy, religious studies and critical thinking in a number of schools.
It was in my first year of teaching I became an examiner for AQA. After ten years of teaching I wanted to further explore the assessment side of education, so took a role as a trainee test developer with DoubleStruck. I continued marking and writing papers for AQA as an associate during this time, as well as various freelance work for OxfordAQA. After a few years at DoubleStruck, I moved into the assessment design team at AQA, as an assessment design manager. I worked across a portfolio of subjects, ensuring they were valid and regulatory compliant.
I really enjoyed this opportunity, and the engagement with senior associates whose roles I felt I understood, given my personal experience. What motivated you to become an examiner?
Marking for AQA was a great way to support my teaching, giving me the 'inside track' in terms of knowing what was expected of students in exams. It was also fun meeting new people who taught the same subject as me.
Also, because it's quite intense – marking a set allocation of scripts in a tight time frame – there is a buzz to it which I enjoyed. What advice would you give to teachers who are interested in new opportunities?
If you can, get involved with marking. If you already mark, look out for other opportunities such as becoming an examiner team leader. If you enjoy the challenge of marking, you're likely to enjoy using your expertise to support other examiners to develop theirs.
Marking is a great way to get into the world of assessment whilst informing and improving your teaching. For me, it was the gateway into other opportunities at AQA, including writing question papers, delivering training for schools and getting involved with qualification reform. We hope that this insight might inspire you to consider a career path through AQA. You can find examiner vacancies on AQA's website.