This is part of Thinky Publishing's resource covering every letter of the alphabet in cursive, using fine motor skills and basic shape making as a foundation for forming letter shapes.
Each letter has been broken down in to simple shapes that can be used to develop fine motor skills and build pencil confidence.
Those same shapes can then be magically joined together to form letters.
A full set of resources is included for each individual letter including PowerPoints and practice sheets.
You can find the full resource here.
This lesson includes two parts:
Part 1: Fine Motor Skills
Shapes to develop fine motor skills and perfect the use of the magic pen.
Includes:
examples and demonstrations on Powerpoint
Magic Pen Skills sheet with guidance and traceable shapes.
Part 2: Learning the letter shape
Combines the shapes in part 1 to form a magic symbol (the cursive letter).
Includes:
guidance on Powerpoint with the handwritten version of the letter and examples of alternative ways it may be written in print and handwriting
Magic Letter Builder sheet with traceable forms of the shapes used in the fine motor skills activity and also combined to form the complete letter
Pen Wizard: Trace the letter at declining sizes to perfect magic writing skills
blank sheet for practising freestyle writing
flashcards with the complete letter and deconstructed shapes
Click these links for free resources on lowercase 'f' and uppercase 'F'.
---
For more resources from Thinky Publishing head to its TES page at Thinky.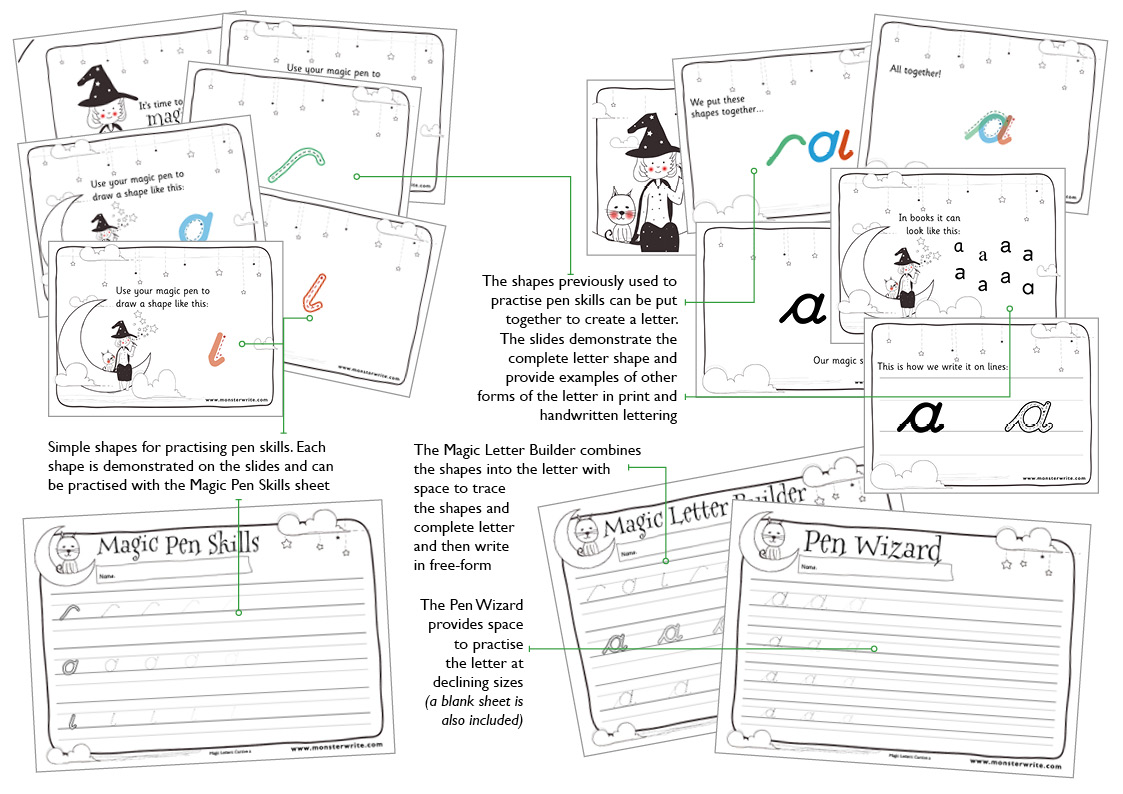 DOWNLOAD A FREE RESOURCE!
Magic Shapes Handwriting for Early Years – Cursive 'F'