Without a doubt, choosing to install Mac in your school is a sensible choice. They are powerful, robust and secure machines that will outlive other pieces of technology.
More importantly, however, choosing to install Mac is an exciting choice. No device can fire up the imagination, extend innovation and cultivate creativity like a Mac.
Here are just five of the many ways that an Apple Mac can enhance creativity…
1 | Multimedia Device
The Mac is built with creative flexibility in mind. You'll find a high-definition webcam, powerful speakers and a top-quality microphone built into the device.
These three features enable learners to create industry-standard vlogs, podcasts, radio shows, web series, audiobooks, video diaries and on and on the list goes.
Not only are these engaging features, they also provide teachers and learners with exciting new ways of approaching topics. Why not allow students to choose how they present their work?
2 | Making Music
Every Mac comes with exciting educational apps such as GarageBand. This music production application can support learners to create sounds, arrange compositions, record instruments and mix audio tracks.
In other words, GarageBand has everything a learner needs to create music.
From first-time musicians to accomplished virtuosos, anyone can utilise the wholly accessible features on the app to extend their own creative thoughts.
Making music has never been so easy!
3 | Making Movies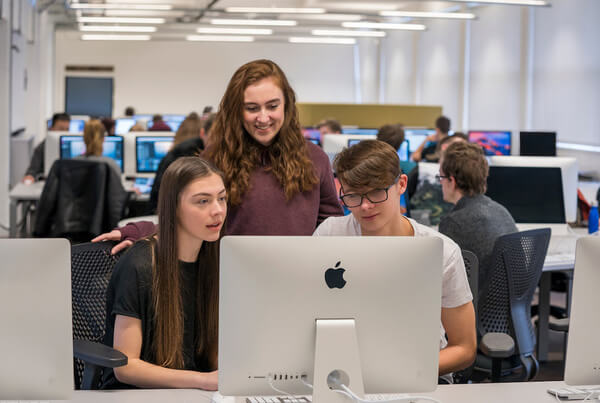 iMovie offers aspiring filmmakers an intuitive space to create stories. Again, this application comes as standard on every Mac and its creative potential stretches from novice to professional.
Learners can build narratives and edit movies together using a myriad of multimedia effects. Functionality that is too often buried under complicated processes, is easily accessed on iMovie.
This enables the creativity to flow without frustration. It's the perfect tool to harbour creative film making.
Learn how to make a movie in a few minutes
4 | Digital Design
Creativity shouldn't be hindered by computing skills. It's well known that Apple have always aspired to create accessible technology and this concept is beautifully realised through Keynote.
The built-in presentation application couldn't be more intuitive and inspiring. Learners can create engaging presentations that portray personality and show off a creative flare.
All this on an application that supports students to realise their imaginative ideas through facilitating beautiful digital designs.
5 | Creative Connections
Ideas can often fly off in multiple directions. The Mac can support free-flowing creative ideas by making powerful technological connections.
The webcam, microphone and speakers can be utilised across GarageBand, iMovie and Keynote, as well as being assessable from across other apps on the Mac.
What's more, every individual app can interact with each other. Why not create a film made on iMovie; scored on GarageBand and embedded in a Keynote presentation? These connections help to further artistic expression.
Creativity is complicated. It can be a multifaceted process. A single idea can require a multitude of digital tools. Technology has to stand up to the pace and the multimedia manifestations of creativity.
The Mac has the power and technological flexibility to meet every imaginative idea. It can support students to expand their concepts and fortify their creations. To choose a Mac is to choose creativity.
Interested in Mac or Apple products but don't know where to start? Book a free consultation with our Education team.
Check out our Apple Education Bundles