This lesson plan was originally written during the UEFA Women's European Championships in 2022, but with the Women's World Cup just around the corner, now is a great time to look at how we can use the beautiful game to inspire writing.
In this diary activity, we think about the life of a footballer including the health, fitness and mental preparation required ahead of a big game.
Just what do pupils think it was like for Leah Williamson as she captained England's women to victory? And can they put themselves in her and her teammates' boots?
What they'll learn
To reflect on the concepts of diet, fitness and mental health in sport
Strategies for describing and contrasting motion
To write emotively and engagingly, in first person
About the UEFA Women's European Football Championships
Adam Jevons-Newman is the Key Stage 2 and curriculum leader at Farmilo Primary School and Nursery and a freelance curriculum consultant and writer.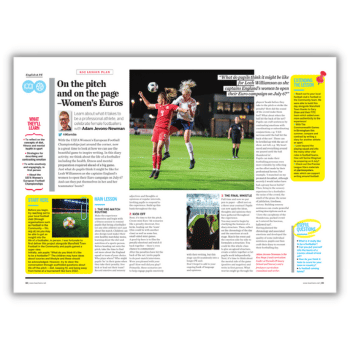 DOWNLOAD A FREE RESOURCE!
Football lesson plans – KS2 PE & English lesson