Use this WAGOLL extract and accompanying resource pack to help teach your pupils how they can use language and style to create a captivating atmosphere in their writing.
The WAGOLL extract is from Tamsin Mori's Winter's Keep, which is the third book in the Weather Weaver trilogy.
Stella, the main character, and her storm cloud Nimbus, have completed their initial training in the art of weather magic. They are now officially weather weavers.
The story now turns to the righting of old wrongs.
The council of elders have overturned the Storm Laws. They've decreed that all the storm clouds imprisoned by the Ice Weavers will be released.
However, the first storm cloud imprisoned was the most dangerous of them all. It belonged to the sea witch and now she wants it back.
Throughout this story, Stella must make hard choices about who to trust; but if she gets it wrong this time, she risks plunging the world into endless winter…
Weather and emotion
The premise of weather weaving is that clouds and their weather weavers share an emotional connection.
In order to master weather weaving, Stella has had to learn to identify, conjure up and regulate her emotions.
In The Weather Weaver, this is an explosive problem, as she has quite a short temper and has caught a thundercloud.
Teachers could use the weather-as-emotion theme to gently open discussions around feelings, wellbeing, self-regulation and empathy.
In a wider sense, it is a very clear example of pathetic fallacy. The weather mirrors the characters' emotions and ways of seeing the world.
The sea witch is an enigmatic character – both terrifying and fascinating. In the scenes where Stella secretly meets her, she is rapidly trying to work out the sea witch's intentions.
Teachers might find it useful to highlight how the descriptions of the sea witch within a single scene change as Stella's opinion of her changes.
The extract in the download above is a high-tension moment. However, the mood in the story quite deliberately alternates between moments of friction and moments of playfulness and curiosity.
Comparing chapters with very different moods is a good opportunity to compare how you can use word choice, action, and setting to create different atmospheres.
Although the book is written in third person, most of it is very close to character. We get to hear Stella's internal dialogue and experience the world as she does.
I very often 'act out' scenes when editing them, to make sure that the movement, body language and physical sensations are accurate and immediate. This might be a fun exercise to try in class!
Winter's Keep by Tamsin Mori (£7.99, UCLAN Publishing) is available now.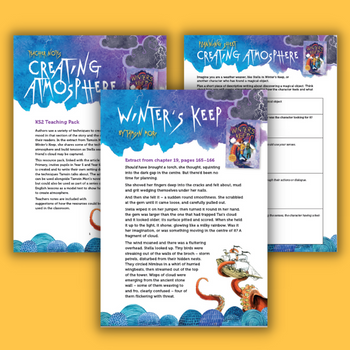 DOWNLOAD A FREE RESOURCE!
WAGOLL – Help pupils understand how to create a captivating atmosphere