Verbs are often thought of as 'doing words', but could you explain main verbs, auxiliary verbs and modal verbs to
your class?
You may think a verb is simply a 'doing word'. However, they are much more than that.
A verb describes an action, an occurrence or a state of being, and can change the whole tone of a text. Consider the difference between someone 'creeping' into a room and someone 'charging' into a room.
Within a clause, the verb element consists of one or more verbs which make up the verb phrase. There are two main types of verb that can occur within a verb phrase: the main verb and the auxiliary verb.
The main verb indicates meaning, for example: read, swim, argue, wonder and like – 'He jumped into the pool' or 'she enjoyed the ice cream'.
The auxiliary verb 'helps' the main verb by expressing shades of meaning. There are many main verbs, but only a few auxiliary verbs: be, do, have, can, could, may, might, must, shall, should, will and would – 'She must be finished by now', 'they might arrive this afternoon' or 'I have eaten it'.
The auxiliary verbs 'be', 'do' and 'have' can also act as main verbs within a clause as they possess a full range of verb forms, for example: 'The coat has/had a green hood' or 'the coats have green hoods'.
The remaining auxiliary verbs are known as modal verbs and cannot be used as main verbs as they do not have a full range of forms. Mighting and shoulding do not exist as a verb form although doing, being, and having are acceptable forms.
In this lesson pupils will:
Use modal verbs to enhance writing and clarify meaning
Explain how changing the modal verb can alter the meaning of a sentence
Use modal verbs or adverbs to indicate degrees of possibility
Suzanne Horton is subject leader for primary English and Branwen Bingle is a senior lecturer in primary education, both at the University of Worcester.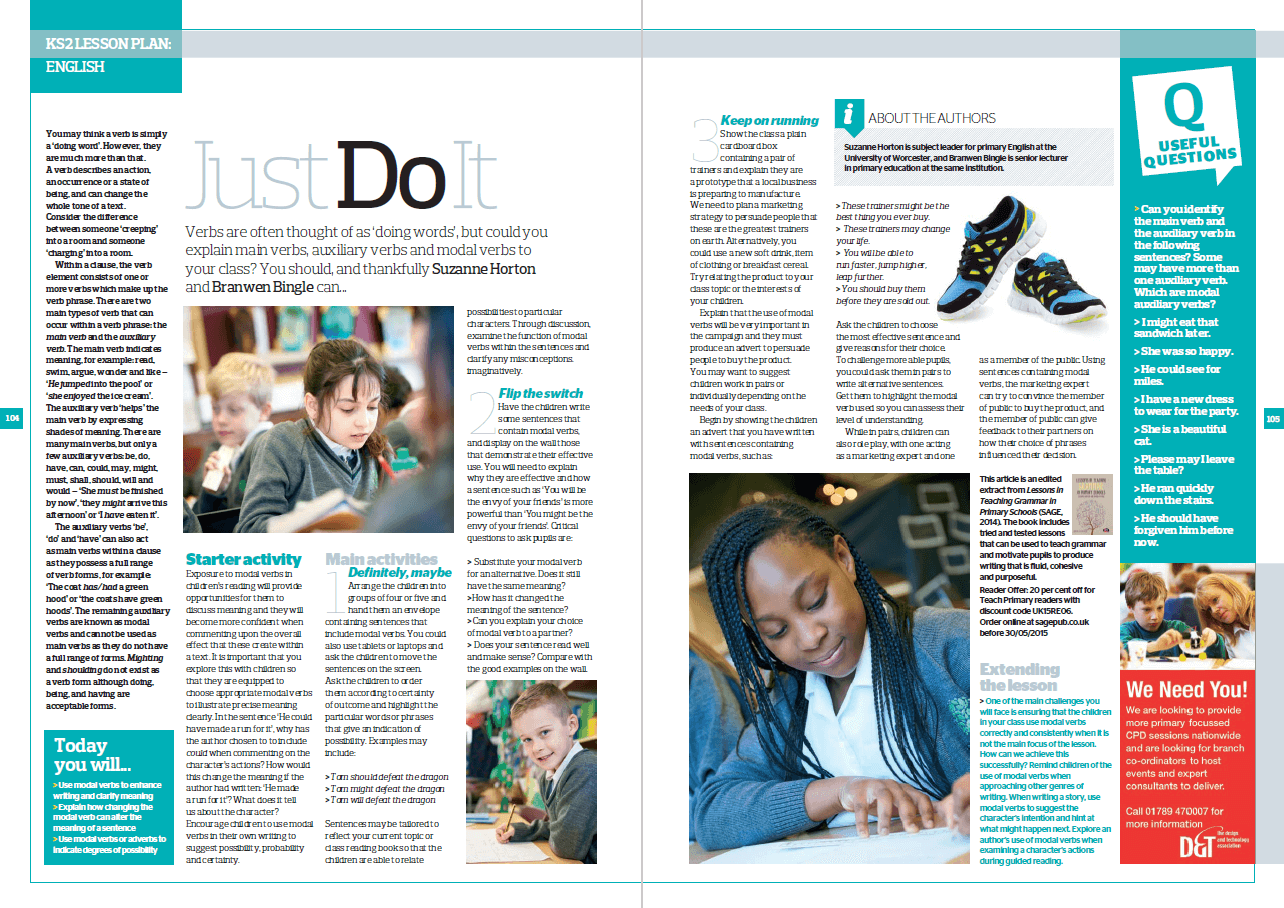 DOWNLOAD A FREE RESOURCE!
Just Do It – Verbs lesson plan for KS2 English