MPs meet in virtual Parliament for the first time.
Last week, on 21 April, virtual debates were held in the House of Commons because of social distancing regulations set out because of the coronavirus outbreak.
It's a first for the 700-year history of Parliament, to have MPs meet online.
Not everyone was taking part via the internet, however, as up to 50 MPs were allowed inside. Any more than that and you wouldn't be able to keep everyone at a safe 2m distance from each other.
Screens were placed around the chamber for those who were taking part via Zoom.
But not everyone will get to take part at all, as the limit for Zoom meetings is 120 people, meaning a maximum of 170 will take part in total.
This PDF resource includes this article, as well as accompanying activity ideas:
With many people working or learning from home now, has this shown that distance-learning and working is extremely viable? Once the lockdown is lifted, should we not consider this as a bigger part of our future? Debate with your family
Write a list of rules for online school lessons. You can make them as serious or funny as you like
Write a poem about an online school day, with alternate lines rhyming
Write a factfile about your local MP, including details such as their political party, when they were first elected, etc
---
To find out more about The Week Junior and to download its free resources, please go to schools.theweekjunior.co.uk.
Find the whole range of free Topical Tuesday resources here.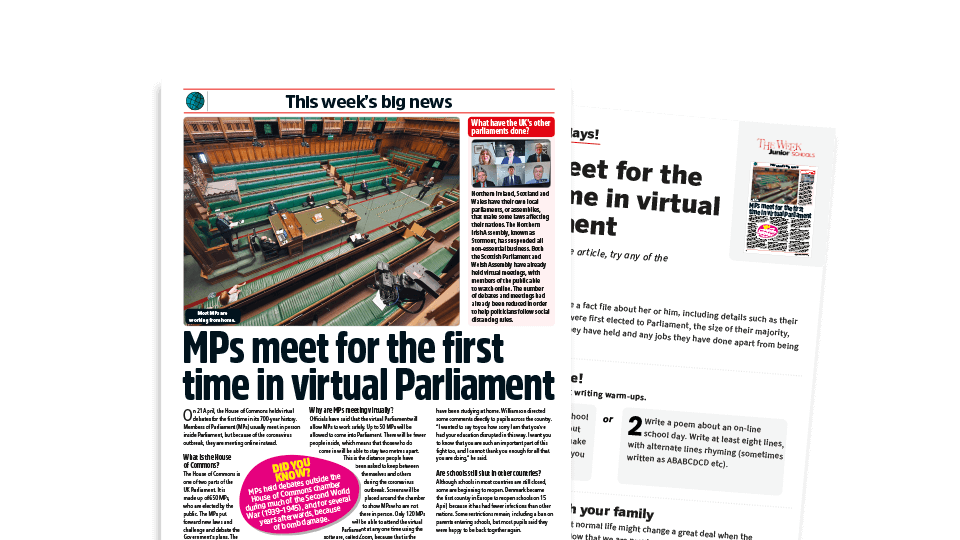 DOWNLOAD A FREE RESOURCE!
Topical Tuesdays from The Week Junior – Virtual MPs