Scientists have picked up a mysterious signal coming from a galaxy 500 million light years from Earth.
But before you're quick to say 'Aliens!', astronomers have already pointed this out as highly unlikely.
We first discovered signals like these back in 2001, and they are known as FRBs – fast radio bursts.
To date, there have been over 100 of these powerful radio emissions observed, but because they mostly last only a second they're hard to study.
This new one, however, is the first to have a regular cycle, which lasts 16 days.
Studying signals collected by the CHIME radio telescope in British Columbia, Canada, a team led by Dongzi Li at the University of Toronto found a regular pattern of bursts over four days followed by about 12 days of silence.
Scientists are not sure what creates the bursts, but think they may come from giant stars that have collapsed and died.
In this case, Li's team think it could be a small object orbiting around a much larger one (such as a black hole), with the 12-day silent period being caused by this object passing in front of the FRB source and blocking out its bursts.
This PDF resource includes this article, as well as accompanying activity ideas:
So, we have detected some signals from a galaxy far, far away. Or not. Why do we even bother? It can't be cheap to set up these special telescopes and monitor what they pick up. Isn't there a better way to spend money? Or is it important to listen for messages from beyond our solar system? What do you think? Discuss as a class or in groups
Write a 200 word piece about the signal being a message from aliens. What are they trying to tell us?
Why should aliens come to Earth on holiday? Create an advert persuading them to visit our planet that really sells the benefits of coming here
Look up the nearest star system to ours and create a fact file for it. How far from us is it? How long would it take to get there?
---
To find out more about The Week Junior and to download its free resources, please go to schools.theweekjunior.co.uk.
Find the whole range of free Topical Tuesday resources here.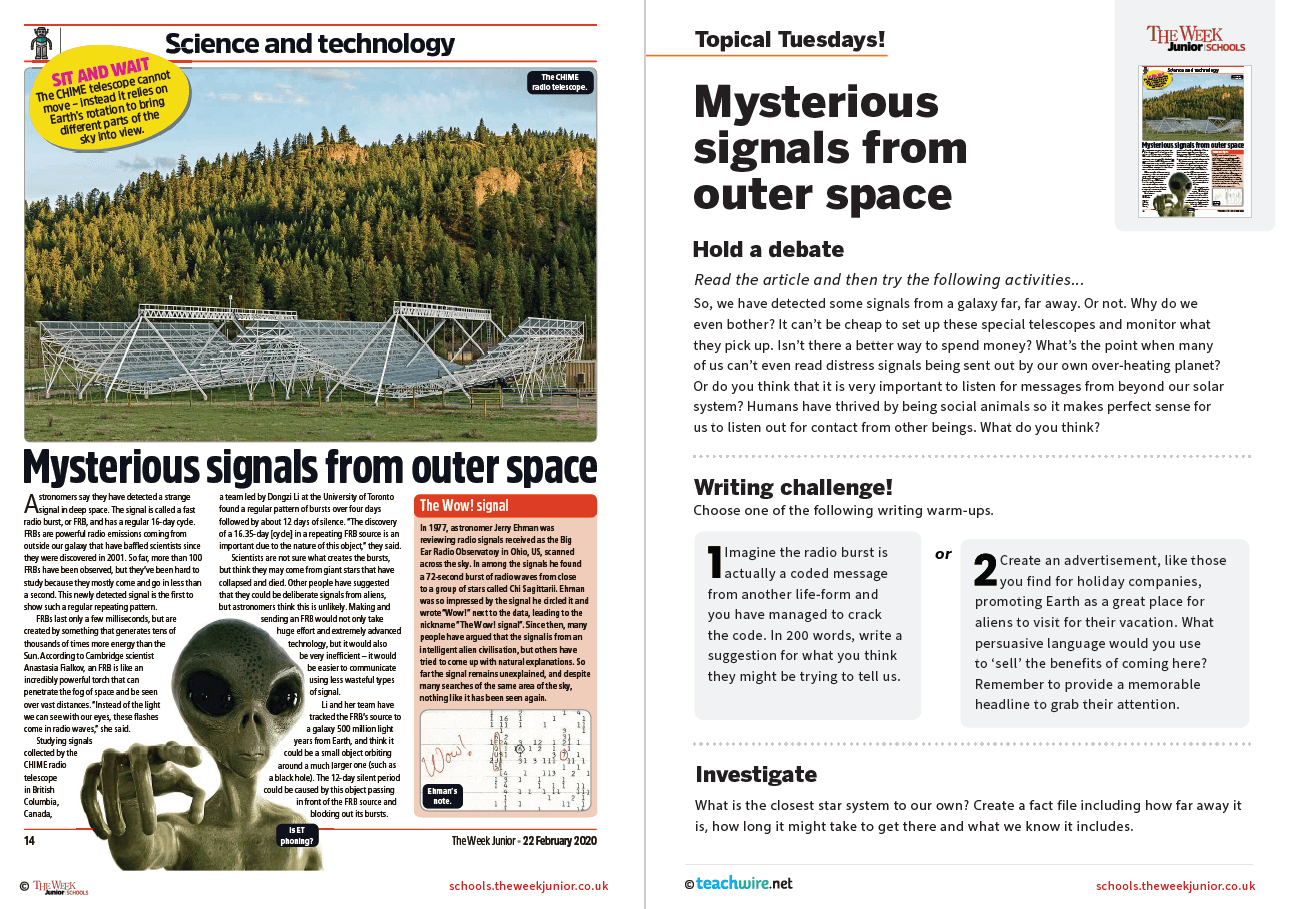 DOWNLOAD A FREE RESOURCE!
Topical Tuesdays from The Week Junior – Mysterious sounds from outer space