This week's news looks at the acts of kindness people have been showing to each other as we all try to stem the outbreak of the coronavirus.
A woman called Becky Wass, from Falmouth in Cornwall, has designed a postcard that people can give to neighbours who are staying at home because of Covid-19. The UK Government has asked people who show symptoms, and anybody living with them, to stay at home for up to 14 days, to limit the spread of the virus.
On the postcard, people can write their contact information and offer to pick up shopping or run errands for people stuck indoors.
On the weekend of 14-15 March, football clubs across the UK donated the food that they had prepared for match days to charity. This was after the Premier League and the English Football League (EFL) announced on 13 March all games were stopped until at least 4 April.
This PDF resource includes this article, as well as accompanying activity ideas:
Find your five favourite kindness quotes from throughout history and don't forget to mention who said them. Challenge: pick your absolute favourite and write a paragraph about why you think it is a particularly powerful message.
Write a letter to a grandparent or any other person you know who is over 70 and has had to isolate themselves in order to stay safe. Make sure you give your letter a kind, reassuring tone that will make them feel hopeful, remembered and entertained.
Write an acrostic poem where the first letter of every line spells out the word K I N D N E S S when you read it down the page.
While it is admirable that people have tried to help each other, there is always a danger of them doing something that might accidentally put others at risk, even if they never meant to. Therefore, should we leave all acts of care and support to state run organisations such as the Police, NHS and Social Services? That way, everyone would get a fair share of what is available. Or is it better for people to help out where they can, as long as they follow government guidelines? Even if we are staying away from each other, there is still plenty we can do. What do you think?
---
To find out more about The Week Junior and to download its free resources, please go to schools.theweekjunior.co.uk.
Find the whole range of free Topical Tuesday resources here.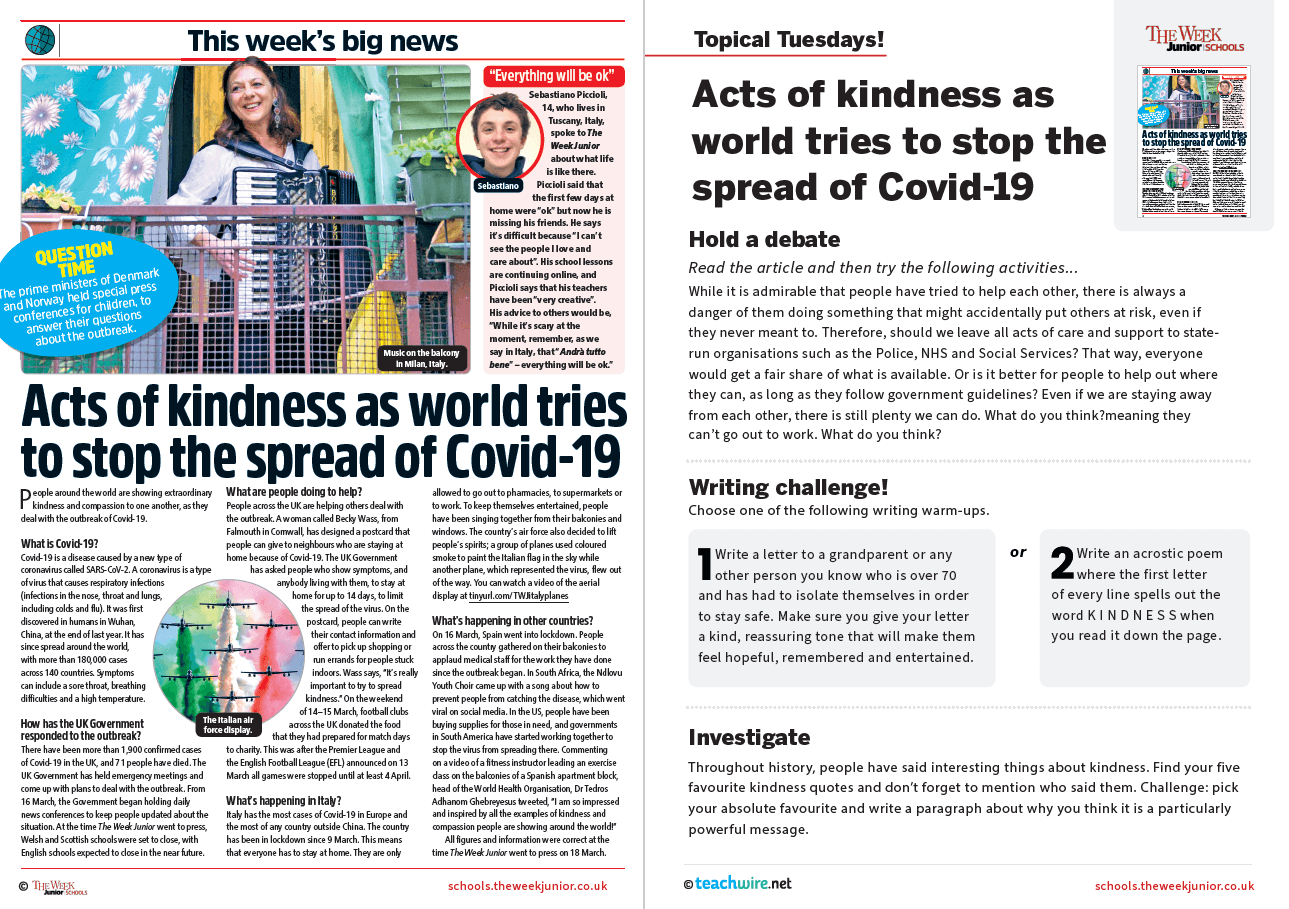 DOWNLOAD A FREE RESOURCE!
Topical Tuesdays from The Week Junior – Kindness and Covid-19