A team of scientists led by Professor Richard Brazier from the University of Exeter have discovered that beavers have a positive effect on the environment.
The researchers studied wild Eurasian beavers living on the River Otter, in Devon, for five years, and found that their activity helps to reduce flooding and pollution, and can boost populations of fish and other wildlife.
One of the biggest things they noticed was that there were 37% more fish in ponds created by beavers' dams than in areas without beavers.
Why is this? Well, the tangled branches of the dams trap soil and pollution, such as manure and fertiliser, that runs off land nearby.
On top of this, the dams also slow the speed at which flood water flows downriver after heavy rain, reducing the risk of flooding to farmland and vulnerable villages.
In places, the slower water spreads out across nearby unfarmed land, creating new wetlands that are a valuable wildlife habitat.
This PDF resource includes this article, as well as accompanying activity ideas:
Debate whether we should introduce beavers into other areas of the country to help the environment, or if this would just cause other issues.
Create a persuasive advert convincing European beavers of the benefits of working in the UK to help look after our rivers.
Write a humorous song or limerick about a beaver moving here from Europe.
Write a brief account of an example where an animal has been introduced into a habitat and what effect it had.
---
To find out more about The Week Junior and to download its free resources, please go to schools.theweekjunior.co.uk.
Find the whole range of free Topical Tuesday resources here.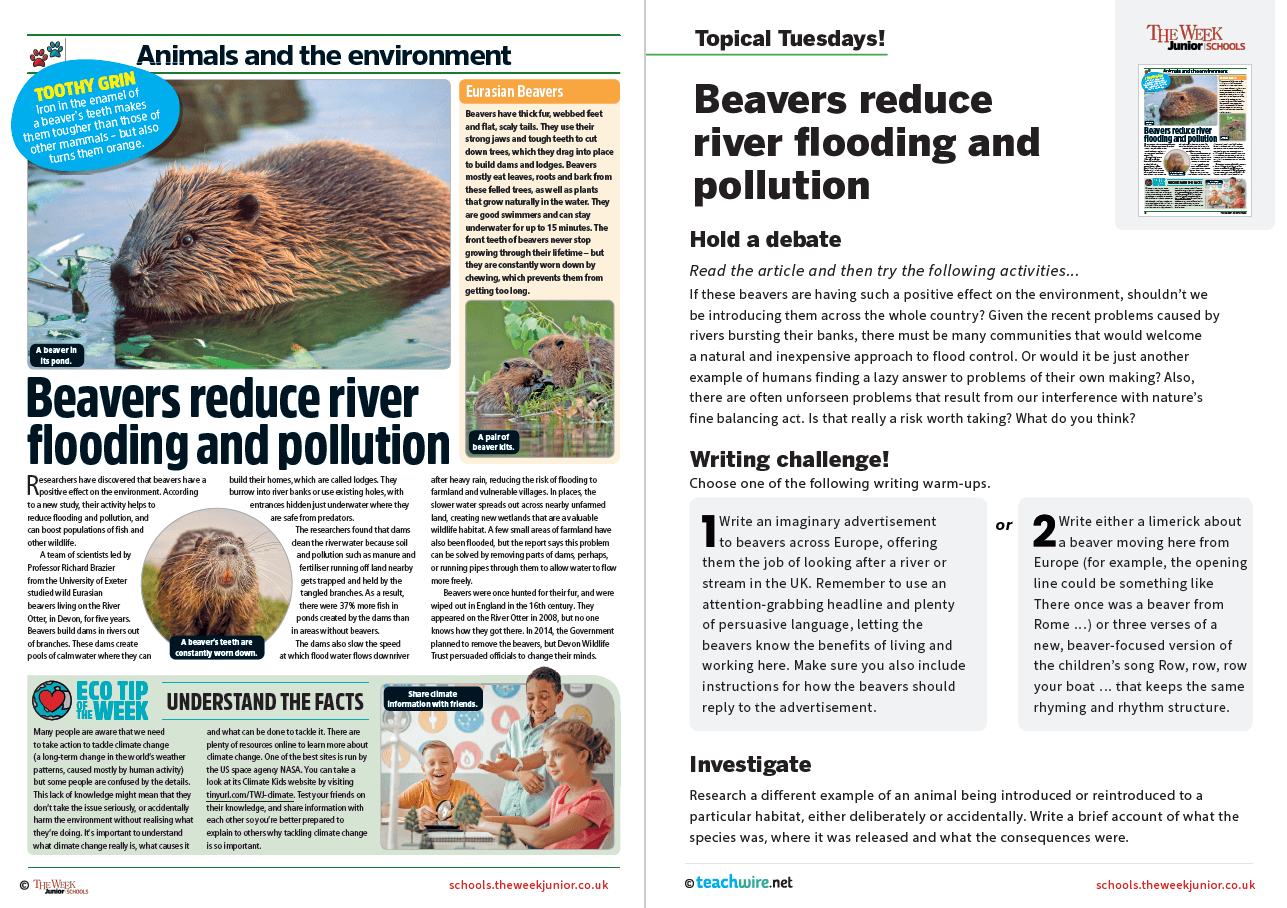 DOWNLOAD A FREE RESOURCE!
Topical Tuesdays from The Week Junior – Beavers reduce river flooding