PDF lesson plan on Shakespeare playscripts, for KS2.
Banish the Bard's boring reputation and celebrate Shakespeare Week in March with this interactive lesson plan for KS2.
I have been creating lesson plans around a new book called Shakespeare for Everyone (Magic Cat Publishing) which shows children just how accessible Shakespeare can be.
Written by Emma Roberts and illustrated by Sarah Tanat-Jones, the idea is that by going behind the scenes and learning more about the historical context, Shakespeare becomes far more approachable.
This project can be completely flexible to fit the needs of your pupils. You can use the book alongside this plan, or find Shakespeare resources online to support.
What they'll learn
To make inferences from the text
To develop their summarising and prediction skills
How to write effectively for a range of purposes and a specific audience
How to use dialogue to convey information about characters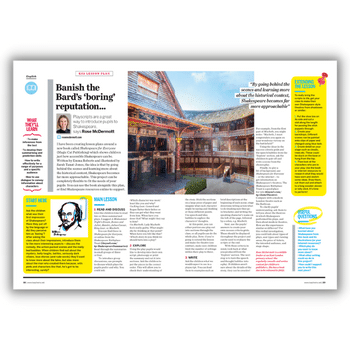 DOWNLOAD A FREE RESOURCE!
KS2 English lesson plan – Banish the Bard's 'boring' reputation