Big Schools' Birdwatch counting sheets with space for notes
These RSPB Big Schools' Birdwatch counting sheets are perfect to help you take part in this year's Big Schools' Birdwatch.
The counting sheets will help you to count and identify birds in your school grounds. The worksheets contain a selection of the birds that you're most likely to see, plus a space to write in anything unexpected that you see.
We've got sheets for:
Under-fives
5-7 year olds
7-11 year olds
11-14 year olds
Why join in with the RSPB Big Schools' Birdwatch?
Participating in the RSPB Big Schools' Birdwatch is an opportunity for children to connect with nature, learn about biodiversity and understand the importance of bird conservation.
Birdwatching provides hands-on learning experiences that promote observation, data collection and analysis skills.
The Birdwatch can also engage your local community, creating stronger relationships between your school and local residents who share an interest in nature. You can integrate this interdisciplinary activity into various subjects – it's a versatile educational tool.
By participating, students will gain a sense of achievement and a connection to a broader conservation effort. This experience may just foster a lifelong conservation ethic.
Additionally, birdwatching can have positive effects on mental wellbeing by reducing stress, increasing mindfulness and promoting a sense of wonder and connection with the natural world.
Don't forget to register for your free Big Schools' Birdwatch resource and report what you found. Follow the RSPB on Twitter at @RSPB_Learning.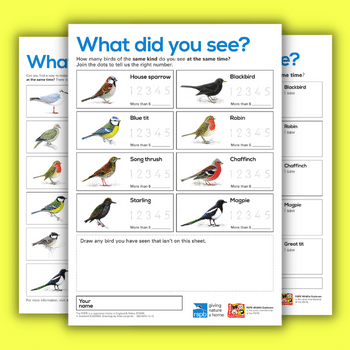 DOWNLOAD A FREE RESOURCE!
RSPB Big Schools' Birdwatch – Bird Counting Sheets