Few children will have a tale of a daringly concealed ex-rodent, but reading Roald Dahl's The Great Mouse Plot
will help them understand how their own histories can be turned into fabulous stories.
A dead mouse, in a gobstopper jar? Even the boys who planted it had to wonder whether they'd gone too far. And that was before the shopkeeper complained to their headmaster!
The ringleader of this exploit was, of course, the young Roald Dahl, who – like many small boys – was very fond of sweets. The trouble was that the owner of the sweetshop was so odious, so vile, that she needed to be taught a lesson: one that became known as The Great Mouse Plot.
It comes as no surprise to learn that Dahl's childhood recollections are as subversively zany as his fiction, nor that so many of his subsequent themes can be traced back to his early years.
The Great Mouse Plot first appeared in Boy, Roald Dahl's autobiography for younger readers. This story makes a wonderful introduction to Dahl's work for newly confident readers.
Use the ideas in this PDF to put it at the heart of your creative lesson planning for KS2.
Carey Fluker Hunt is creative projects manager at Seven Stories, the Centre for Children's Books in Newcastle upon Tyne. Browse more free Roald Dahl Day resources.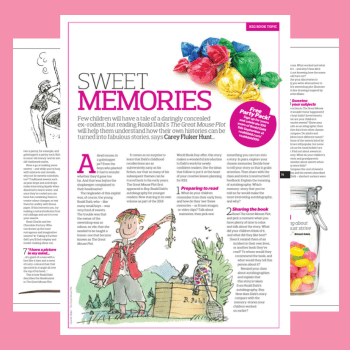 DOWNLOAD A FREE RESOURCE!
The Great Mouse Plot – KS2 book topic