PDF bridge building worksheets for KS1/2
This downloadable PDF of primary engineering worksheets focuses on bridge building activities in KS1 and KS2…
Students need to take a piece of A4 paper and put it flat like a bridge. Then, they need to start adding small weights one by one in the middle of the paper bridge. See how many weights you can put on it before it breaks.
Now, ask children to work in small groups. The challenge is to make a bridge that can hold the most weight possible, but they can only use two sheets of A4 paper.
Use these worksheets to draw designs and note how much weight each bridge can hold. Set a specific amount of time for the groups to build their bridges and see which group can make the strongest one.
Find full instructions in our STEM education post.
Primary engineering
Paper bridge building activities are excellent for primary children for several reasons. Firstly, they promote creativity and problem-solving skills as kids experiment with different folding and gluing techniques to construct sturdy bridges from simple materials.
Secondly, these activities teach teamwork and collaboration as children work in groups to achieve a common goal – building a strong bridge.
Thirdly, they introduce basic engineering concepts and principles, making learning fun and hands-on. Additionally, paper bridge activities enhance fine motor skills as kids handle and manipulate paper.
Lastly, they encourage critical thinking as children analyse their designs and adapt them to improve performance, fostering a love for STEM subjects from an early age.
Laura Cross runs Inventors & Makers workshops, clubs and classes to bring hands-on engineering and design to primary schools. Find out more at inventorsandmakers.com or follow Laura on Twitter @InventorsM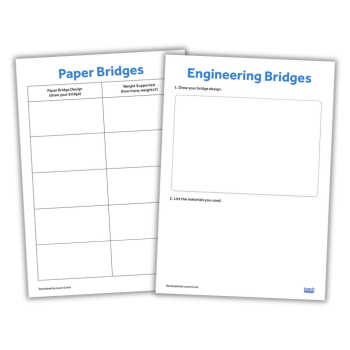 DOWNLOAD A FREE RESOURCE!
Primary engineering – Bridge building KS1/2 activity