PDF featuring original story and activity ideas, plus PDF and Powerpoint featuring story
If you're looking for mystery stories KS2 resources, there's more to Pie Corbett's story than first meets the eye…
Children will need to read the original story closely to uncover its themes. Read the story as a class, gather ideas, use reading comprehension to unearth the mystery, dramatise the story and write your own versions by modelling the structure and themes.
Mystery stories KS2 resource
Read Pie Corbett's story to the class and take initial thoughts, responses and comments. Some children may need to talk about any similar experiences.
In this sort of session, all ideas are accepted. This means that everyone has the right to say what they wish, and be taken seriously. Move on to children working in twos or threes to focus on these key aspects:
Questions
Inferring
Imagining
Prediction
Dramatisation
Summarisation
Get children ready to write by penning simple list poems using the following pattern:
When I lost my paintbrush,
I found a gallery of rainbows and gardens!
When I lost my shoes,
I found a race of laces!
When I lost my voice,
I found a choir of consonants!
When I lost my glasses,
I found a spectacle of surprises!
When I lost a tiger,
I found a cage of wasps!
---
More Pie Corbett resources
Browse a wide range of Pie Corbett KS2 stories and activity ideas.
---
Pie Corbett is an English educational trainer, writer, author and poet who has written over 200 books. He is also known for promoting creative approaches in the classroom and has experience as a teacher, headteacher and Ofsted inspector. Follow him on Twitter at @PieCorbett.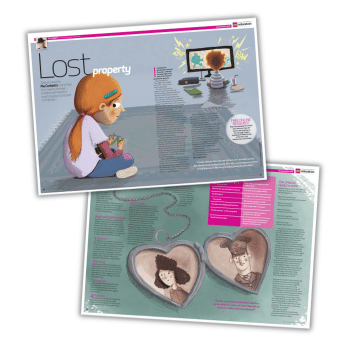 DOWNLOAD A FREE RESOURCE!
Mystery stories KS2 – Watch Out by Pie Corbett