Guide for teachers with source story and 16 activity ideas, plus PowerPoint file
Take your children on a wild ride with this adventure stories KS2 resource from Pie Corbett. Then use a series of activities to explore the story, and encourage pupils to write an adventure story of their own…
This download contains a guide for teachers, containing the source story and 16 activity ideas. There's also a PowerPoint file presenting the story as a series of illustrated slides, for use with interactive whiteboards.
Adventure stories KS2 resource
Adventure stories are always popular with children. They hinge around common patterns such as rescuing a kidnapped person, finding hidden treasure or in some way defeating bad people such as burglars or robbers.
This story by Pie Corbett involves a flashback. Loiter with the story for at least two or three days, if not longer. This will help the less confident internalise the patterns.
Make sure pupils have heard the story being read and read it to themselves as often as possible. Display it on the interactive whiteboard so that it can be seen by everyone. Then deepen understanding with the activity ideas in this download.
---
More resources
Download our Pie Corbett Ultimate KS2 Fiction Collection.
---
Pie Corbett is an English educational trainer, writer, author and poet who has written over 200 books. He is also known for promoting creative approaches in the classroom and has experience as a teacher, headteacher and Ofsted inspector. Follow him on Twitter at @PieCorbett.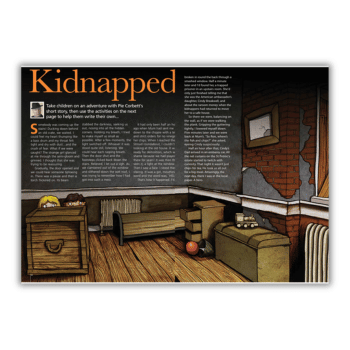 DOWNLOAD A FREE RESOURCE!
Adventure stories KS2 – 'Kidnapped' by Pie Corbett