Statutory RSE in schools has been identified by the government as a key area for schools to focus on to ensure that "all young people are taught to stay safe and are prepared for life in modern Britain".
The structure of this lesson, which is perfect for Sexual Health Week, allows KS4 learners to become experts in identifying STIs and how the risks and rates of transmission increase with multiple sexual partners.
This knowledge, coupled with effective condom use demonstrations, should allow pupils to make a personal choice about safe sex practices in the future. With the recognition of RSE as a statutory curriculum requirement since 2020, the emphasis should be on excellent practice.
Why teach this?
Effective RSE is an essential part of education and should equip the learner with the skills to negotiate adult relationships and ensure a healthy lifestyle in the future.
Key curriculum links
KS4 PSHE: Pupils should be taught about STIs, including HIV/AIDS, how to protect themselves and others from infection and how to respond if they feel they or others are at risk.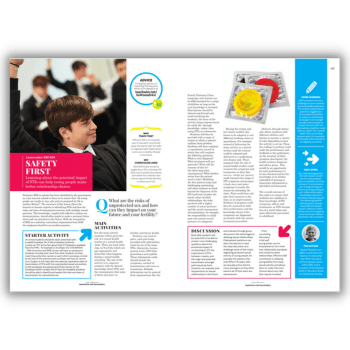 DOWNLOAD A FREE RESOURCE!
STI lesson – Help young people make better relationship choices