Here, Jo Tweedale shares a gentle but stretching introduction to Shakespeare that every student can access…
Inclusivity is a vital element of all teaching, of course – but instead of considering 'differentiation', why not try thinking about 'personalisation'?
The idea of tailoring a lesson to meet the specific, individual needs of every single student in the room might seem daunting, however, it is achievable, given enough planning and a few handy props – and especially important when you are working with the lowest ability pupils.
The following lesson is an example of how SEND and personalisation go hand in hand. It is an English lesson that meets the needs of very low ability pupils and always starts and ends with music.
It combines a speech and language programme, a phonics programme and the scheme of learning. A lot to squeeze into one lesson you may say, but it works on a carousel over two lessons with a different starter and summary in each.
Learning objectives
Talk and listen confidently in many ways in many different situations
Think carefully about who you are speaking to and make sure what you are saying is appropriate
Understand a range of texts and select the essential points from them
Create writing that is both varied and interesting
Understand that witches were viewed to be bad in Elizabethan times
Form opinions about witches
Use adverbs and verbs appropriately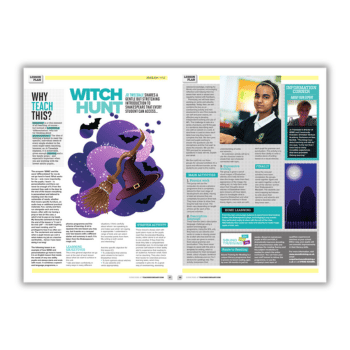 DOWNLOAD A FREE RESOURCE!
KS3 English lesson plan – Introducing Shakespeare to lower ability pupils