Communications technology is a huge industry worldwide and a vast range of electronic products have now been developed offering better, faster and wider communications between people across the world.
The prevalence of mobile phones is a good example of this, as well as the emergence of wireless networks in enabling people and devices to communicate with each other without cables and wiring.
This lesson offers a basic introduction to wireless communications technology, using infra-red as a starting point. Infra-red is relatively simple, components are cheap and it enables students to understand some of the basic principles of how wireless control works.
It focuses on the electronic design and programming elements of this type of project. You may want to build in other elements of product design such as casing design, CAD/CAM, modelling etc as appropriate.
The plan can be adapted to the needs of your school, students' abilities and the skills and knowledge you wish to impart. It could be as part of a full design and make project, adapted for use as a series of focused practical tasks or as standalone activities to introduce concepts, ideas and knowledge.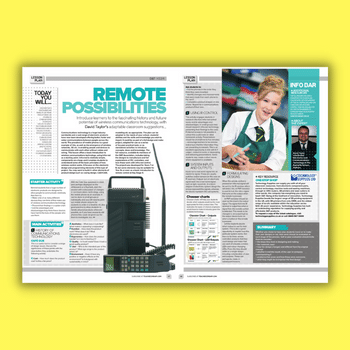 DOWNLOAD A FREE RESOURCE!
KS3 design and technology lesson plan – Investigate wireless tech and design your own remote controls