If you're looking for fun KS2 maths games to play with your pupils, try this special version of the classic game Guess Who.
Simply download and print out these sheets. Then ask pupils to get into pairs and give an identical sheet to each pupil in the pair. Next, trim round a third identical sheet to make a deck of cards.
In a similar way to the classic board game, each student needs to select a card and keep it out of view. Then their opposing player has to try and figure out what is on the card, only asking 'yes' or 'no' questions.
Pupils can put counters on numbers that have been discounted, or cross them out. For older pupils you can introduce the idea of multiples, factors, prime and composite numbers.
There's also a shape version of the game included in this download.
If you want to play this game with KS1 children, simplify the game by asking pupils to rule out even/odd numbers or numbers larger/smaller than 50, for example.
Find the full instructions for this and other maths games KS2 ideas here.
Inside this KS2 maths games download
2 x Guess Who? numbers sheets
Guess Who? shapes sheet
100 grid for younger players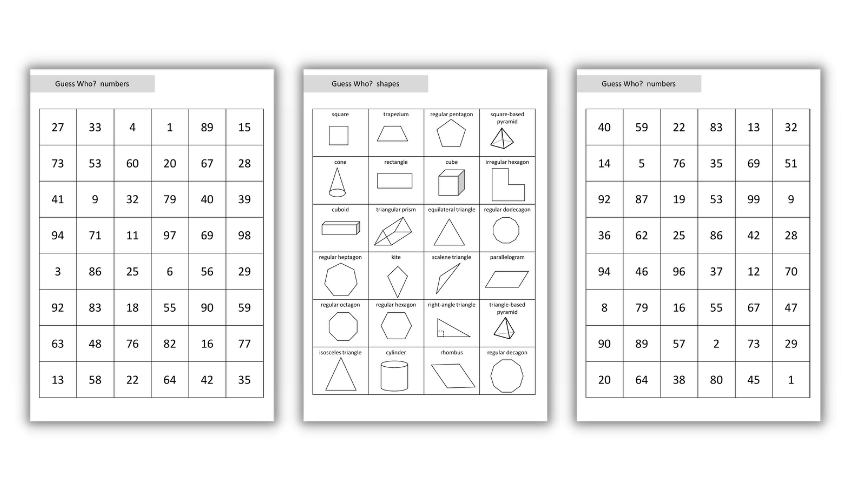 Sarah Farrell is a KS2 teacher in Bristol who makes and shares resources online. Follow Sarah on Twitter at @SarahFarrellKS2 and see more of her work at mrsfclassroom.wordpress.com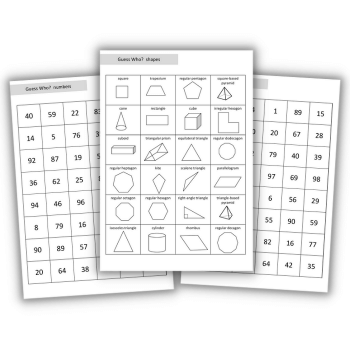 DOWNLOAD A FREE RESOURCE!
KS2 maths games – Guess Who? resources