Three-page PDF featuring cross-curricular activity ideas for KS2
This Michael Morpurgo classic won Teachers' Choice in our book awards and is packed with exciting cross-curricular themes.
"I heard the wind above me in the sails. I remember thinking, this is silly, you haven't got your safety harness on, you haven't got your lifejacket on. You shouldn't be doing this…"
Michael and his parents are sailing in tropical waters when Michael is swept overboard. Washed up on an island, he struggles to survive until a bowl of water and some food appear while he's asleep.
Michael isn't alone – there's an elderly Japanese man living on the island and he doesn't like strangers. But Kensuke's instinct is to care for those in need, and following an accident they become friends.
There's only one problem – Michael's desperate to be reunited with his family and Kensuke doesn't want to contact anyone from the outside world.
Michael Morpurgo has written more than a hundred books and is one of the UK's best-loved children's writers.
Kensuke's Kingdom won the Teachers' Choice category in this year's Teach Primary Book Awards – a category designed to celebrate stories that are enjoyable to teach and inspire new activities year upon year – and is packed with exciting themes to inspire creative cross-curricular work.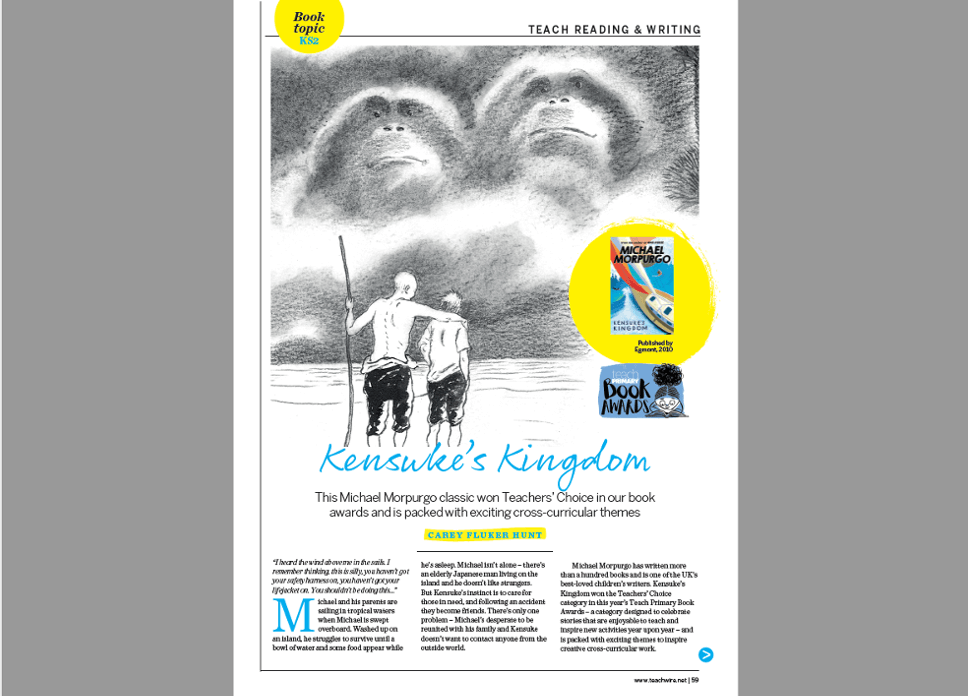 DOWNLOAD A FREE RESOURCE!
Michael Morpurgo's Kensuke's Kingdom – KS2 cross-curricular book topic