KS2 medium term plan, sentence starters, worksheets, templates and additional resources
This six-week series of art lessons is focused around the topic of self-portraits.
Pupils will find out about a range of famous artists and will learn how to draw faces using correct proportions. Throughout the lesson series, children will create a number of artworks, including a 'split face' portrait, transient portraits from objects and a Picasso-style face focused on colour.
They'll also get to grips with shading and the symbolism of portraiture. We've provided everything you need to get started straight away.
What they'll learn
Draw a portrait using the correct proportions
Complete a 'split face' self-portrait using a photo
Create a portrait from a range of unusual objects
Use different pencils to create a range of tones
Create a portrait inspired by Picasso
Use colour to portray emotions
Recognise symbolism in portraits
This download contains:
Full PDF medium term plan
Sentence starters
Worksheets
Templates
Additional resources
---
Julianne Britton is a qualified teacher with eight years' experience, author of educational resources and a private tutor. Follow her on Twitter at @juliannebritton. Visit her website here.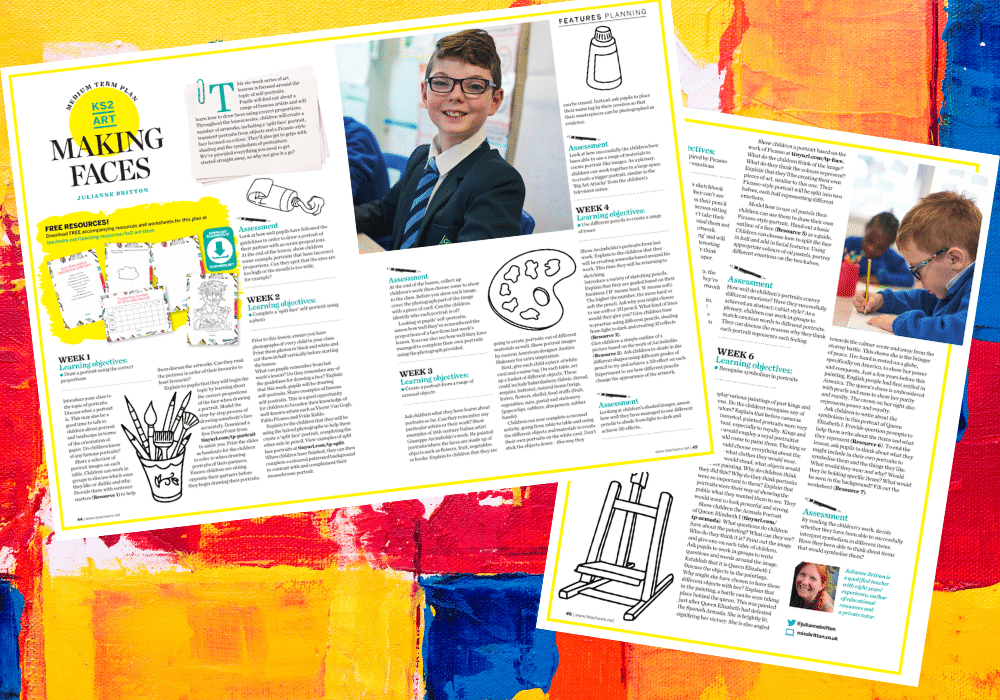 DOWNLOAD A FREE RESOURCE!
KS2 art ideas – 6-week self portraits medium-term lessons plan