Use this three-part James and the Giant Peach lesson plan in KS2 to develop reading fluency, comprehension and immerse the children in the joy of Roald Dahl's language.
One of my favourite parts of James and the Giant Peach is when they 'raise the peach' to escape being devoured by the circling sharks (Chapters 19-22). This download contains a short sequence of lessons focusing on that section of the book.
The lessons can be spread across two, three or maybe more days to help build children's reading fluency and comprehension, and of course, have fun with James!
James and the Giant Peach lesson plans KS2
Lesson 1 looks at chapter 19 and expressive and performative reading.
Lesson 2 looks at character clues in chapter 20.
Lesson 3 looks at vocal intonation and expression reading chapter 21.
All three have opportunities for writing activities too.
Before joining Herts for Learning, Alison Dawkins was an experienced member of the senior leadership team at an outstanding school. She has a particular interest in developing writing through reading and talk, including how drama can be best used to enhance progress in writing. Browse more ideas for Roald Dahl Day.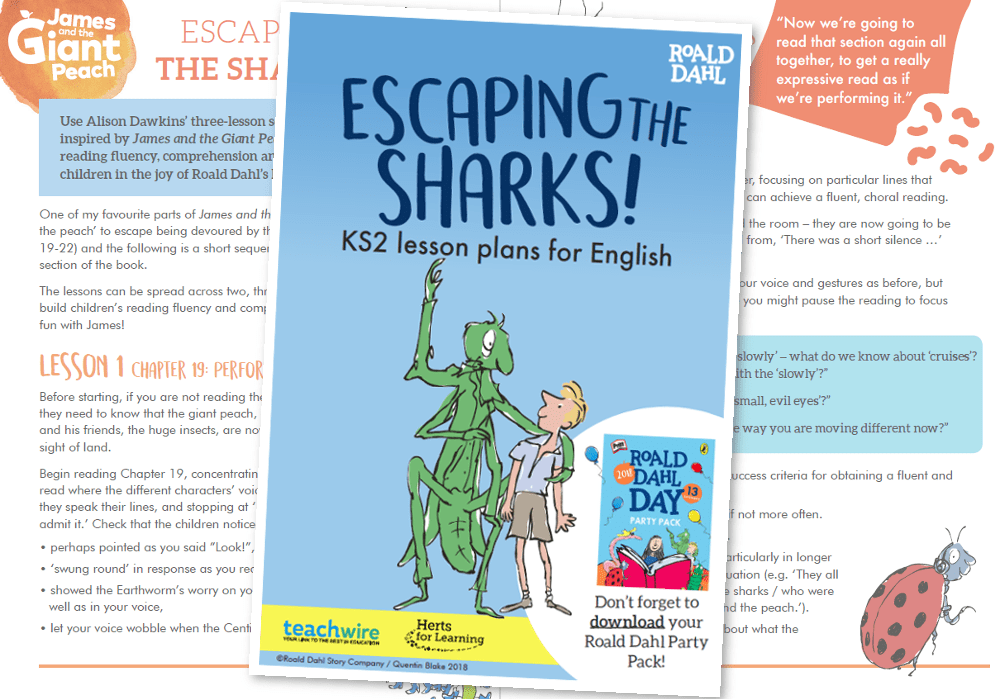 DOWNLOAD A FREE RESOURCE!
James and the Giant Peach lesson plans KS2 – Comprehension and fluency