It's important that we don't try and make an autistic child 'conform' or socialise in situations that they clearly find overwhelming and uncomfortable. What we can do, however, is bring children together in a structured and interesting task where they can:
learn about getting along together
discover the skills they possess
pick up new skills
We can teach knowledge, skills and understanding to all children, so that every child can feel more confident and comfortable in social situations.
What they'll learn
Being flexible when responding to others' actions
Communicating for a purpose
How to deal with differences of opinion and arguments
How to self-regulate their emotions and deal with losing
Lynn McCann is an ASC specialist teacher and author. Browse more resources for Autism Acceptance Week.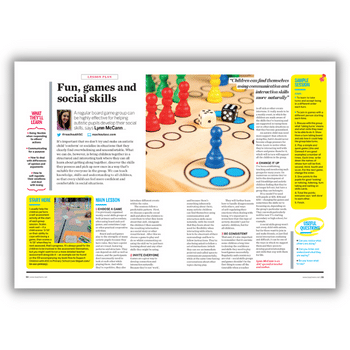 DOWNLOAD A FREE RESOURCE!
Social skills lesson plan – Use board games to help autistic children