PDF medium-term plan with six lessons and assessments, discussion notes and worksheets
I very often hear children say that their favourite modern languages lesson was the one where they ate croissants, tasted Lebkuchen or made paella.
The topic of food and drink is great for motivating children, as well as encouraging them to think about healthy eating.
It can be pretty low-prep if you use actual food and drink items as a change to showing a PowerPoint, and you might want to hand out some of the goodies as rewards.
The examples in this plan are given in French, but the activities for this unit can be done in any language.
Use this six-lesson plan and the accompanying worksheets to explore food and drink in KS2 French (or whatever modern foreign language you're teaching).
Dr Amanda Barton is a freelance writer and teacher trainer who has taught MFL in primary and secondary schools. She is co-author of Teaching Primary French and Teaching Primary Spanish (Bloomsbury). Follow Amanda on Twitter @amandabook2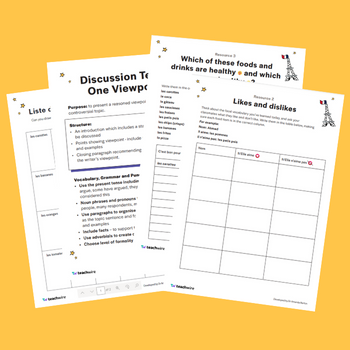 DOWNLOAD A FREE RESOURCE!
French KS2 – food & drink medium-term plan with resources