Editable Word doc lesson plan template
This editable lesson plan template is suitable for KS1-KS4. Because it's a Word doc you can add or delete rows as required.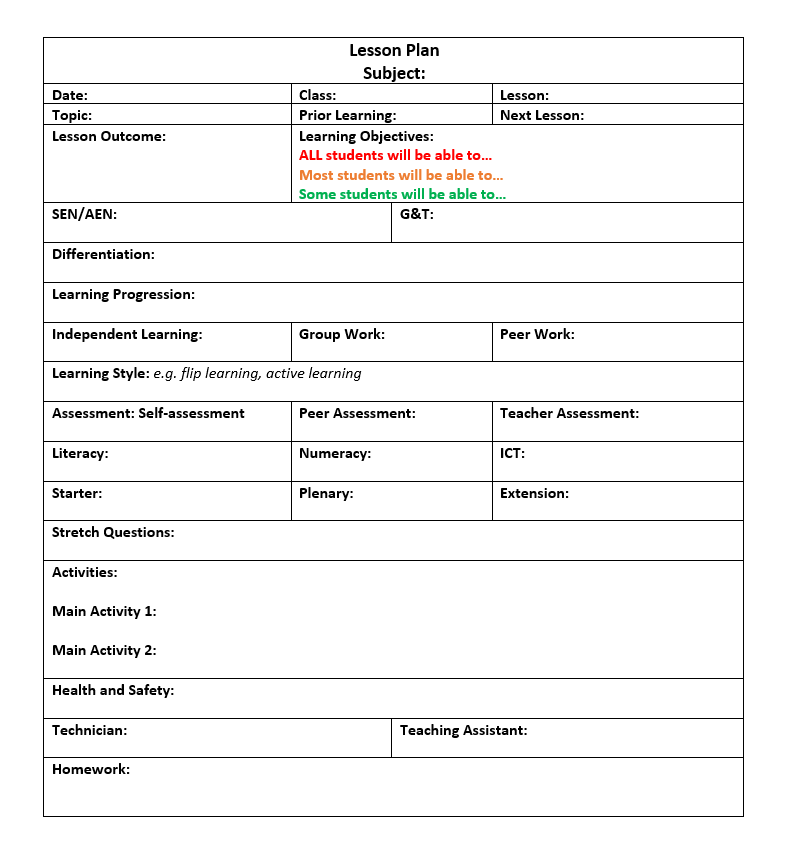 Editable lesson plan template
This editable lesson plan template has space for you to make notes about 'prior learning' and 'next lesson'. This allows you to build on students' existing knowledge and seamlessly transition from one lesson to the next.
The 'lesson outcome' and 'differentiated learning objectives' will help you to support personalised learning, catering to the diverse needs of your students. This includes those with special educational needs (SEN) or advanced educational needs (AEN), and gifted and talented (G&T) pupils.
Incorporating differentiation, learning progression and various learning styles, such as flip learning or active learning, encourages a dynamic and engaging classroom environment. Elements like 'independent learning', 'group work' and 'peer work' promote collaboration and critical thinking skills.
Thinking about 'self-assessment' and 'peer assessment' tasks in advance will help your students reflect on their progress and improve their understanding.
By including a starter, plenary, extension and stretch questions, you'll keep lessons engaging and challenging. Additionally, making a note of health and safety considerations and additional members of staff will help you to maintain a safe and well-managed classroom.
What the template includes
This Word document contains the following sections, which you can delete or amend as necessary.
Date
Class
Lesson
Topic
Prior learning
Next lesson
Lesson outcome
Differentiated learning objectives
SEN/AEN
G&T
Differentiation
Learning progression
Independent learning
Group work
Peer work
Learning style (eg flip learning, active learning)
Self-assessment
Peer assessment
Teacher assessment
Literacy
Numeracy
ICT
Starter
Extension
Stretch questions
Activities
Health and safety
Technician
Teaching assistant
Homework
Foodtechfanatics produces a range of resources which meet the requirements of the national curriculum in cookery and nutrition. You can find these resources at TES page foodtechfanatics.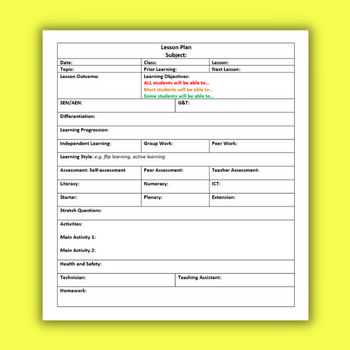 DOWNLOAD A FREE RESOURCE!
Editable lesson plan template – Free teacher printable