Christmas story starter PDF worksheet
This creative writing Christmas story starter worksheet includes short tips for students on plot, setting and characters, and space to write their short story and even draw a picture.
In the "Setting" section, the worksheet prompts children to consider the atmospheric backdrop of their tale. Is it a snowy, icy landscape, or a cosy indoor scene warmed by a roaring fire?
The worksheet encourages them to think beyond the conventional, asking if the story unfolds in the mystical North Pole, their own town, or perhaps in a fantastical land they've invented. This not only stimulates creativity but also helps children develop a vivid sense of place within their narratives.
Moving on to "Characters," the worksheet encourages children to populate their Christmas story with a diverse cast. The central character could be Santa Claus, one of his trusty reindeer, an industrious elf, or even a character of their own invention.
The worksheet prompts children to explore the character's relationship with Christmas – do they love the holiday fervently, or perhaps harbour a dislike? This element encourages children to infuse their characters with emotions and motivations, adding depth to their storytelling.
The "Plot" section delves into the heart of the narrative. This section challenges children to envision the events that unfold in their Christmas story. Is it an adventurous tale where Santa requires assistance in delivering presents on time? Or does an unexpected twist threaten to spoil a family's Christmas celebration? This section prompts children to think critically about the progression of their story, fostering creativity and storytelling skills.
Christmas writing worksheet prompts
Setting
Is it cold, snowing, dark, icy? Or are you indoors with a roaring fire? Is your story set in the North Pole, in your town, or a fantasy land you've invented?
Characters
Who is the story about? Santa Claus? One of the reindeer? One of his elves? Maybe it's about you and your family or friends. Or can you invent a character for your Christmas story? Do they love Christmas, or hate it? Why?
Plot
What happens in your story? Is it a Christmas adventure? Does Santa need help delivering presents on time? Has something happened to a family that could ruin their Christmas?
Browse more Christmas activities for schools.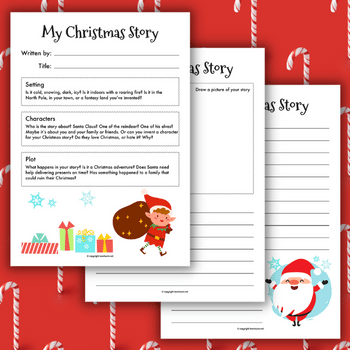 DOWNLOAD A FREE RESOURCE!
Christmas writing – Story starter ideas for KS1 and KS2