Worksheet, discussion cards, teacher notes, sentence starters, writing plan and posters
One of the great themes of children's books is the authority of grown-ups – specifically, how much fun it would be to defy that authority or escape it.
Peter Pan's Neverland is not just the place where you can be young forever, but also the place where the adults who order you around can, in the shape of Captain Hook, be mocked, outwitted and eventually fed to a crocodile.
When Roald Dahl's Matilda uses her brain-power to get the better of Miss Trunchbull, the fantasy is irresistible.
Not every child has been menaced by an authority-figure as monstrous as the Trunchbull, but children are expected, every day and everywhere, to submit to the decisions of others about what they ought to do and how they ought to be.
No wonder that when we're small we want stories in which things are different…
Use these resources to explore the idea of challenging authority with your pupils. These can be used in conjunction with a study of Sam Thompson's chapter book The Fox's Tower, or on their own.
The download contains:
worksheet
discussion cards
teacher notes
writing plan
posters
Sam Thompson lives in Belfast with his wife, three children, and their dog and cat. His latest book, The Fox's Tower (£9.99, Little Island) is out now.
Sue Drury is literacy lead at Plazoom, the expert literacy resources website.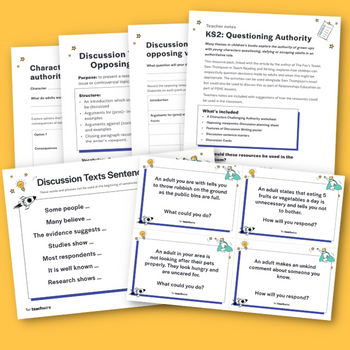 DOWNLOAD A FREE RESOURCE!
Challenge authority examples — worksheets, teaching notes, writing plans and more