Tony Bradman's Queen of Darkness is an imagining of the story of Boudica, the 'queen' of the Iceni (roughly located in what we now call Norfolk). It describes her revolt against the Roman invaders in the first century AD.
Although the story is told in the third person, we view the characters and events through the experiences of Rhianna, an orphan who is taken under Boudica's wing, which helps enormously with understanding and engagement.
There are vivid descriptions of fierce battles and acts of violence – including references to sacrifices – throughout this story, but Bradman is highly skilled at avoiding gore and keeping it KS2-appropriate.
However, as always, it's vital that we pre-read and consider whether some pupils may require some extra sensitivity with certain scenes, depending on their own experiences.
Real understanding of this story will be greatly advanced if you've already studied the Roman empire and the invasion of Britain a bit, so we recommend beginning this novel a few weeks into an historical study of the Romans.
Then the novel will, in turn, enhance understanding of the historical concepts of invasion and settlement, as well as providing many opportunities to consider viewpoint and interpretation of historical tales.
We suggest that teachers read the author's note at the end of the book before embarking on the tale with children, as it helps to clarify what is historically known and what Bradman has invented.
It's also important to view historical records with care: the Iceni didn't leave written records, so whatever we do have is from the Romans – one side in this struggle.
Bradman infers, speculates and interprets from the known facts to create a gripping short novel full of danger, vengeance, courage and kindness…
Christine Chen and Lindsay Pickton are primary education advisors (primaryeducationadvisors.co.uk) supporting English development nationally.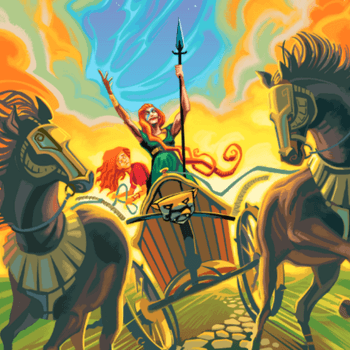 DOWNLOAD A FREE RESOURCE!
Books for topics – Tony Bradman's Queen of Darkness