Editable Word doc with answers
We've created this angles in parallel lines worksheet with a "goal-free" format. This means that rather than trying to find particular unknown angles in each parallel lines question, pupils need to work out any angles possible and justify their reasoning.
The questions in this fantastic resource start with very basic diagrams involving two parallel lines and a single transversal. Next students can try multiple transversals (Q3-4). Q5 covers two sets of parallel lines (Q5). Q6-8 look at more unusual arrangements of parallel line diagrams.
Q9 in this angles in parallel lines worksheet brings in three parallel lines for the first time. We've designed Q10 to foreshadow circle theorems. You don't need circle theorems to solve this problem – it just gets pupils used to looking at angle diagrams based on circles.
Q11 is an example of where pupils will need to add their own line if they are to find all missing angles.
Free angles in parallel lines worksheet
The practice questions on these teaching resources allow pupils to try all significant aspects of the content. They should also notice elements of the structure behind each content area.
Students will need to engage in reasoning to explain why they're seeing the results they are.
We've limited worksheets requiring arithmetic to integer calculation so you can give them to students who may not yet be fluent in decimal/fractional arithmetic.
Where pupils have these pre-requisite skills, we recommend adapting the questions (where appropriate) to include this content.
We've included an angle answers sheet in the download for your convenience. Use it in classroom lessons or set it as a revision resource or homework activity.
Peter Mattock is an assistant headteacher and secondary mastery lead for the East Midlands South Maths Hub. He's the author of Visible Maths and Conceptual Maths (Crown House Publishing). Follow Peter on Twitter at @MrMattock.
Download a resource that encourages KS3 pupils to compare methods when it comes to finding angles in parallel lines.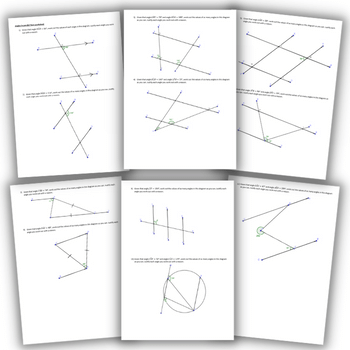 DOWNLOAD A FREE RESOURCE!
Angles in parallel lines worksheet – KS3 maths resource with answers