Contents: – 1x 2-page guide for teachers (extract from the publication Let's Talk About Evolution) – 1x set of 40 colour animal/habitat cards – 1x KWL Grid (to track what pupils Know, Want to know and have Learned)
Let's Talk About Evolution is a book and CD-ROM resource aimed as summarising ideas associated with evolution for learners in late primary or early secondary schools. It includes chapters on adaptation, the struggle for existence, natural selection and evolutionary change.
Each chapter features a range of activities for learners and extension activities, with printable resources contained on an accompanying CD-ROM.
Objective: In this sample activity, children learn:
– How different animals have become adapted to live in their habitat – About the different ways that an animal has become adapted to survive, including examples of adaptations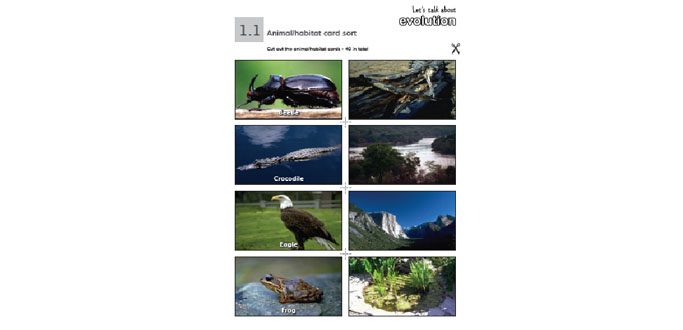 DOWNLOAD A FREE RESOURCE!
Adaptation in Animals – evolutionary science activity for KS2