Word doc blank lesson plan template
This is a straightforward, easy-to-adapt blank primary lesson plan template for KS1/2.
Primary lesson plan template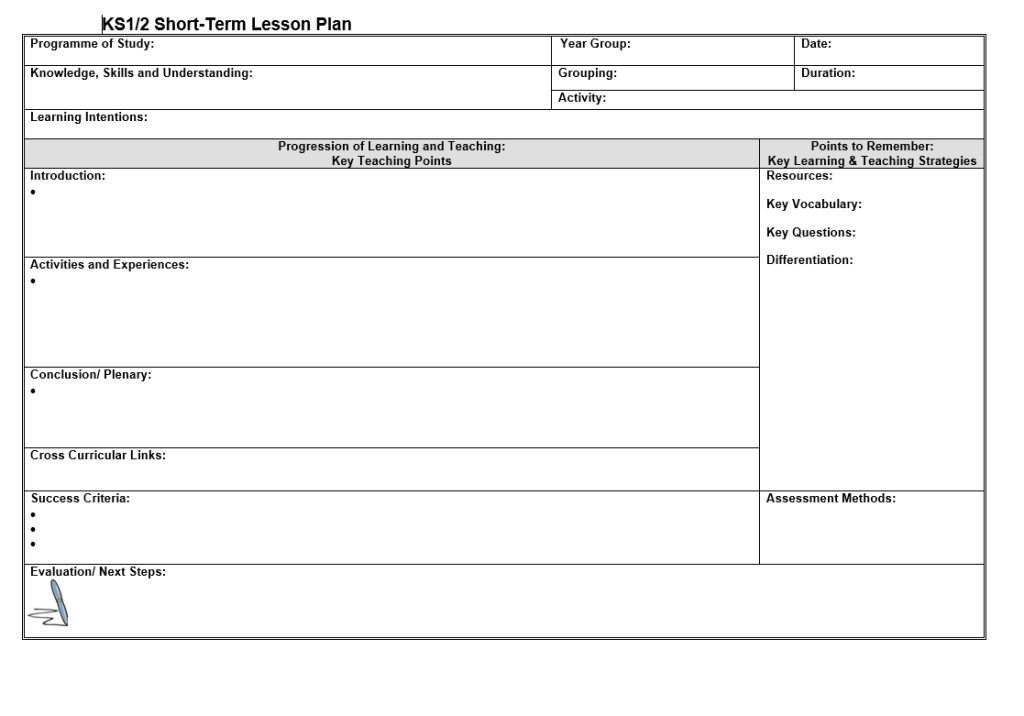 An editable primary lesson plan template is a valuable tool for teachers. It provides you with a structured framework to design and deliver effective lessons.
Teacher Kelly Davis has thoughtfully designed this template with various fields to ensure comprehensive planning and seamless execution.
Introduction: Describe how you will engage students initially to introduce the topic and grab their attention.
Activities and Experiences: This field allows you to detail the activities and learning experiences that will take place during the lesson, ensuring a dynamic and engaging classroom environment.
Conclusion/Plenary: Summarise the key takeaways and how you will wrap up the lesson effectively.
Cross-Curricular Links: This section enables you to highlight connections between the lesson and other subjects, fostering a holistic approach to learning.
Success Criteria: Use this area to define measurable outcomes and criteria for success, making it easier for you to assess whether you met the lesson objectives.
Assessment Methods: Specify the tools and methods you will use to assess students' understanding and progress.
Evaluation/Next Steps: This field allows you to reflect on the lesson's effectiveness and plan for follow-up activities or adjustments.
Resources: List the materials, books, websites, or other resources needed for the lesson.
Key Vocabulary: This field helps you identify essential words or terms that students need to grasp during the lesson.
Key Questions: Formulate thought-provoking questions to stimulate critical thinking and class discussions.
Differentiation: This section supports you in adapting the lesson to meet the diverse needs of students, including those with different abilities or learning styles.
---
Kelly Davis is a KS1 teacher. You can follow her on Twitter at @_noaddedsugar, and find her resources on her TES page _noaddedsugar.
DOWNLOAD A FREE RESOURCE!
Primary lesson plan template – Editable and adaptable