PDF and PowerPoint with lyrics and images
Use our 12 Days of Christmas lyrics in PowerPoint and PDF form to introduce your class to this classic Christmas song.
The 12 Days of Christmas is a beloved Christmas song, and children are often excited to explore its lyrics. By presenting these lyrics in a visually appealing PowerPoint format, you can capture students' attention and foster active participation.
This PowerPoint features colourful illustrations that correspond to each day's gift. This helps children grasp the song's narrative and mathematical patterns effortlessly.
Beyond its festive theme, you can use the PowerPoint to introduce basic maths. Count the gifts given over the 12 days to reinforce sequential patterns and numerical literacy.
Why not take the opportunity to discuss the historical context of the gifts? Or you could even craft your own versions of the song. This promotes critical thinking and children's artistic expression.
Use this 12 Days of Christmas PowerPoint in festive assemblies or classroom celebrations to foster a sense of community and joy among your students and staff.
Browse more Christmas activities.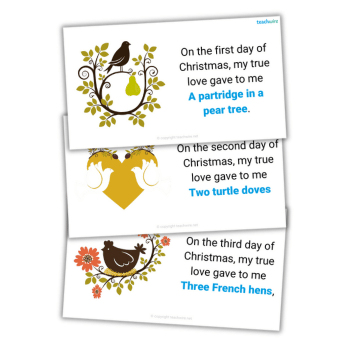 DOWNLOAD A FREE RESOURCE!
12 Days of Christmas lyrics – PowerPoint and PDF with images