Salford Museum and Art Gallery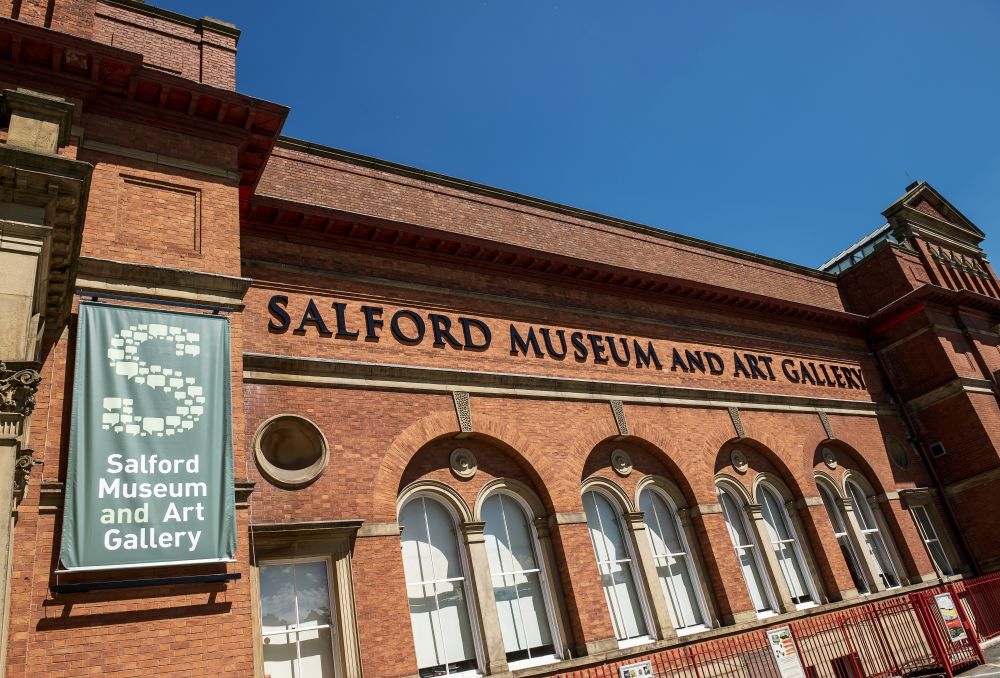 Full View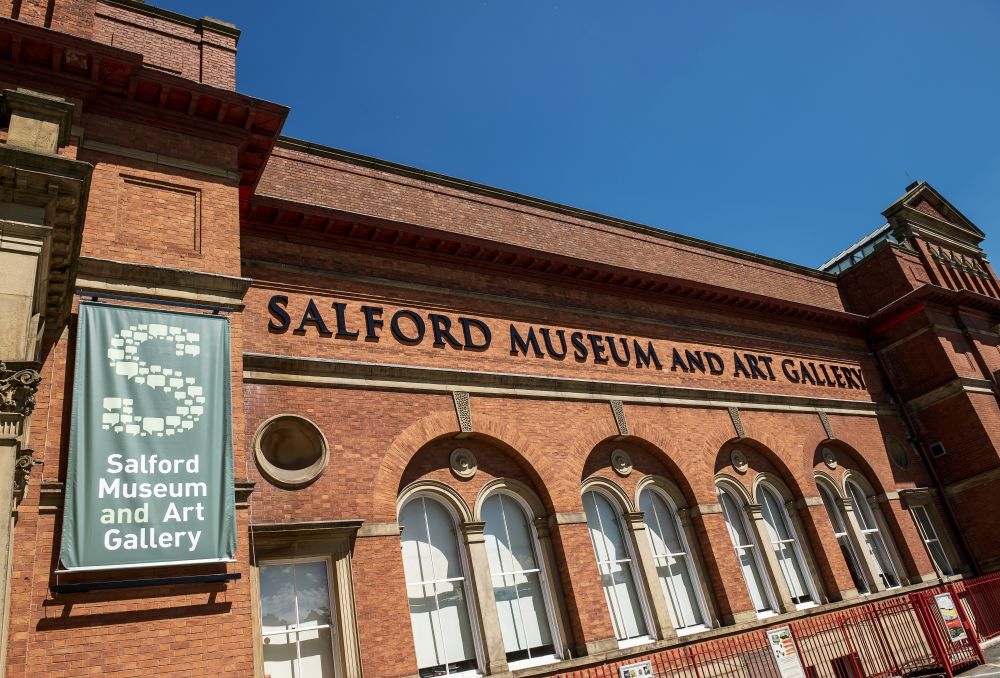 Photos of Salford Museum and Art Gallery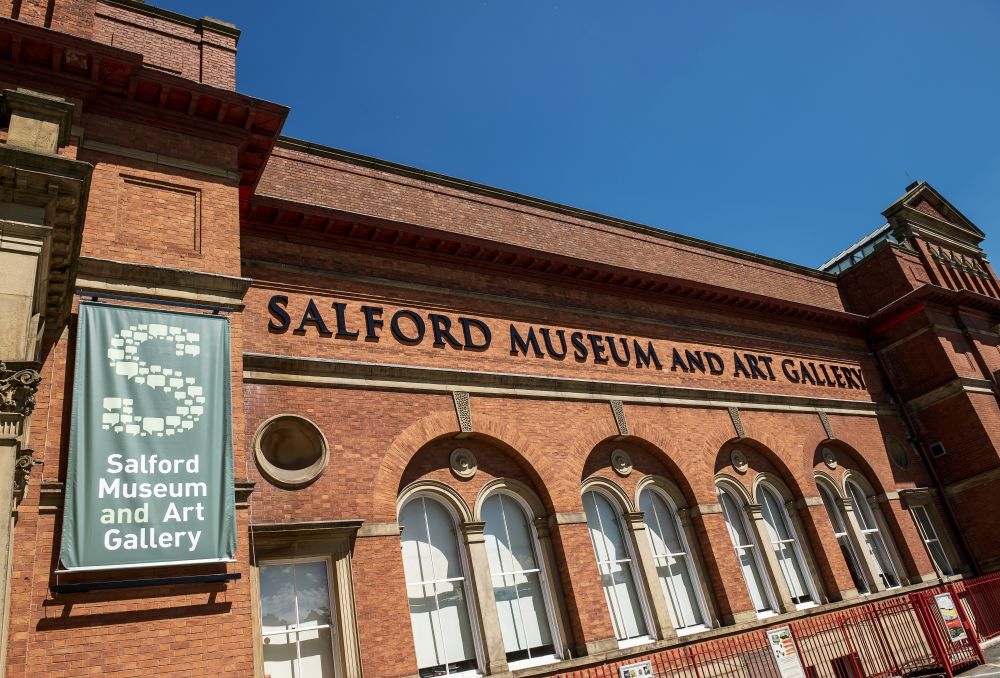 What will students see and do?
The Salford Museum and Art Gallery offers an engaging and educational experience for your students, as well as a historic one, as the gallery first opened to the public in 1850.
On-site, you can walk down the reconstructed street, Lark Hill Place, and feel like you're living in the Victorian era.
Plus, there are thousands of museum objects and artefacts to keep your students interested and engaged in history.
There are lots of drawing/art activities for students to get involved in, and they can even meet some historical characters for an interactive learning session.
There's also the opportunity to step into Mr Tomlinson's Sweet Shop and get some historical treats, then enjoy nature out in Peel Park.
Students will get to enjoy the beauty of this period's artworks in the Victorian Gallery. Completed in 1857, it was originally known as the South Gallery, and the paintings are arranged just as the Victorians would have displayed them. It's called a 'salon-style' hanging, which allows a large number of paintings to be displayed at one time.
On Thursdays and Fridays, you can check out the Local History Library with its huge collection of photographs and documents that make it a popular spot for researching family history.
---
How does the trip link to the curriculum?
The learning sessions on offer, and the 'Discovery Boxes' that you can rent (see below), are all linked to the national curriculum.
There are various sessions available, including A Landscape Full of Colours, in which students will paint landscapes and learn about the use of colour in doing so by looking at artworks in the museum's collection.
For KS1 students, you can book Lark Hill Live!, in which students will check out the reconstructed street and meet characters from Victorian times.
KS2 students, meanwhile, get to be Time Detectives who will sharpen their history knowledge and communication and team-building skills by splitting into groups to search for museum objects.
The curriculum-based learning sessions use real museum objects to bring history to life, offering insights into both the art gallery and local history.
As an example, in one session students get to explore the painting 'Queen of the Tournament' by Phillip Hermogenes Calderon. They are asked insightful questions to help them understand the piece, before writing a short drama based on it and making a crown of their own.
Guided and self-guided tours help students learn about the local history, art and beauty, and you can download preparation material in advance.
Subjects covered
---
Teaching resources provided
Salford Museum and Art Gallery has all the resources and tools you need to make your trip a valuable learning experience. You have access to the museum's Schools' Hub, which will be your go-to resource as a teacher.
It's filled with free learning resources that you can use in class, including videos, activities, images of Victorian art and even CPD opportunities.
You can search these by subject, type of resource or theme in order to help you best design your curriculum. These resources cover a wide range of different topics, including local history, the Victorians, the Tudors, Victorian art and more.
Before or after your trip, you can also borrow Discovery Boxes for half a term. These are filled with museum objects, images and local history resources to support your teaching in the classroom. There are a host of digital resources, too, to keep students hooked, including videos and activities.
---
Minimum and maximum group size
Bookable sessions have a maximum capacity of 35 students.
For lunch, there is a room available that fits up to 30 people. If your group is larger than that, you'll need to split into smaller groups and schedule lunch at different times. You can also eat outside in Peel Park if the weather is nice.
---
Details of risk assessment
The Salford Museum and Art Gallery is committed to health and safety. It requires children under eight to be accompanied by an adult, and offers support for blind, partially sighted and deaf visitors.
Staff at the museum have autism awareness training. If required when you come for your visit, staff will be there to welcome your group. If you need a quiet space, you can ask a member of the team.
PLANNING
Don't miss our downloadable A-Z guide on completing a risk assessment
---
Facilities On-Site
The Salford Museum and Art Gallery includes Lark Hill Place, the reconstructed street, plus four galleries of Victorian art that you'll have access to. There's also a welcome space with a large café area and wifi connectivity.
The museum is also committed to accessibility, so there is a ramp into the building and a lift for stair-free access to all floors. There is seating throughout.
---
Opening Times
The Salford Museum and Art Gallery, as well as the café, is open from Tuesday to Friday from 9.30am to 4pm. On Saturday and Sunday, it's open from 11.30am to 4pm. It is closed on Mondays.
---
Pricing
The Salford Museum and Art Gallery is free to enter. If you're looking to book a facilitated school session for a full day, the cost is £5.50 per student from Salford schools and £6 per student for non-Salford schools.
For a half day, it costs £4 per student for Salford schools, or £4.50 per student for non-Salford schools. You can also get a guided tour at £3.50 per student with no charge for teachers. Self-guided tours are free.
You can loan a Discovery Box for a half term at £50 per box.
---
Travel arrangements
Minibus parking facilities are provided for free. You can get there by coach, but parking is limited. The cost of parking for up to three hours is £2.50 and for three to six hours it's £5.50. Any time over six hours will cost £9.
The easiest way to travel is by train because the closest station, Salford Crescent, is a two-minute walk away. You can get to Salford Crescent Station from Manchester Piccadilly, Manchester Victoria and Manchester Oxford Road.
Address
Salford Museum and Art Gallery, Peel Park, The Crescent, Salford, Greater Manchester
M5 4WU
---
Enquire Now
Book your school trip to Salford Museum and Art Gallery
For information on booking your school trip to this venue, click below.