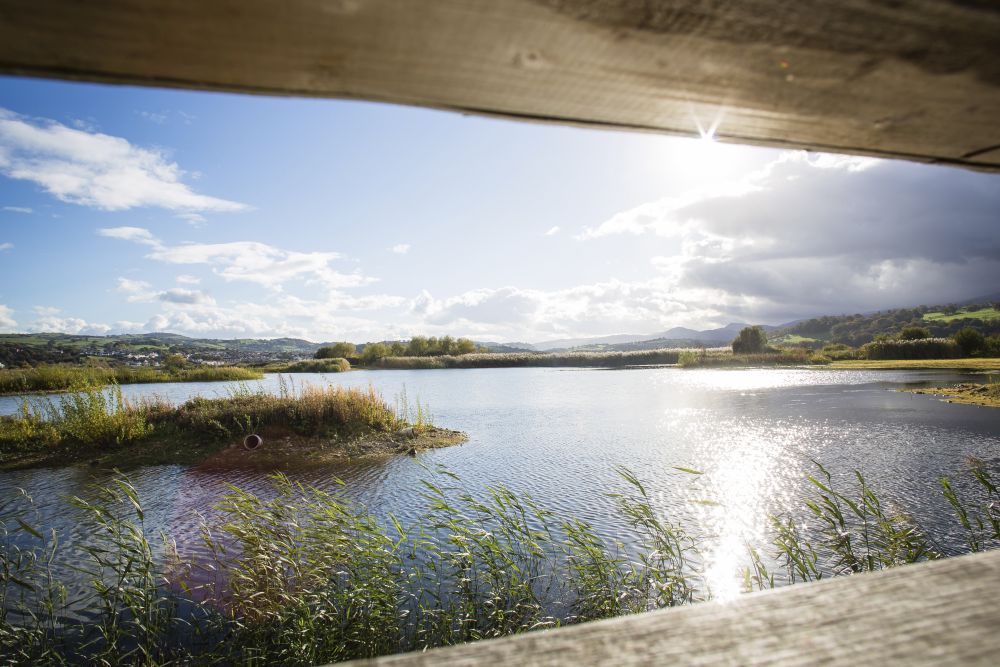 Full View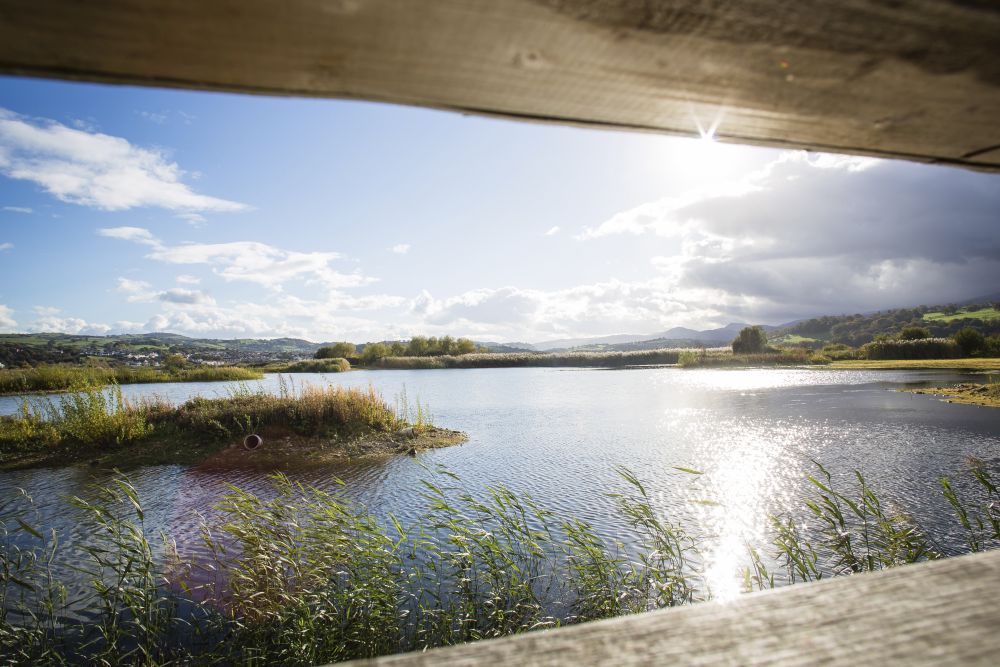 Photos of RSPB Conwy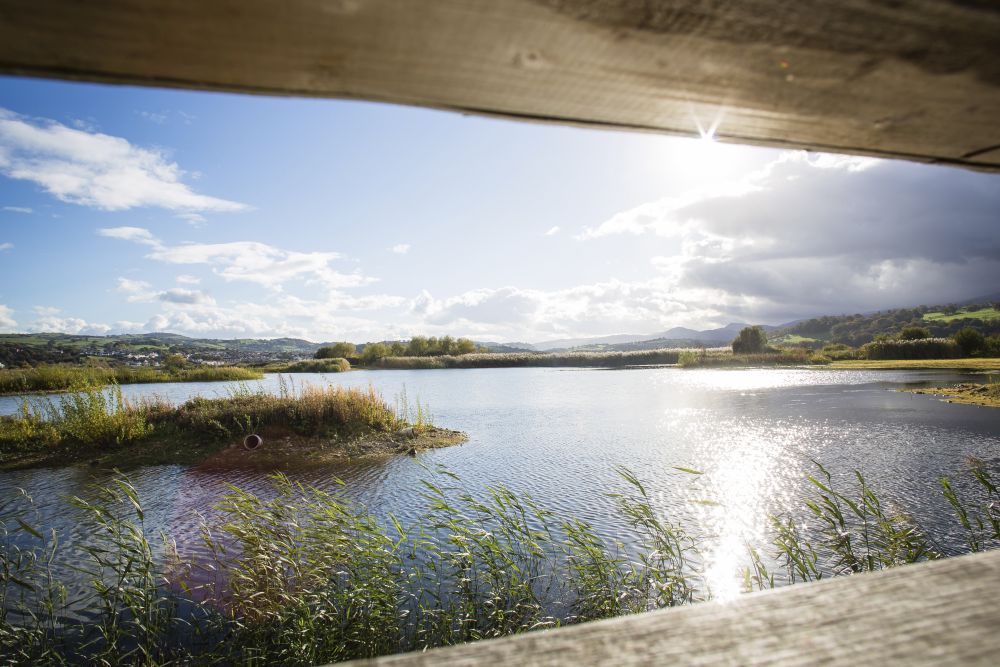 What will students see and do?
RSPB Conwy is a 60-hectare wetland nature reserve on the Conwy Estuary. A wide variety of wildlife has made its home at the reserve, which was formed from material excavated in the construction of the A55 tunnel.
There are two lagoons and four viewing hides at the reserve, from where students may spot black-tailed godwits, lapwing, sedge warblers, shelducks and water rails.
The three signposted nature trails will guide pupils through different habitats and environments. The circular trail ends overlooking the estuary mudflats and the Carneddau mountains.
Educational workshops last two hours each and are run either as morning or afternoon sessions. You can also combine two workshops to create a full-day programme. They are ideal for science, history and geography trips and give pupils the opportunity to engage with nature.
Visitors to RSPB Conwy in springtime will see frogspawn, toadspawn and baby newts in the ponds. There are also sedge and reed warblers returning from Africa, making lots of noise to mark their territories. Plan a summer trip to see the orchids in bloom, with five species growing at the reserve. Stoats start to leave their dens and moths and dragonflies are often seen around the waters at this time of year.
Autumn sees flocks of goldfinches and fungi starting to form on decaying wood. Winter visitors will witness tens of thousands of starlings in murmuration, as they congregate in preparation for roosting in the reeds. Ducks also arrive from Russia at this time of year.
---
How does the trip link to the curriculum?
RSPB Conwy has created a number of workshops, with curricular outcomes for different levels, from EYFS to KS5. Below are some examples of the workshops on offer.
In Discovering Pond Minibeasts, EYFS and Key Stage 1 pupils will start by identifying the survival needs shared by all living species. Next, they will describe the pond habitat and use equipment to capture minibeasts and identify their qualities. Finally, they will discover the food chain of the habitat and how these minibeasts fit into it.
A seasonal sensory walk introduces pupils to the qualities of the seasons, and how to use their senses to identify which season it is.
In a Plant Detectives session, pupils go on a nature walk to identify different plants and learn the names of the different parts of each plant. Next, they play games to explore the significance of plant smells and colours.
KS2 pupils can learn about living things and their habitats. They'll start by discussing different habitats and how animals adapt to living in them. Next, they'll explore the reserve, looking for different plants and animals, while considering how they would be classified. Finally, they'll consider the life cycles and food chains of the creatures they found.
The Discovering Birds workshop takes pupils on a nature discovery walk to see which birds they can identify, recording their findings. Next, they'll learn about the qualities and behaviours of these birds and how they adapt to their surroundings.
Key Stage 3 pupils can experience a geographical fieldwork workshop, using fieldwork techniques to explore the interaction between humans and the physical landscape. They'll visit contrasting habitats to compare the impact of humans and collect data using different methods to consider how the areas should be managed.
In an ecological investigations and sampling workshop, pupils will consider how to measure both biotic and abiotic factors of a site and which techniques would be most appropriate. Next, they'll compare species diversity in two different locations.
GCSE geography pupils can immerse themselves in an ecosystems exercise, during which they'll be led through geographical enquiry processes. They will collect data using different techniques and consider the impacts of humans at different locations. Finally, they'll consider how to limit the negative impacts of humans on the environment, before evaluating their research methods.
A-Level biology pupils can investigate communities within ecosystems during a Sampling Biodiversity workshop. Using different research methods, students will consider the factors impacting biodiversity in the ecosystems and propose how to manage and conserve landscapes.
Subjects covered
---
Teaching resources provided
All resources for the on-site workshops are included within the booking fee.
There are also a significant number of teaching resources available on the RSPB website, ranging from lesson plans to interactive activities. These are free to download.
---
Minimum and maximum group size
You'll be charged for a minimum of 20 pupils (16 for A-level pupils) during this visit.
---
Details of risk assessment
Upon booking, you will receive a risk assessment covering all on-site facilities and activities. It's also recommended to complete your own risk assessment.
PLANNING
Don't miss our downloadable A-Z guide on completing a risk assessment
---
Facilities on-site
The reserve has a visitor centre and outdoor welcome hub. There's also a large car park with a drop-off zone, plus toilets, a cafe, a gift shop and an outdoor picnic area.
There's an outdoor play area where children can let off steam, and the reserve also features three signposted nature trails.
---
Opening times
School workshops are designed to last two hours, with sessions running at 10am-12pm or 12.30-2.30pm – two sessions can be combined to make a whole day visit.
---
Pricing
For early years and primary pupils the cost is £4 per two-hour session or £6.50 for two sessions. There is a minimum charge of £80 for a half day and £130 for a full day.
For KS3 and KS4 pupils the cost is £5 per two-hour session or £8 for a full day. For A-level students the price is £6 for a half-day, or £10 for a full day. There is a minimum charge of £100 for a half day and £160 for a full day for both of these age groups.
---
Travel arrangements
From the A55 take junction 18 (signposted Conwy and Deganwy) and follow the brown RSPB signs. The reserve is on the south side of the roundabout.
From Conwy, Deganwy and Llandudno take the A546/A547 to the Weekly News roundabout, drive south past Tesco and the Cinema complex and cross the roundabout over the A55. The entrance to the reserve is on the south side.
Address
Llandudno Junction, Conwy, North Wales
LL31 9XZ
---
Enquire Now
Book your school trip to RSPB Conwy
For information on booking your school trip to this venue, click below.