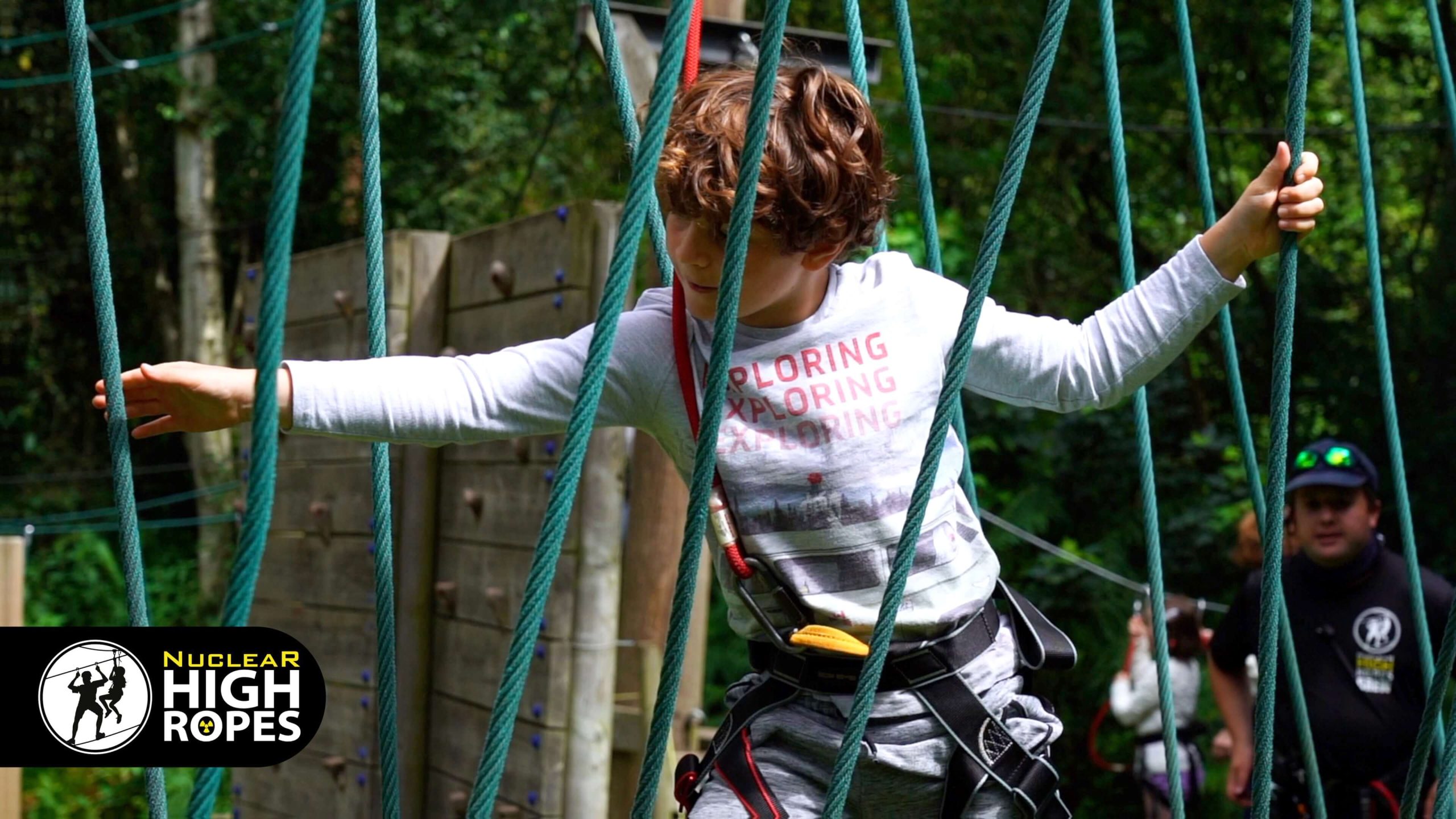 Full View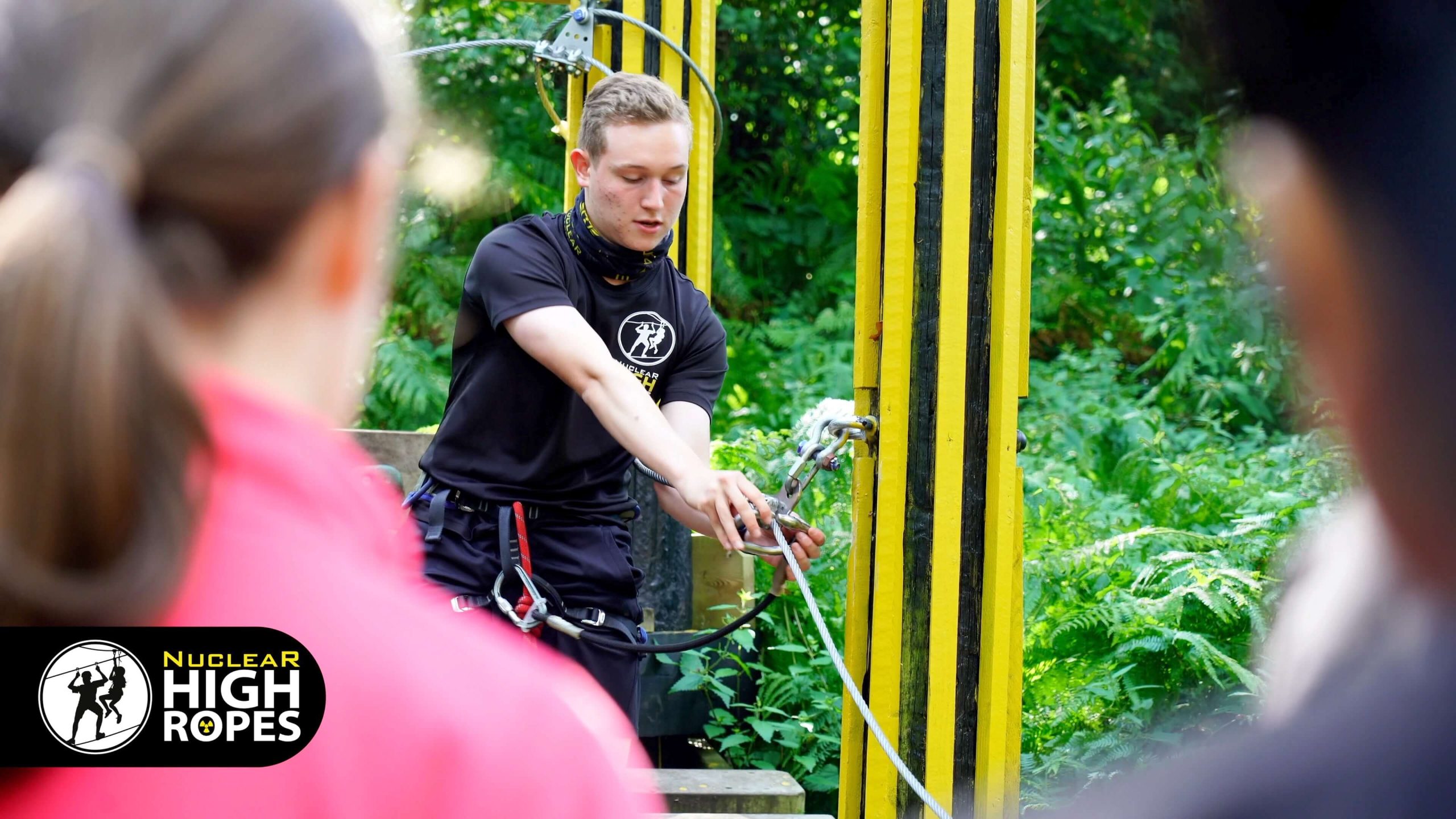 Full View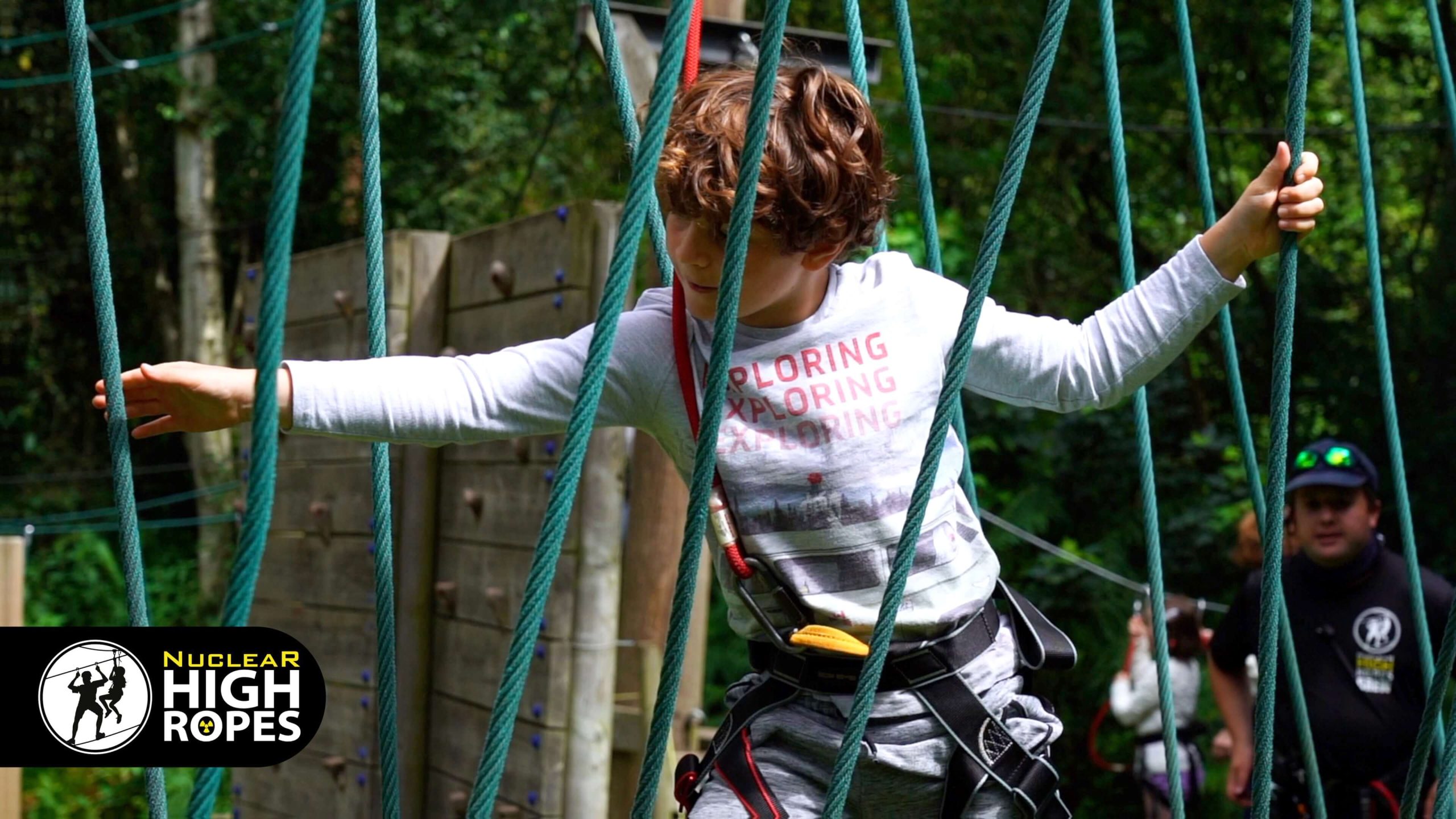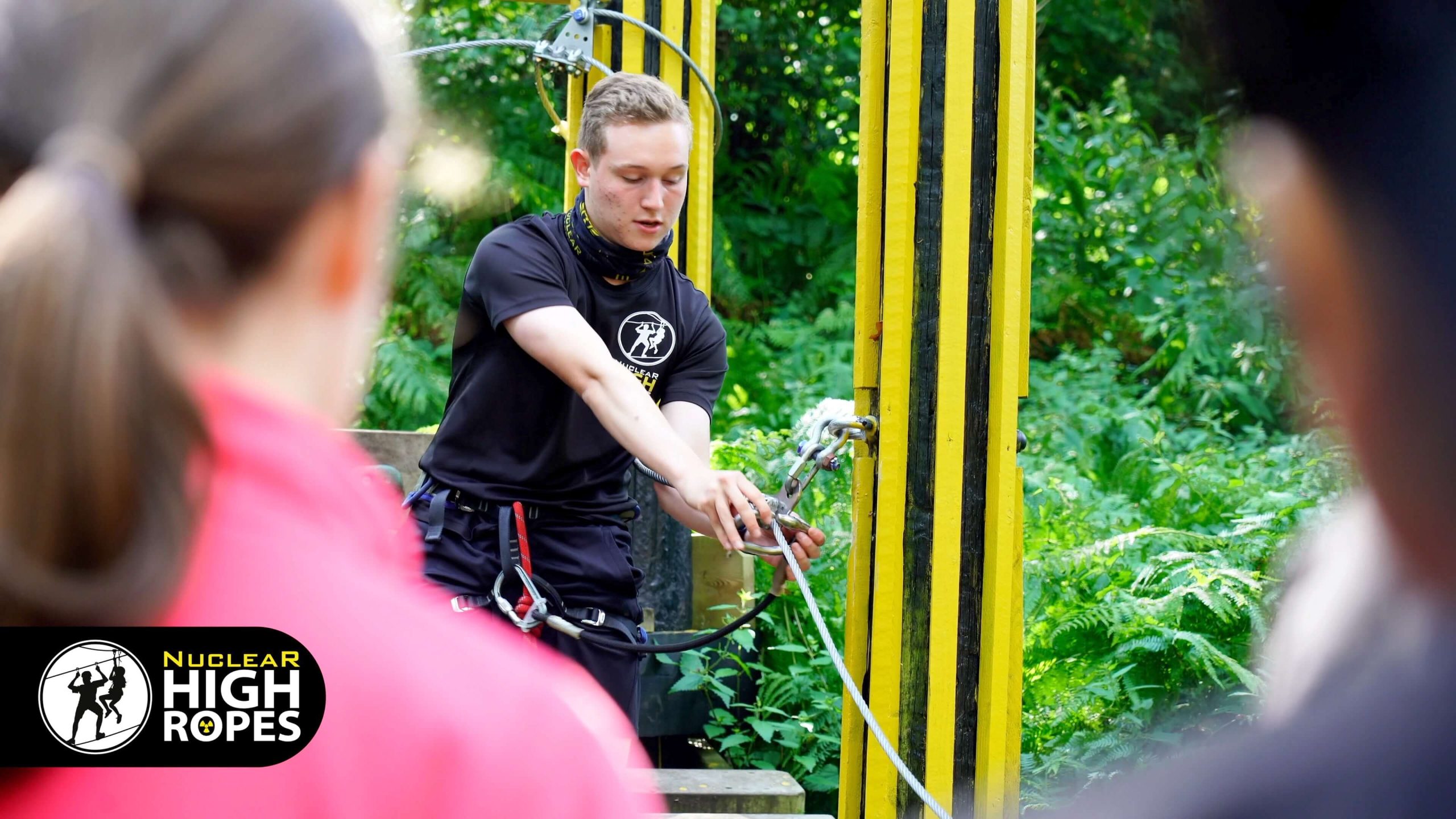 Photos of Nuclear High Ropes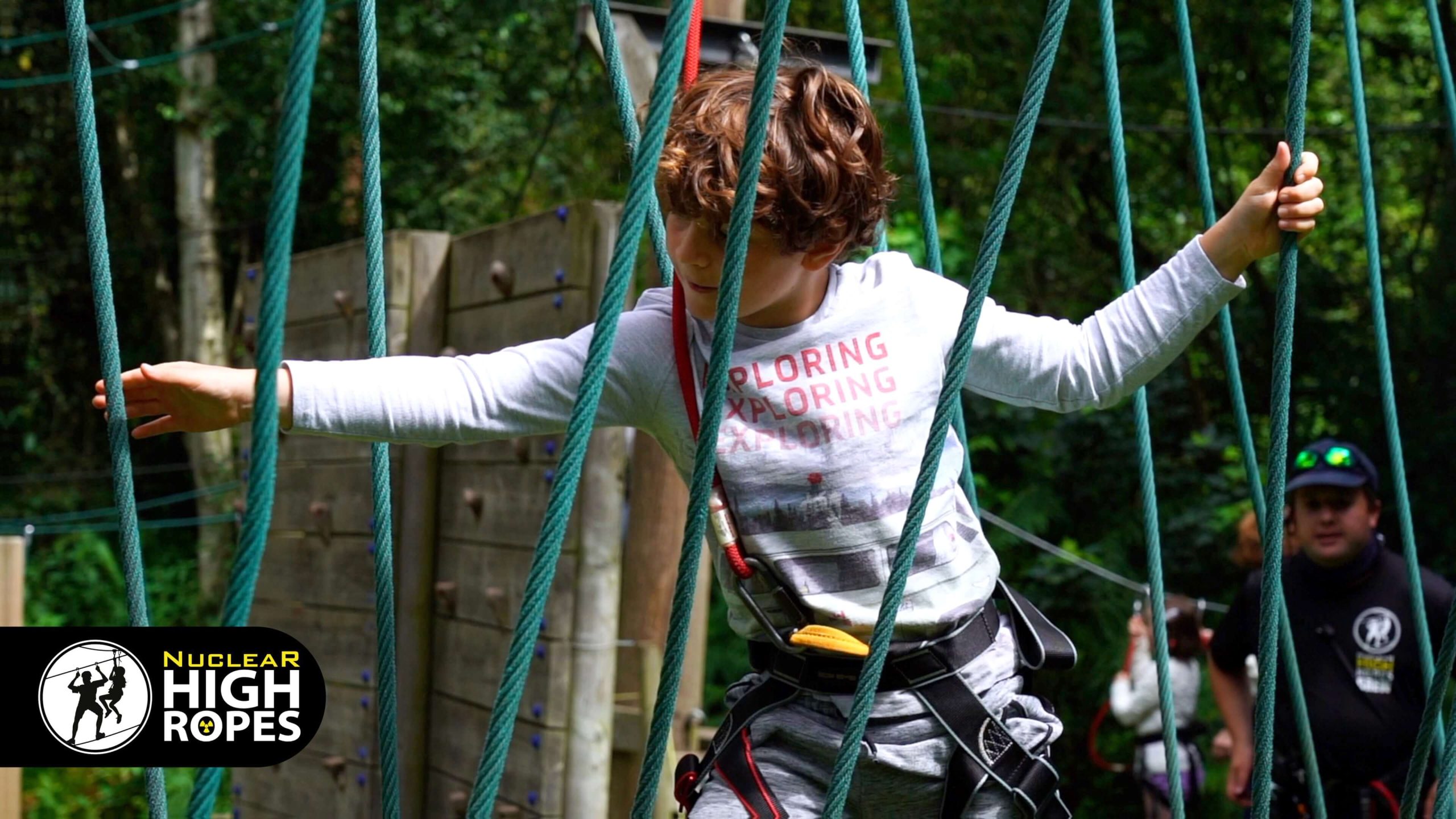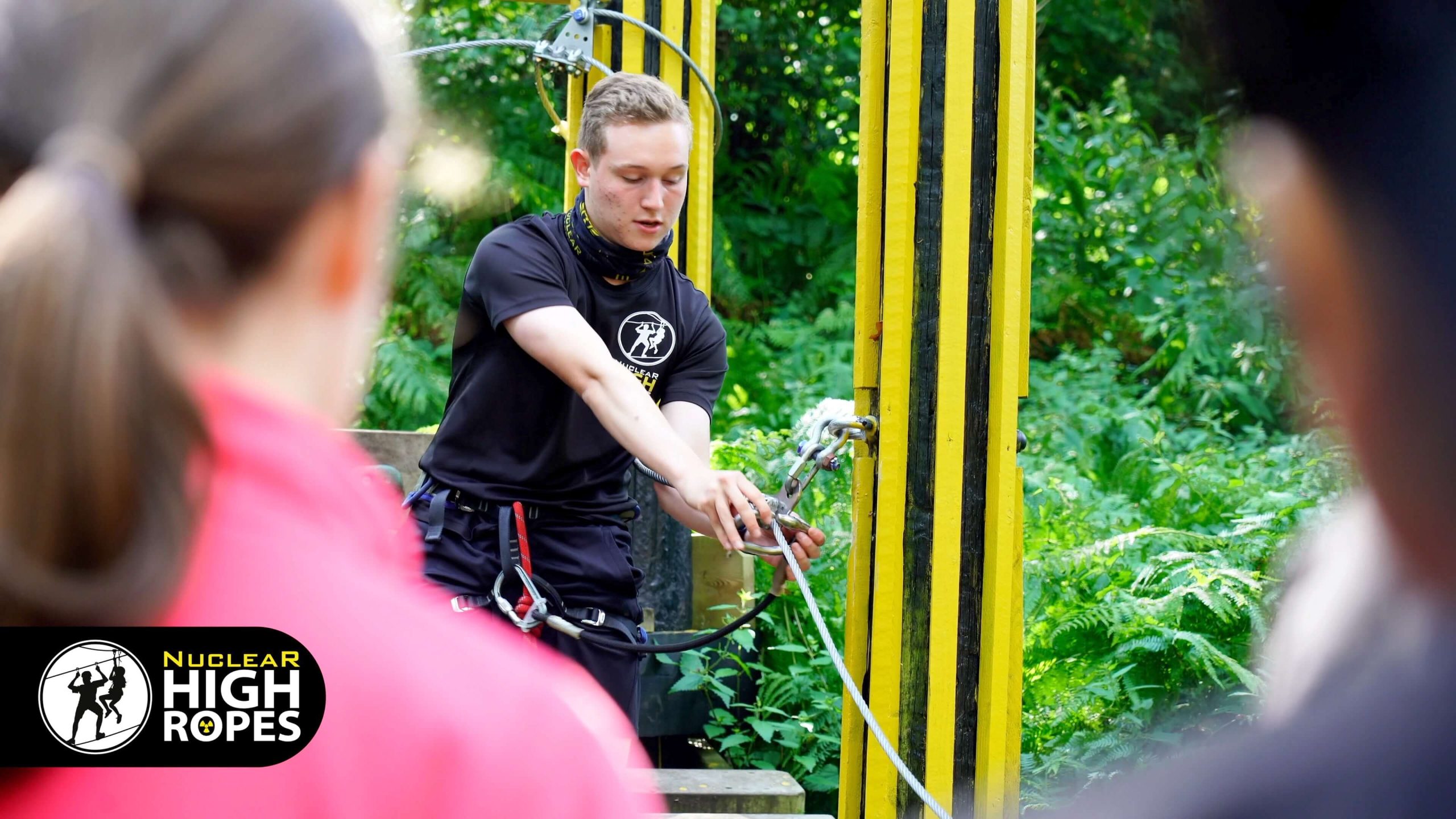 What will students see and do?
The largest high ropes course in Essex, Nuclear High Ropes sits atop the Kelvedon Hatch Secret Nuclear Bunker. Both the ropes course and the bunker offer unique experiences for students. Add in the neighbouring Nuclear Wild Forest Activity Centre, and you'll find adventures at ground level, high in the trees, and underground.
Nuclear High Ropes Brentwood is more than just a ropes course. It's an entire outdoor learning experience set on 1,600 acres of woods and farmland on the edge of London in Brentwood, Essex.
Schools can book half-day, full-day, or multi-day visits. Nuclear High Ropes offers six ropes courses with three difficulty levels, including 70 airborne obstacles, zip lines, and a climbing wall.
UK school trips can take advantage of the Nuclear Wild Forest, home of the Nuclear Races. This ground-level obstacle course challenges a range of age groups and ability levels.
The Secret Nuclear Bunker at Kelvedon Hatch offers an underground history lesson as students can tour the once-strategic nuclear shelter built as a possible base for central government in the event of an attack during the cold war. The shelter continued to be active as a civil defence centre, and later a Regional Government Headquarters.
---
How does the trip link to the curriculum?
Nuclear High Ropes is an outdoor learning experience that is ideal for teaching kids that physical activity and education can be fun. The experiential and stimulating outdoor activities offered in the treetops, on the ground, and below ground impart life skills your students will never forget.
Primary school programmes focus on encouraging teamwork and building self-confidence in the great outdoors. Secondary school programmes aim to build resilience, teamwork, and leadership skills.
All group activities encourage students to challenge themselves, boosting their confidence and teaching them that physical activity can be fun and rewarding.
The outdoor learning activities challenge students on multiple levels. They will test their courage, build their confidence, learn new skills, and practise teamwork.
The high ropes offer opportunities for developing focus, resilience, confidence, motivation, and determination.
The underground bunker offers a history lesson, with an up-close look at cold war-era Britain. This authentic facility was initially built as an RAF ROTOR Station, later used as a civil defence centre, and finally as a Regional Government Headquarters.
Subjects covered
---
Teaching resources provided
The ropes course and Wild Forest Obstacle Activity Centre offer physical education and personal growth experiences in an outdoor learning environment.
Teachers should discuss their educational objectives with the event team. This will allow them to plan the most appropriate learning activities.
---
Minimum and maximum group size
Nuclear High Ropes can accommodate up to 60 people on the ropes course at one time. They accept bookings for groups of 10 to 200 for the ropes course across the day.
The Wild Forest Obstacle Activity Centre can accommodate 10 to 250 participants.
---
Details of risk assessment
Nuclear High Ropes has earned the Quality Badge awarded by the Council for Learning Outside the Classroom. They will provide a full risk assessment for your trip. School groups will receive full instructions and a safety briefing upon arrival.
Trained, expert staff members lead all Nuclear High Ropes sessions. They follow ERCA recommended staff/participant ratios to ensure the safety and enjoyment of your students.
PLANNING
Don't miss our downloadable A-Z guide on completing a risk assessment
---
Facilities On-Site
Six ropes courses challenge visitors with three skill levels and a 40m zip line. Students can challenge themselves on the breath-stealing 13m "Big Drop" or the 9m climbing wall.
Nuclear High Ropes also offers multi-target axe-throwing challenges and air rifle shooting. Axe and rifle shooting participants must be at least 13 years old.
Beneath the high ropes course, the Kelvedon Hatch Secret Nuclear Bunker offers a three-level underground adventure with a self-guided, educational audio tour of the cold war-era bunker.
The Wild Forest Obstacle Activity Centre, home of the Nuclear Races, offers a series of muddy outdoor obstacle activities at ground level. There are outdoor hot showers and indoor changing rooms too. Camping is available.
The wooden registration cabin makes visiting Nuclear High Ropes more comfortable and offers a base for your group visit.
On-site, you'll also find:
Indoor and outdoor spectator viewing areas
Accessible footpaths around all the courses
A large picnic area
A souvenir shop
Handwashing facilities
Restrooms
Bag-drop
Vending machines
Hot and cold drinks (cash only)
Free wIfI
---
Opening Times
Half-day, full-day or after school sessions are available for Nuclear High Ropes and Wild Forest activities. Most morning sessions begin by 10am.
The Kelvedon Hatch Secret Nuclear Bunker is open weekdays, 10 a.m. to 4pm and 10am to 5pm on weekends and bank holidays (1st March to 31st October). From 1st November to the end of February, they're open Thursday to Sunday, 10am to 4pm They are usually open on school holidays.
---
Pricing
Special pricing for school groups (including home school groups) is available. Prices are set based on group size and the activities you choose.
A deposit and full payment are due one month before your event. If you're planning a class trip within a month, full payment is due upon booking.
---
Travel arrangements
Nuclear High Ropes is based in Brentwood, Essex. It is a 15-minute drive from the A12, M25 & M11 motorways. Access is only available from the A128 Ongar to Brentwood road at Kelvedon Hatch.
Follow the Secret Nuclear Bunker tourist road signs from the A414 and Brentwood High Street. A large brown sign for The Secret Nuclear Bunker and Nuclear High Ropes marks the facility entrance.
Once you turn off the main road, follow the access road for about one half-mile, past Dragons Lair Airsoft, into the free car park. They welcome coaches as well.
Address
Secret Nuclear Bunker, Kelvedon Hatch, Brentwood, Essex
CM15 0LA
---
Enquire Now
Book your school trip to Nuclear High Ropes
For information on booking your school trip to this venue, click below.