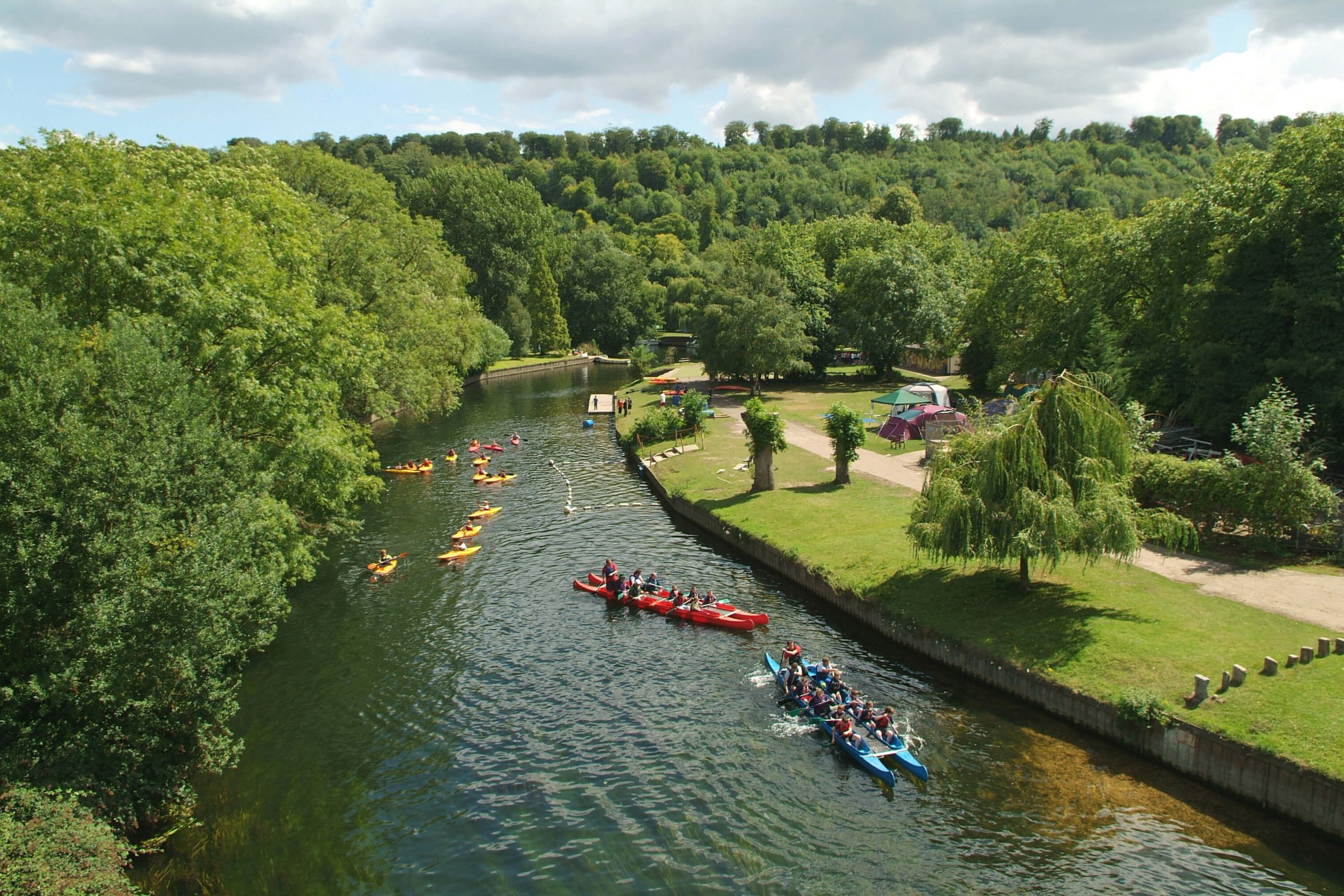 Full View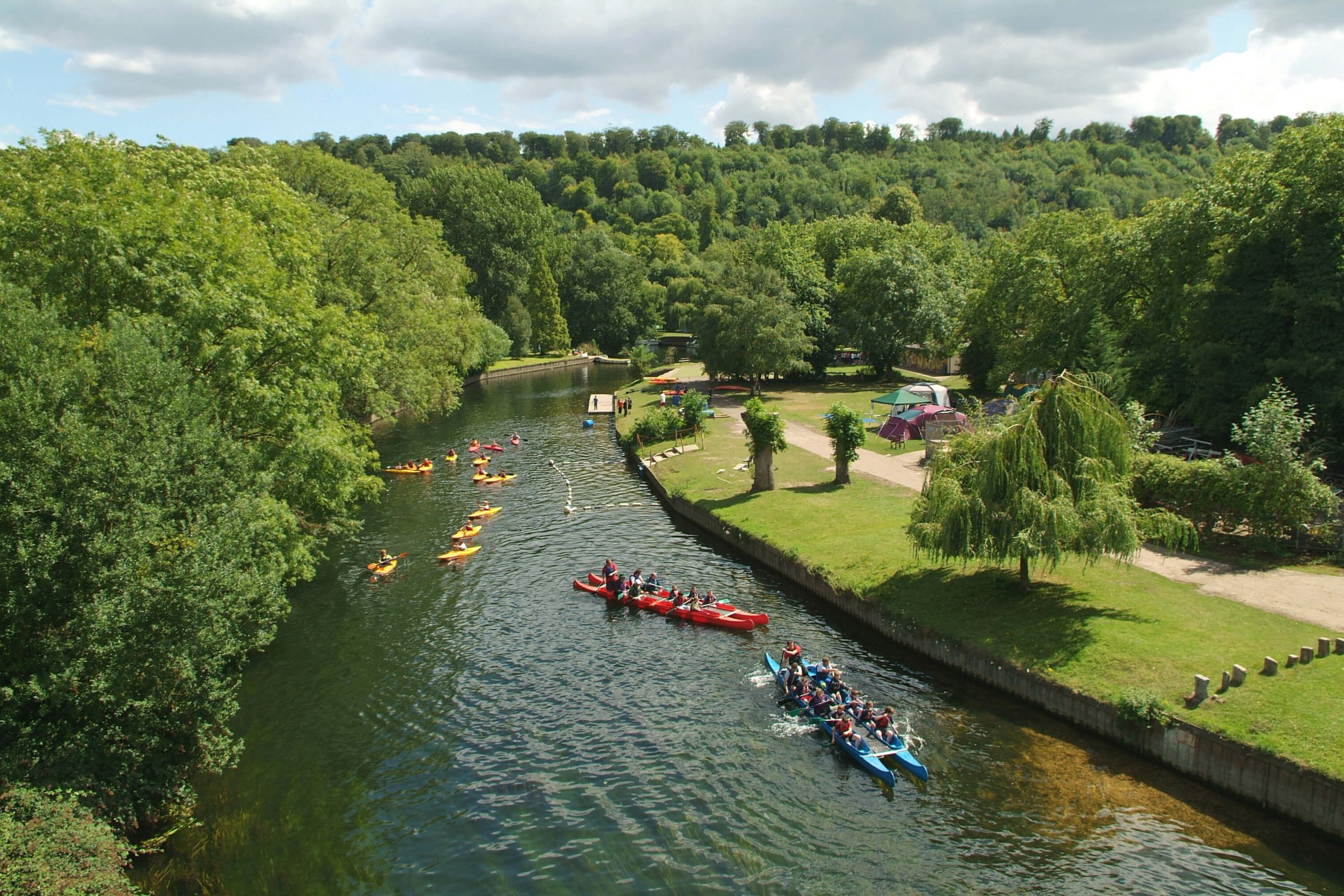 Photos of Longridge-on-the-Thames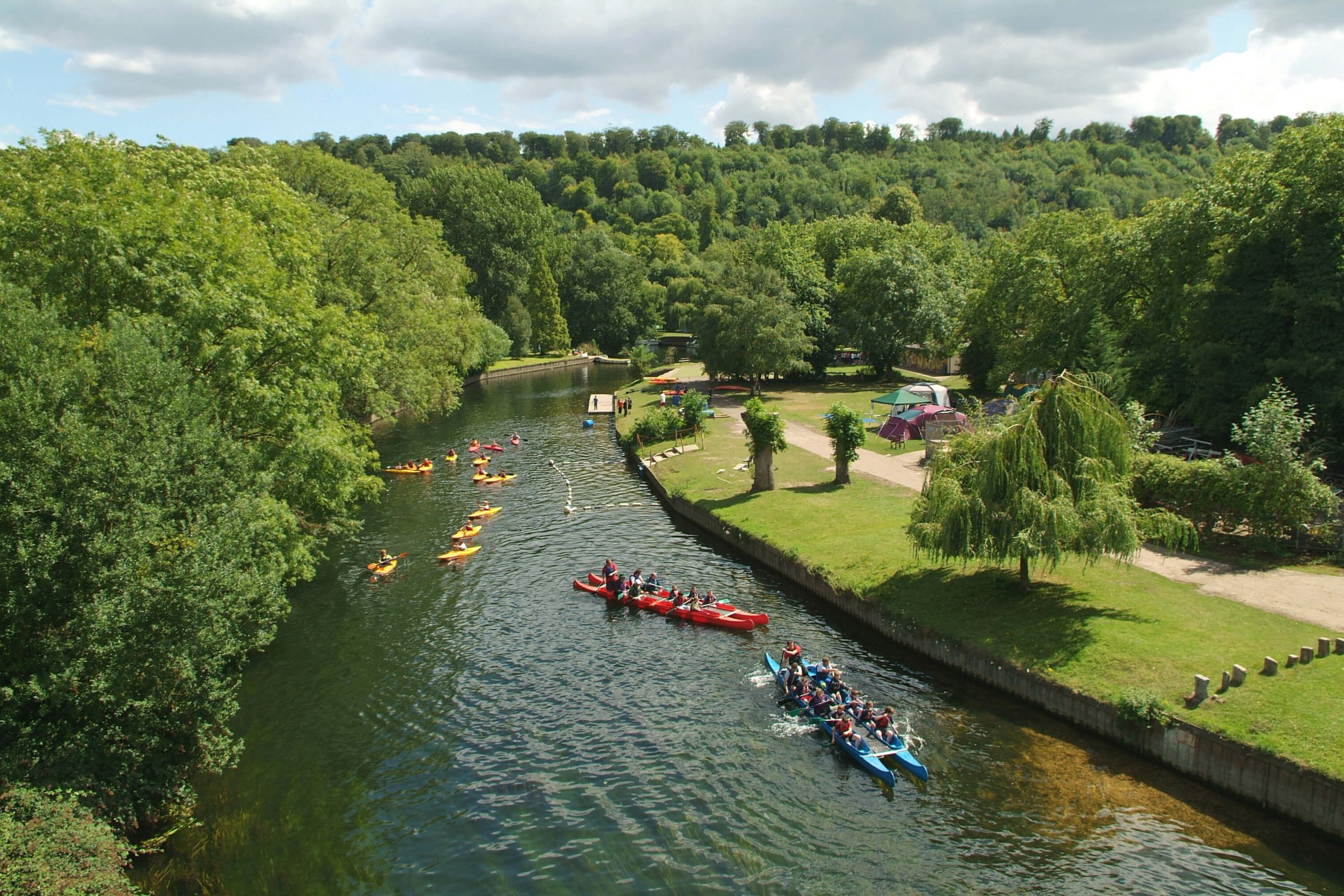 What will students see and do?
Longridge is an activity centre located on the banks of the River Thames near Marlow, Buckinghamshire. It has been in operation for over 50 years and its high-quality facilities are used by 85,000 young people each year.
The centre provides a fun, challenging and safe environment for young people of all abilities to enjoy a unique blend of  land-based and water-based activities. These can take place over residential or day visits.
The centre even has its own private island in the Thames, which provides a sheltered backwater in which young people can experience the river with confidence.
The activities on offer include kayaking, canoeing, dragon boat racing, bell boating, rafting, giant swing, aero ball, climbing, crate stack, leap of faith, laser tag, stand-up paddleboarding, giant stand-up paddleboarding, Jacob's ladder, trebuchet and team challenges.
The centre has schools that come and stay for a week, bringing their entire year groups, and schools that just come for a day of team building for students transitioning to high school.
Some local schools have also chosen to run after-school clubs at Longridge to give their students a chance to try out some different activities or experience a different kind of GCSE PE.
---
How does the trip link to the curriculum?
Longridge wants you and your pupils to have the best possible experience. Let the staff know in advance what you want to achieve, so they can make sure that your programme is perfectly suited to you.
The activities on offer will enable young people to develop important life skills such as leadership, self-discipline, confidence and respect.
You can be assured of Longridge quality, too, as it is accredited by the Council for Learning Outside the Classroom (LOtC) and the Adventure Activities Licensing Authority (AALA). It is approved by British Canoeing, the Royal Yacht Association (RYA, and British Rowing to provide vocational training courses that can lead to an accredited qualification.
You can build one of these recognised courses into your residential stay, while schools close to the centre can create a bespoke course that runs over a half term.
Subjects covered
---
Teaching resources provided
Get in contact to discuss your curriculum objectives and the sorts of learning resources Longridge-on-the-Thames may be able to provide.
---
Minimum and maximum group size
Varies between 8-20 students maximum depending on the activity – large groups will be split up.
---
Details of risk assessment
Risk assessments for all activities are available to download from the website.
PLANNING
Don't miss our downloadable A-Z guide on completing a risk assessment
---
Facilities On-Site
Longridge-on-the-Thames' bunkhouses can accommodate up to 87 young people, with separate staff rooms and facilities. Alternatively, your group can pitch up their own tents on the secure campsite, where there is room for up to 500.
Longridge will provide all necessary equipment for activities, including buoyancy aids if needed. Wet suits are not required for any of the activities but wet shoes are advisable for all water sports. If your students don't have any, an old pair of trainers is also fine – they just need something closed-toe that will stay on their feet if submerged, so no crocs or flip flops.
---
Opening Times
Daily, 8am-9pm
---
Pricing
Overnight accommodation ranges from £8-£20 per person per night. The price of meals per person is as follows:
Breakfast/lunch – £5.50
Dinner – £7
Activities typically cost £150 per session but discounts are available for large group programmes.
---
Travel arrangements
Longridge-on-the-Thames comprises ten acres of river meadow and an island that are situated on one of the largest stretches of the River Thames. Get in touch for directions if required.
Address
Longridge-on-the-Thames, Longridge, Quarry Wood Road, Bucks
SL7 1RE
---
Enquire Now
Book your school trip to Longridge-on-the-Thames
For information on booking your school trip to this venue, click below.