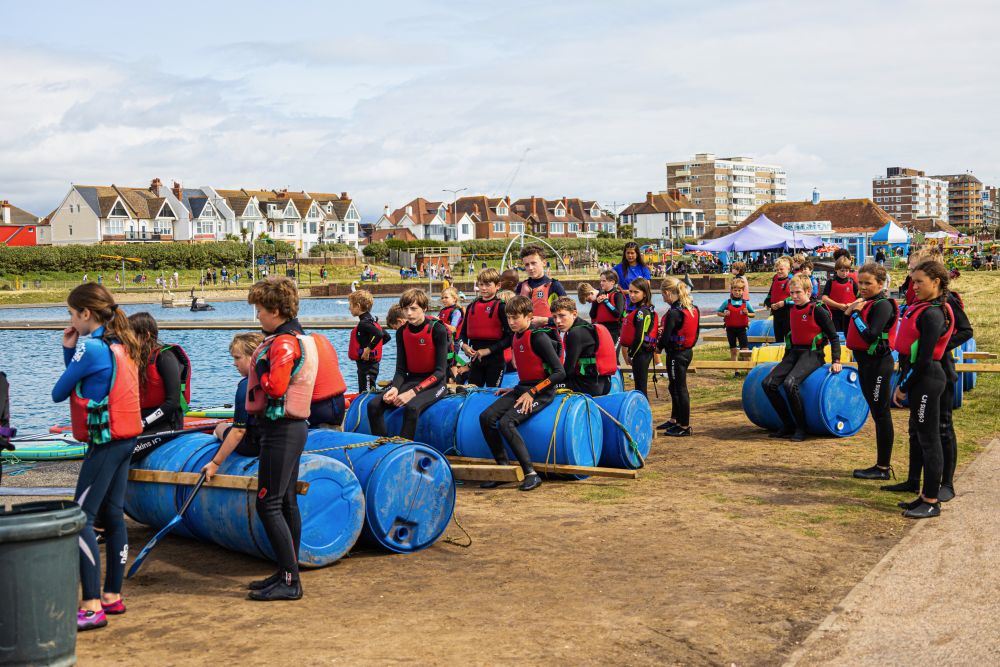 Full View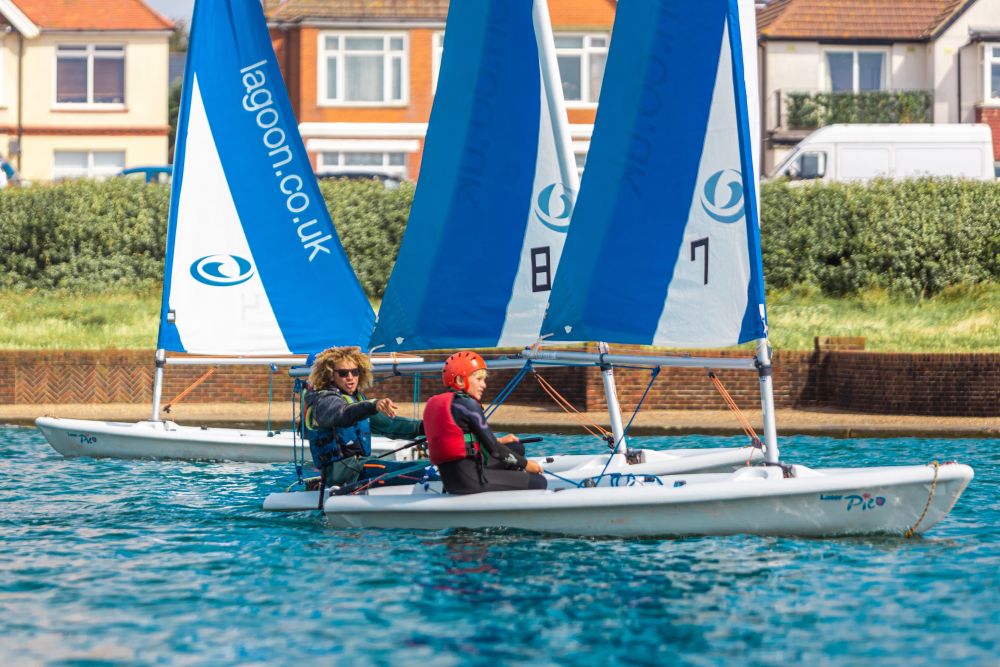 Full View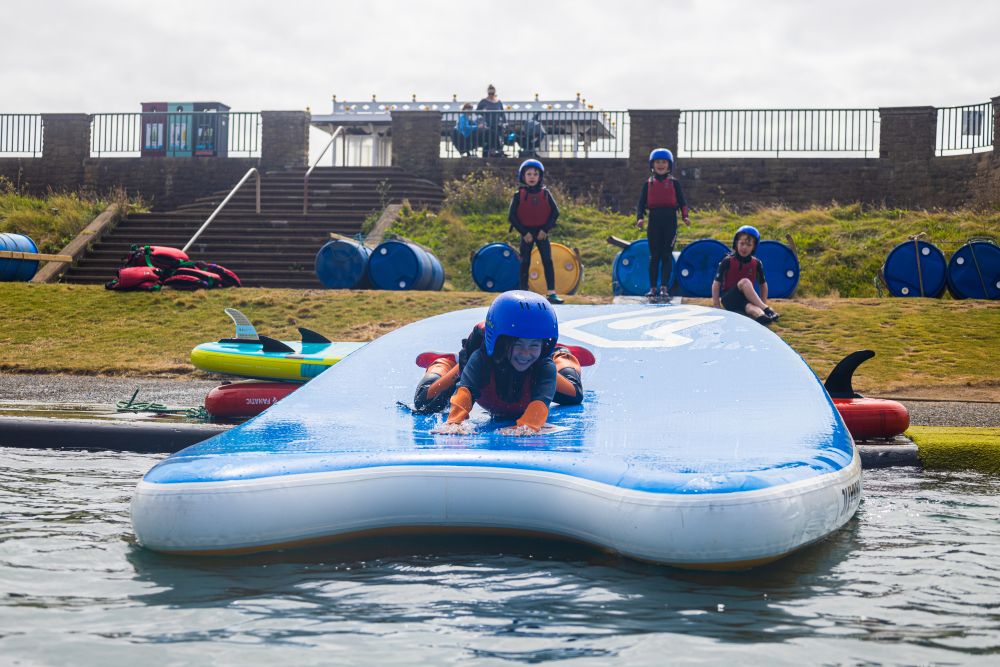 Full View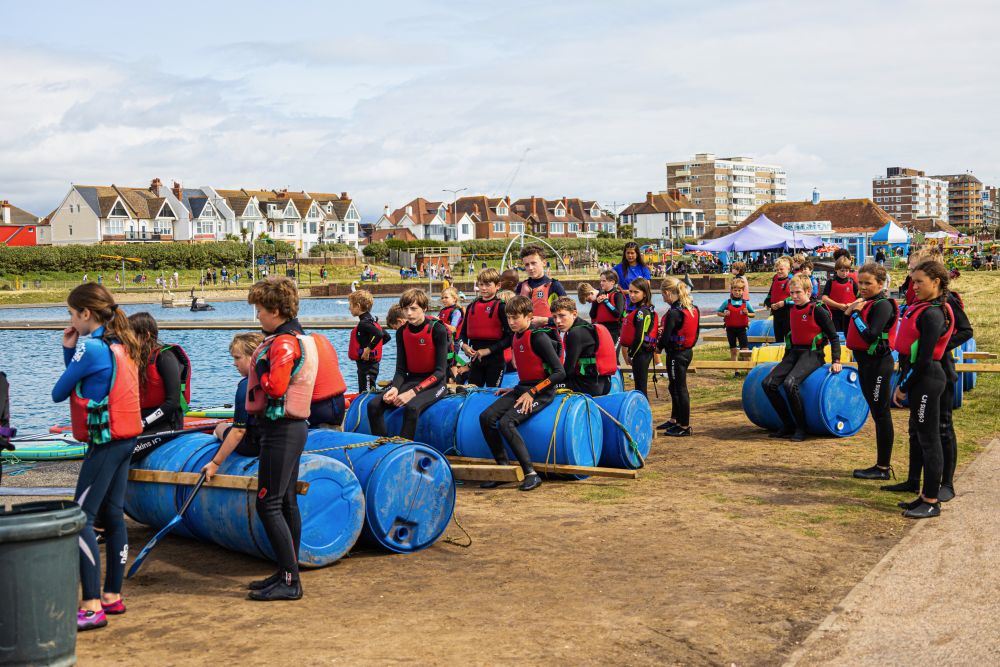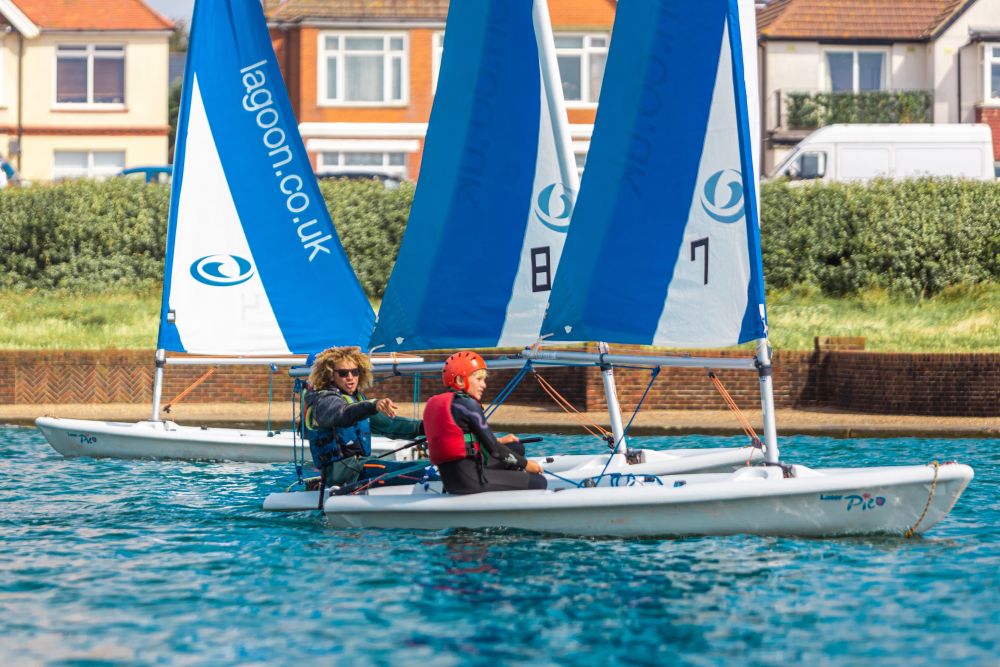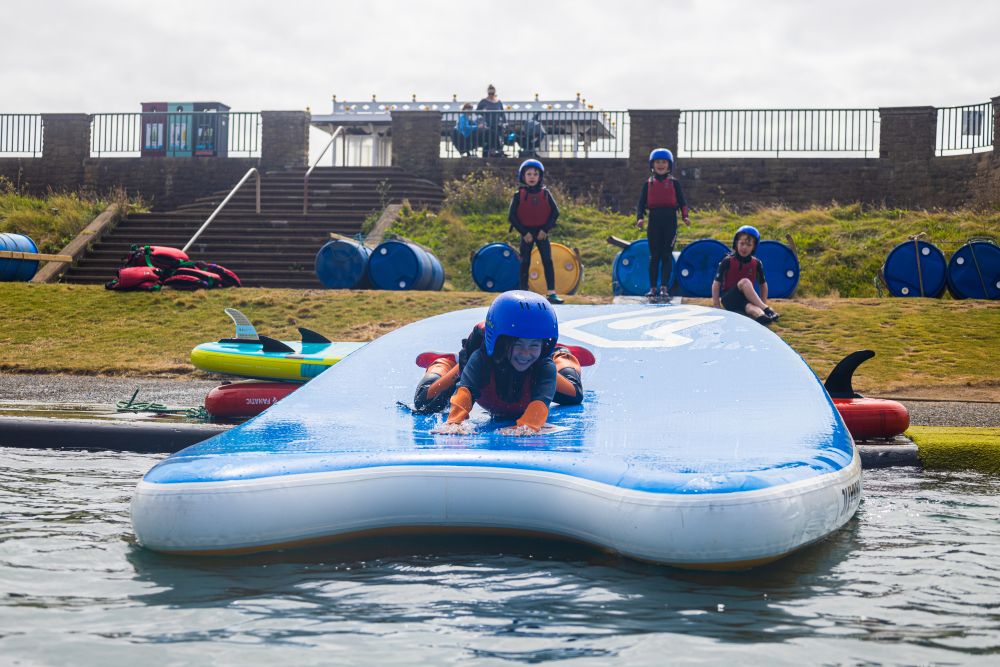 Photos of Lagoon Watersports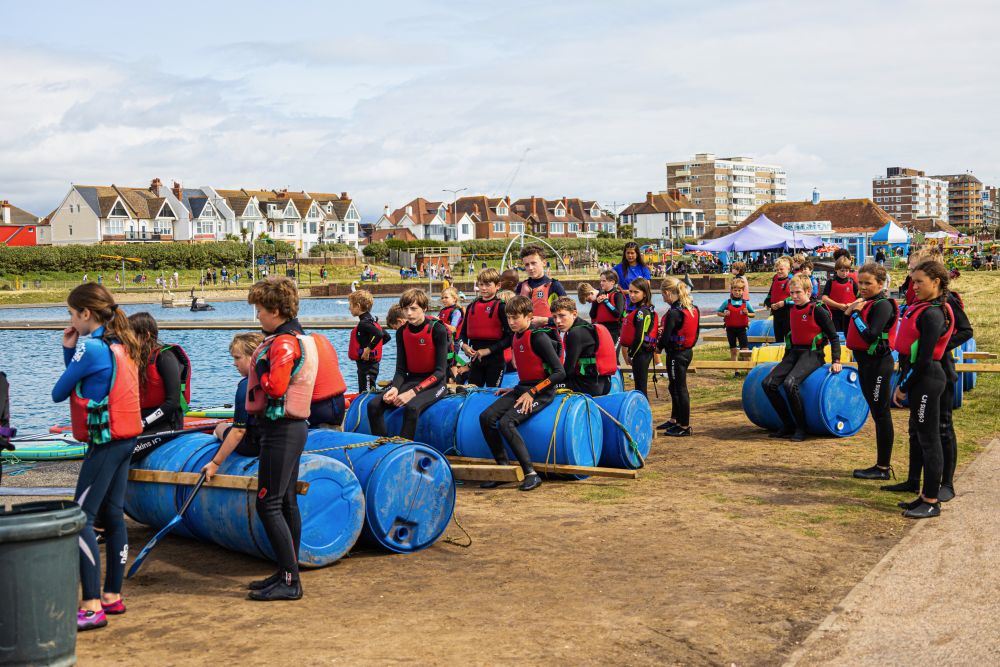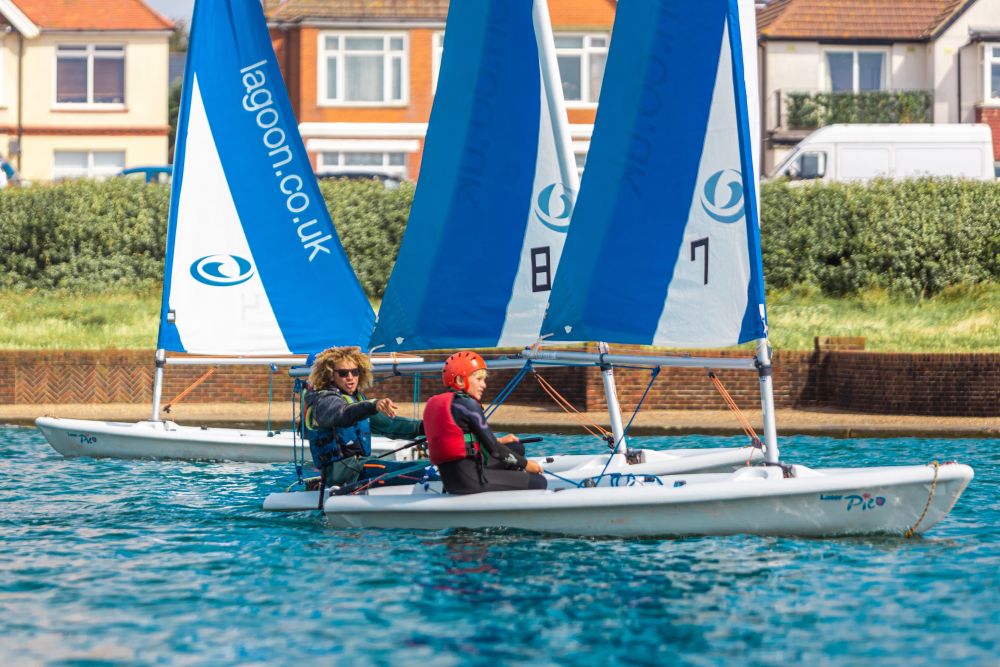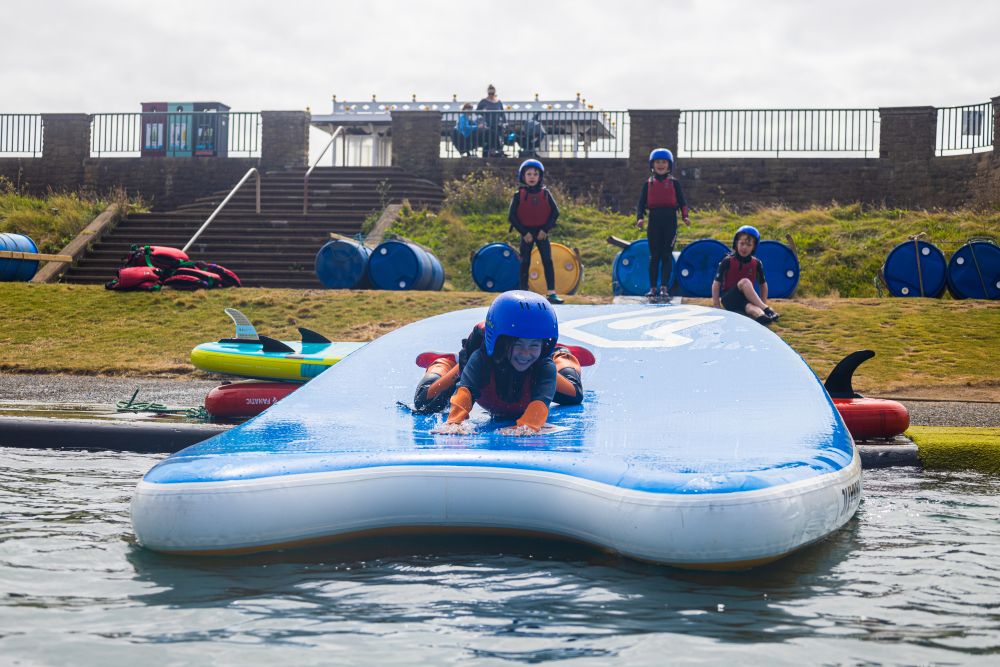 What will students see and do?
Lagoon Watersports has offered options for school groups for over 25 years. While most of these activities are hosted at Hove Lagoon, older students can participate in sailing and powerboating at Brighton Marina.
Students have the option to choose from the following activities:
Windsurfing (ages 8 and up)
Sailing (ages 6 and up)
Kayaking (ages 8 and up)
Wakeboarding (ages 8 and up)
Coastal sailing (ages 12 and up)
Powerboating (ages 12 and up)
Team building/raft building (ages 8 and up)
Standup paddleboarding (ages 8 and up)
Educators have the option to enrol students in short taster sessions, which run only a few hours, or longer courses. These longer courses can include regular weekly sessions that focus on one or multiple activities, enrichment weeks, or BTEC units.
Students will be able to gain valuable experience in watersports, enhancing their fitness abilities as well as engaging in character building. The programmes will help motivate students to achieve new heights in physical education and become successful learners.
The programmes offer personal and educational enrichment by promoting team building, responsibility, communication, and problem-solving skills. Students will learn practical skills to equip them with the knowledge and attitude needed to develop healthy lifestyles, both in the classroom and out.
Lagoon Watersports is also happy to work with teachers interested in providing after-school clubs to students. These clubs usually take place one day per week, after school, and run for about 4-6 weeks, depending on the programme. At the end of the course, students are able to gain qualification certifications.
Another option is to invite staff to your school grounds to deliver an assembly where they help get students interested in and excited about an educational partnership with Lagoon Watersports.
---
How does the trip link to the curriculum?
A variety of courses are offered at Lagoon Watersports. Many of them are suitable for Duke of Edinburgh Awards, and qualify as BTEC Public Services and Sports courses.
Outdoor Education courses at Hove Lagoon can fit well with PSHE programmes. The staff at Lagoon Watersports are happy to design sessions that will fit with educators' PSHE plans.
The organisation also offers tuition and coaching for students preparing for Physical Education GCSEs. This will focus on Unit 2: Performance of Physical Education. For this programme, courses offered include windsurfing, sailing, or wakeboarding, during which instructors will work with students over a 4-6 week period to help them obtain the grades needed.
At Brighton Marina, students can obtain RYA Sailing qualifications all the way through Stage 4. Students are provided with certificates as they move through the programme, which is eligible to be applied to in-school physical education courses and the Duke of Edinburgh Award Scheme.
For students aged 16-18, Lagoon Watersports offers a BTEC Level 3 Sport and Outdoor Activities Diploma. This two-year course works alongside your school curriculum, while simultaneously providing students with applicable instructor certifications. Through this course, students are able to obtain employability options and/or a path to university and further study in the watersports field.
Lagoon Watersports partners with Newman College, located in central Hove. Classroom instruction is provided through the college, while practical activity experience is provided through the watersports instructors. The 12 academic units students will obtain are equivalent to 3 A level courses.
Subjects covered
---
Teaching resources provided
For students interested in working in outdoor education, Lagoon Watersports is happy to provide BTEC educational materials. The focus is on improving health through watersport curriculum, and teaching skills that will aid with employability in the fitness education field.
---
Minimum and maximum group size
The minimum number of pupils is five, while the maximum ranges from 60-100, depending on the programme. There's also a minimum booking of four sessions.
---
Details of risk assessment
Lagoon Watersports is accredited both by the Royal Yachting Association (RYA) Centre and the British Waterski and Wakeboard (BWSW) Centre. This means all instructors have been thoroughly vetted, and programmes are certified as being safe for children.
The water quality in both Hove Lagoon and Brighton Marina is regularly tested and have passed each inspection since Lagoon Watersports opened in 1994.
Comprehensive risk assessments are available upon request.
PLANNING
Don't miss our downloadable A-Z guide on completing a risk assessment
---
Facilities on-site
Hove Lagoon offers standup paddleboarding, wakeboarding, windsurfing, and more.
Brighton Marina offers yacht sailing, sailing, powerboating, and more. The area also has other attractions such as shops, restaurants, and entertainment centres on-site.
---
Opening times
Hove Lagoon is open during the summer season and closed during the winter. From April to September, weekend hours are 9am-7pm, and in October, weekend hours are 10am until one hour before dark.
In April, Hove Lagoon is open Wednesday through Friday from 12pm-6pm. From May through September, it's open Monday through Friday from 12pm until one hour before dark.
In October, Hove Lagoon is open Wednesday through Sunday, also from 12pm until one hour before dark.
Brighton Marina is open during the summer season and closed during the winter. In April and May, the office is open Wednesday through Sunday from 9am-6pm. In June through August, the office is open seven days a week, and hours are 9am-6pm. In September and October, the office is open Wednesday through Sunday from 9am until 6pm.
---
Pricing
The rate for one hour is £16 per student. For 90 minutes, it's £18.90 per student. For two hours, £22.50 per student, and up to two activities can be chosen.
For three hours, up to three activities can be chosen, and pricing is £31.50 per student.
During the summer session, there is an additional fee of about £5 per student. For groups of six or more, £35 will be added for the first hour and £18 for every hour after that.
---
Travel arrangements
To reach Brighton Marina, head towards the City Centre Seafront and make a left onto A259. The marina is also accessible by public transit. The No 7 bus from central Brighton runs every six minutes in the daytime.
To reach Hove Lagoon, take London Rd down to Brighton Beach, where you'll turn right onto Kingsway. The No 6 and 700 Buses also provide transit to Hove Lagoon.
Address
Hove Lagoon, Kingsway, Hove, East Sussex
BN3 4LX
---
Enquire Now
Book your school trip to Lagoon Watersports
For information on booking your school trip to this venue, click below.