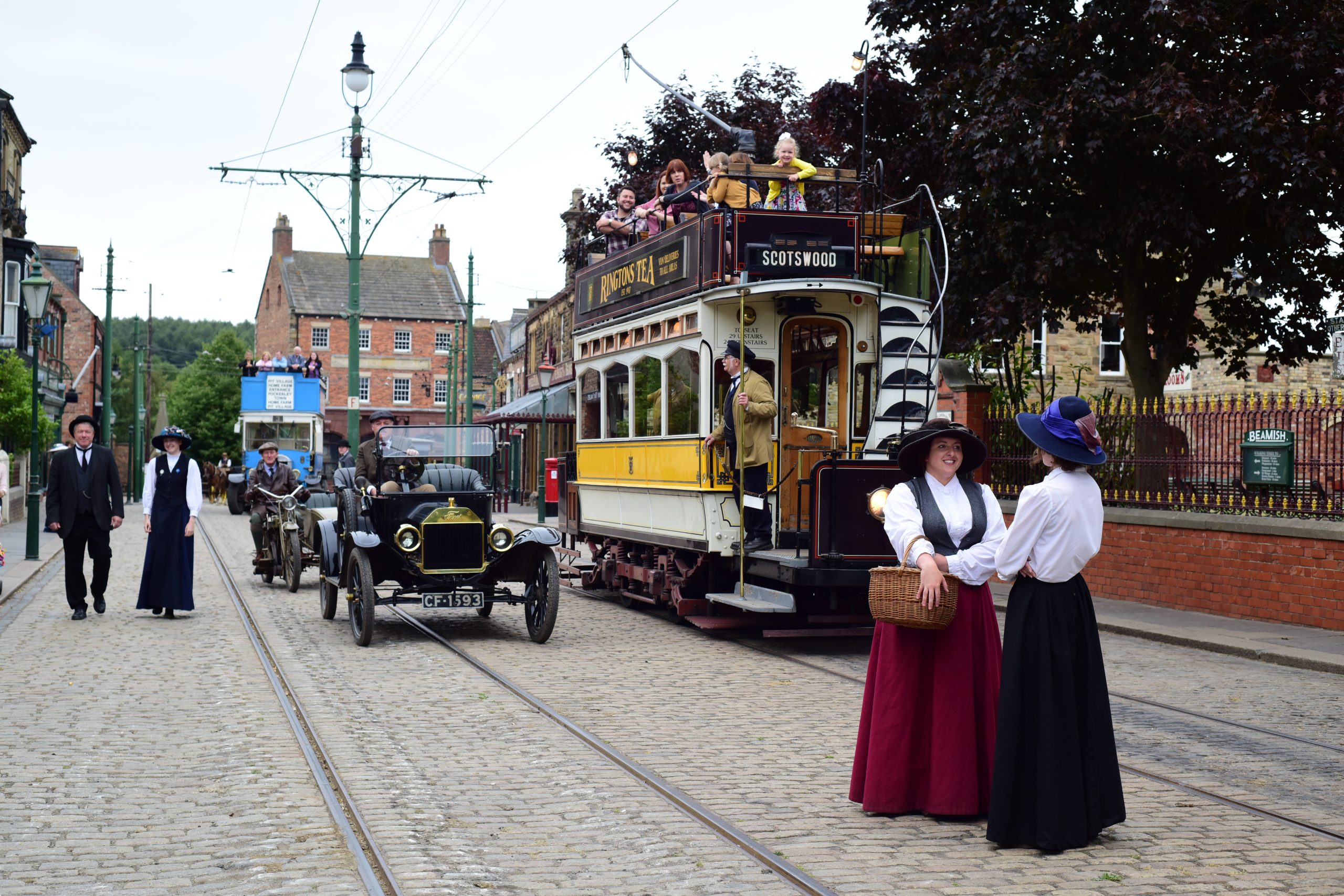 Full View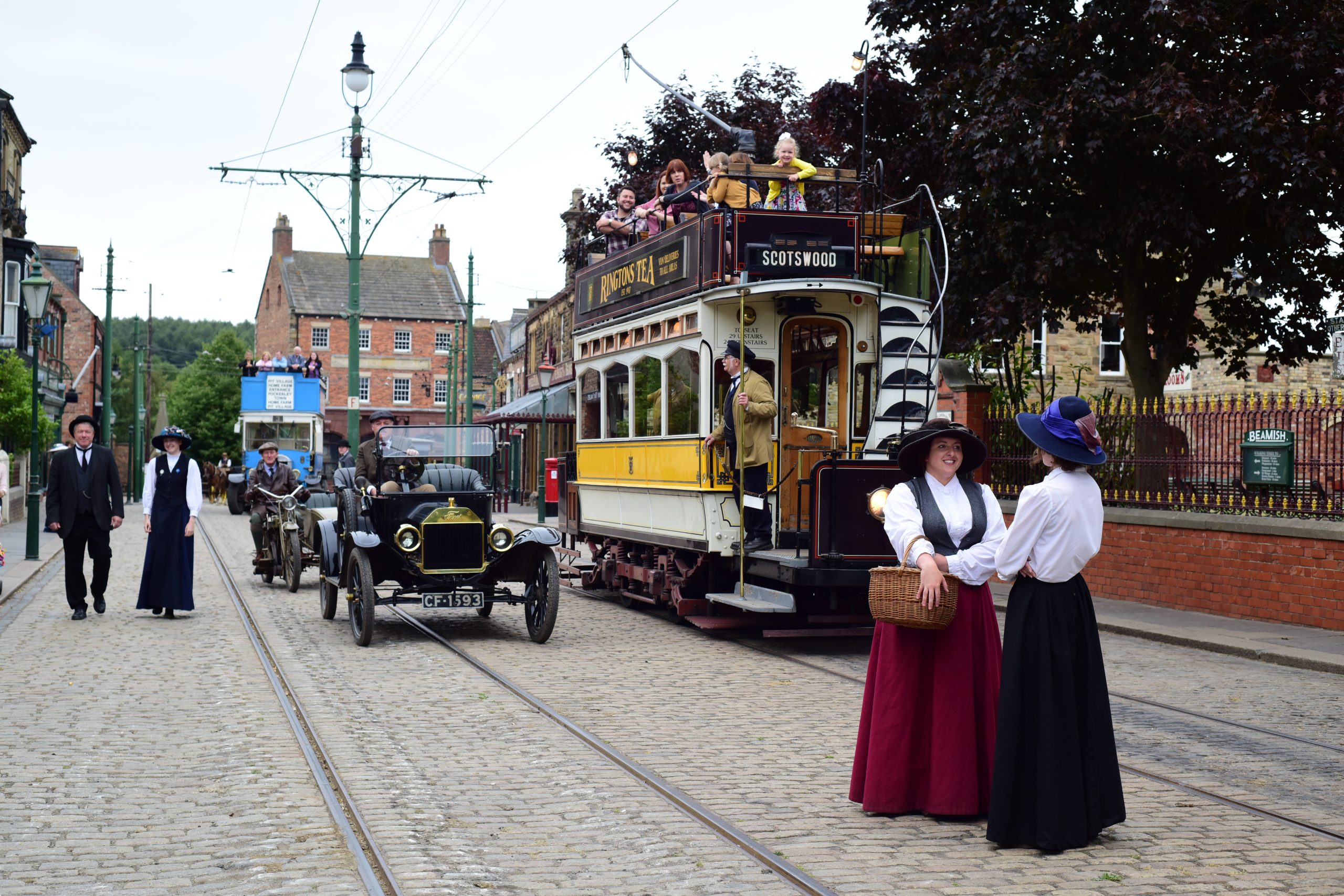 Photos of Beamish Museum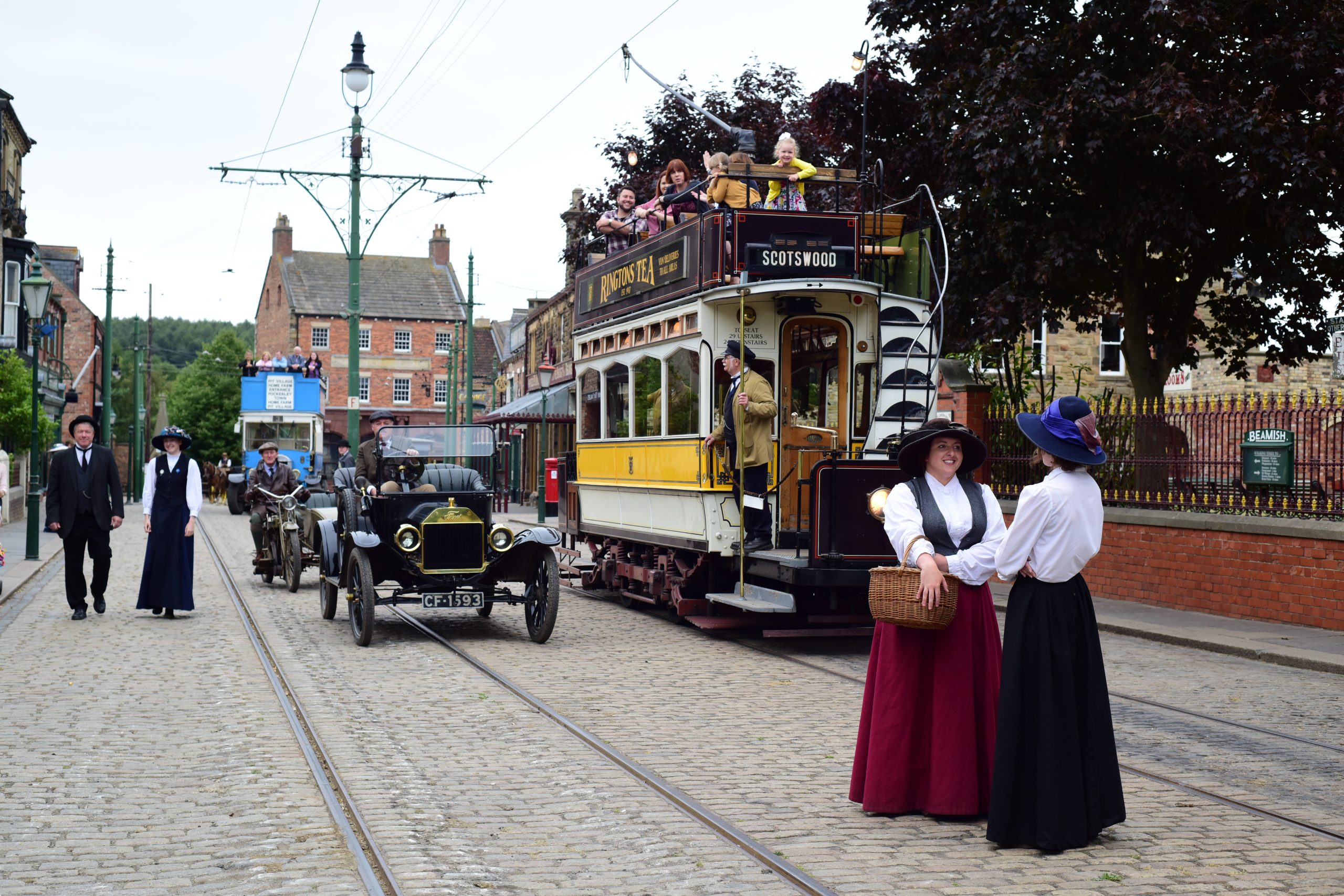 What will students see and do?
Beamish is a world-famous open-air museum, telling the story of life in North East England during the 1820s, 1900s and 1940s.
It was founded by Dr Frank Atkinson – Frank had visited Scandinavian folk museums in the early 1950s and was inspired to create an open-air museum for the North East. He realised the dramatically-changing region was losing its industrial heritage, and that coal mining, shipbuilding and iron and steel manufacturing were disappearing, along with the communities that served them. Frank wanted the new museum to illustrate the old ways of life and bring the region's history alive.
There are several areas of interest, including the 1900s town, where you can see how families lived and worked in the years leading up to World War I; the 1900s pit village, where you can see what's cooking in the pit cottages, practise your handwriting in the school and visit the chapel; the 1940s farm, where you can discover how life was on the Home Front during World War II; the 1900s colliery, as no recreation of the history of North East England would be complete without a colliery and the people who worked and lived around it; 1820s Pockerley, where you can take a ride on Pockerley Waggonway and wander through the glorious Georgian landscape; Rowley Station, which looks just as it did in Edwardian times with its signal box, waiting rooms and goods yard; the Beamish Tramway, opened in 1973 to re-create the experience and atmosphere of tramway operations from an earlier generation while providing an essential means of transport for visitors around the site; and the 1950s welfare hall.
---
How does the trip link to the curriculum?
Beamish Museum can bring classroom learning to life through immersive experiences they'll never forget.
The workshops currently available include:
• All Our Childhood Toys (EYFS-KS1), where students play with a variety of toys and games that children would have enjoyed in the past.
• Home Sweet Home (KS1), which invites children to handle up to 30 artefacts that tell the story of life in a cottage in The 1900s Pit Village.
• Life in the Infant Classroom (EYFS-KS1), which looks at old games from the playground and lessons in kindergarten.
• Lost Toys (KS1), an activity where 10 period toys have been hidden around the museum. The shop owner will take the children around The 1900s Town to look for the toys and, once found, they can be examined and explained. The shop owner will show the children how to play with the toys.
• Your Local History (KS1-KS3), where students can use the museum's resources to discover the history of your school. This activity includes a live visit to The 1900s Town, a pre-recorded film relating to your local history, and access to maps, images, newspaper reports, census, ephemera and artefacts from the collection to support their learning.
• Just One Spark (KS2), the story of the investigation into explosions and the race to find a solution to ensure the safety of miners.
• Victorian Lesson (KS2 & KS3), where students experience a traditional lesson of reading, writing and arithmetic delivered from the boarding school in The 1900s Pit Village.
• Suffragette Investigation (KS3 & KS4), a look into how the Suffragettes took action in the North East.
Subjects covered
---
Teaching resources provided
Beamish Museum has a selection of learning resources to help you during your visit, including KS 3-4 resources to support the Suffrage Rally workshop, KS2 resources to support the Just One Spark workshop, and information on coal mining and local history to support the James White KS2 workshops.
The website also supplies a link to The People's Collection, an archive of digitalised photographs, oral history recordings, books and trade catalogues from the vast collection at Beamish Museum. The founders plan to digitise even more of the collections, and more content will become available over time. There are also plans to enable visitors to upload their own photographs and memories, to help us save the past for future generations.
---
Minimum and maximum group size
Each activity is designed to suit a full class of around 30 students.
---
Details of risk assessment
Beamish Museum has a risk assessment in place – contact directly to request.
PLANNING
Don't miss our downloadable A-Z guide on completing a risk assessment
---
Facilities On-Site
Beamish is a large open-air museum with many historic buildings, including a 1900s town; a 1900s pit village; a 1940s farm; a 1900s colliery; Pockerly from the 1820s; the Edwardian Rowley Station; the 1973 Beamish Tramway; a 1950s welfare hall; and some behind-the-scenes open stores.
If you have disabled students, take note that many surfaces on the historic site are uneven by nature – there are steep slopes in places, and some buildings and exhibits have stepped access.
---
Opening Times
Wednesday to Sunday: 9am-4pm
Monday to Tuesday: Closed
---
Pricing
Entry: £6.50
Each activity: £35 – £100 per class
One accompanying adult goes free for every five children over 5 or three children under 5.
---
Travel arrangements
The Beamish Museum is located in Beamish, County Durham. If driving, take exit 63 from the A1(M).
Buses run from Newcastle City Centre, Gateshead, Birtley, Ouston and Chester-le-Street every 30 minutes on Monday to Saturday daytimes, and hourly in the evening and on Sundays.
The closest train station is located in Chester-le-Street, which regularly travels from Newcastle, Durham and Darlington.
Address
Beamish Museum
Regional Resource Centre
Beamish
County Durham
DH9 0RG
---
Enquire Now
Book your school trip to Beamish Museum
For information on booking your school trip to this venue, click below.