The Lowdown
Name
Warner Bros. Studio Tour London: The Making of Harry Potter
In a nutshell
Filmmaking / Magic / Cross-curricular /Award-winning
Where else can your students step onto authentic sets, learn behind the scenes secrets and relive the magic behind the Harry Potter film series?
Delve deeper into filmmaking with a free cross-curricular lesson, subject to availability.
Spend a spellbinding day outside the classroom by stepping into the iconic Great Hall set at Warner Bros. Studio Tour London.
Board the original Hogwarts Express at Platform 9 ¾ and take in the grandeur of Gringotts Wizarding Bank, all before wandering down Diagon Alley.
Earmuffs ready? Brand new for 2022, just like a Hogwarts student you can step into Professor Sprout's greenhouse and pull out a potted Mandrake.
Explore two soundstages and a backlot filled with original sets, animatronic creatures and breathtaking special effects.
Experience green screen technology first hand, learn how intricate prosthetics help transform actors into creatures, and marvel at the innovative artistry that brings a director's vision to the screen.
Behind the scenes secrets of the most magical film series of all time will be revealed, with learning opportunities around every corner.
As part of your school visit, take a deeper look at the art of filmmaking with cross-curricular lessons delivered by a team of qualified teachers in purpose-built classrooms.
The learning offering includes a variety of lessons spanning Key Stages 2 to 5, and covers a range of curriculum areas including STEM, Art and Design, English, Business Studies and Film and Media.
The learning programme was created to inspire the next generation of filmmakers, providing the link between the classroom and how it is applied to the filmmaking process and real-life jobs.
"Tale a deeper look at the art of filmmaking with curriculum-linked lessons delivered by a team of qualified teachers"
During each lesson, students will have the unique opportunity to see original props and costumes from the Harry Potter films up close.
New for this academic year, Film and Media students can explore the fascinating topics of either storyboard templates or mise-en-scène as part of their visit.
Other available lessons include Movie Maths, Costume Distressing, Screenplay Stories and Movie Graphics. Each lesson includes pre- and post-visit resources to assist with lesson planning both before and after your visit.
All 45-minute lessons are free to visiting schools, and the Studio Tour is a Learning Outside the Classroom Quality Badge holder. Lessons are subject to availability, so book early to avoid disappointment.
Warner Bros. Studio Tour London welcomes all visiting schools with dedicated team members who will greet coach arrivals and present classes with wristbands and activity passports, the latter of which are used to collect stamps throughout the Studio Tour.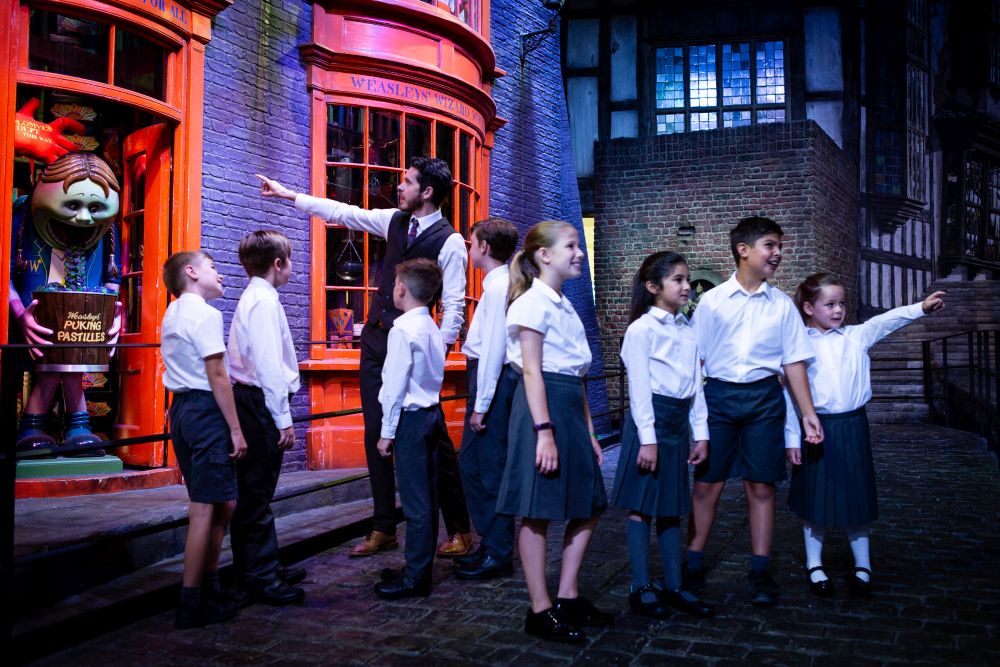 Quiz trails are available to download from the website to add a further educational element as students wander through the film sets.
Remember to try out one of the green screen experiences on offer, where students can ride a broomstick, just like in the films, and receive a free digital photograph.
Printed photographs are available to purchase at a discounted rate as part of our school package.
Lunch areas for groups are available outside near the coach park, in the Food Hall or halfway through the Studio Tour in the Backlot Café, subject to availability.
Alternatively, Knight Bus lunch boxes can be pre-ordered before your visit for an additional cost.
The Studio Tour is an accessible attraction, with step-free access in most areas and lifts to reach the classrooms.
All lessons can be tailored to meet the varying learning needs of each class. There is a sensory room located within the Studio Tour for anyone who may require it – just ask a member of staff who will help you find your way.
For 2023, schools tickets will remain at a discounted rate on selected dates. Tickets otherwise cost £20 for a primary school student and £23 for a secondary school or college student, with free teacher tickets.