The world is changing, and design can help! V&A Innovate is an annual National Schools Challenge, asking Y7, Y8 and Y9 students at state-funded schools to work in teams to design a solution to a real-world problem.
Grounded in the V&A's collections and cutting-edge industry practice, V&A Innovate has been created with teachers and designers to equip young people at KS3 with the confidence and skills to develop solutions for real-world issues. V&A Innovate supports:
Developing interdisciplinary problem solving skills, creativity, critical thinking, collaboration and communication
Celebrating and advocating for design and creativity in your school.
We're asking students to follow human- and planet-centred design processes in response to one of three challenge themes inspired by V&A collections – with this year's themes being 'Restore', 'Play' and 'Sense'.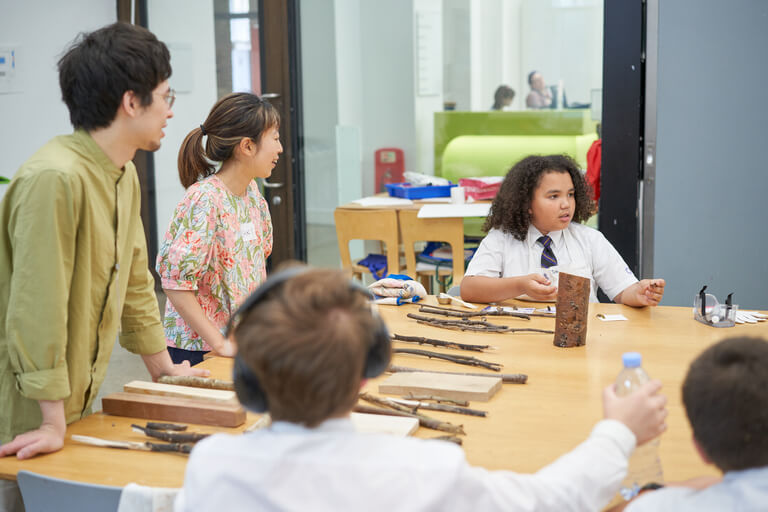 We would recommend planning for a minimum of six hours to deliver a project, and running it over a term of D&T lessons, over a day as a dedicated STEAM project or via an extracurricular club.
Those teams chosen as finalists will then be invited to pitch their ideas in person to our expert judges at V&A South Kensington, London.
There is a wide range of free online resources to support delivery of the challenge that you can check out.
Our teacher and student toolkits will guide you through the design process step by step, while our series of films and animations – made with input from designers and curators – will bring real-world design lessons into your classroom and help to inspire your students' own design ideas.
"Our series of films and animations – made with input from designers and curators – will bring real-world design lessons into your classroom."
The deadline for entries is 12 January 2024, with the Pitching and Awards Day scheduled to take place on 19 March 2024. To stay up-to-date on this year's V&A Innovate challenge, sign up for our Innovate emails at vam.ac.uk/info/innovate#email-updates.
For more information, email innovate@vam.ac.uk or visit vam.ac.uk/innovate.
Need to know
V&A Innovate supports delivery of the KS3 curriculum and scaffolds skills towards the NEA component of the D&T GCSE, with broad themes encouraging students to explore the role of design in tackling real-world issues.
All students taking part will receive a participation certificate and feedback from the judging panel. Finalists will have their work displayed at the museum, and also be in with the chance of winning plaques, trophies and access to designer-led workshops.
Join our V&A Innovate online teacher sessions for an introduction to the programme and to hear tips from other teachers taking part. Book your free place by visiting vam.ac.uk/whatson/programmes/schools.