The JORVIK Viking Centre experience is hosted by a number of our Viking team members, who will guide you through a series of educational talks and activities on a variety of Viking topics.
As well as learning more about how the archaeological remains of the Viking city of JORVIK were discovered and analysed, you can also experience life in the 10th century for yourself on our famous ride around a bustling recreated Viking street.
Please be aware that the content of our attractions includes human remains, and briefly touches on sensitive topics such as death, illness, injury, and slavery, although these topics are not the major focus of any schools offer, unless otherwise stated.
Workshops 
Our 45-minute workshop sessions are specially designed to spark your pupils' interest in the past by exploring a variety of fun and interesting themes. Choose from the options below when booking a workshop to complement your JORVIK visit.
Viking Battle Tactics – Discover some of the causes of raiding and warfare in Viking times, see the weapons that were used and then have a go at re-enacting Viking strategies for the battlefield
Viking Sagas – Listen to stories and poetry heard by the Vikings over 1000 years ago, help re-enact a myth about Thor and his Hammer and have fun with Viking riddles or 'kennings'
Anglo Saxon and Viking Medicine – Where did Anglo-Saxons go to get medical cures? Who would treat an injured Viking warrior?
Traders, Looters or Settlers? – Why did the Vikings come here and who were they really?
Our Viking workshops take place at DIG, just five minutes' walk from JORVIK Viking Centre.
Can't come to us? Then let us come to you (virtually)! 
Wherever you are in the world, we can deliver a digital history lesson straight to your classroom with our live Virtual Outreach sessions.
Inspired by the themes of our award-winning workshops, these immersive, interactive and curriculum-linked sessions are led by our team of expert presenters.
Designed with Key Stage 2 in mind, but suitable for all Key Stages, our Learning Team are happy to discuss your specific learning aims.
We have the following options for our virtual outreach:
Virtual Vikings
Your students can spend 45 minutes discovering what life was like in the Viking Age from the perspective of different 10th-century inhabitants of the city of JORVIK.
So, do you want to meet with the settlers living in the Viking city, marvel at goods from distant lands, or hear tales of warriors, gods and giants? The choice is yours!
DIG! Digital
Hear from one of our friendly archaeologists and enjoy a 45-minute session exploring the fascinating archaeology of a period of your choice.
Find out how our field archaeologists plan for a dig, see some exclusive finds from York's excavations and help to uncover the mysteries of some of the most significant sites in the UK.
These virtual outreaches are a great option for exploring STEM topics too.
Medieval Matters
In these social history sessions, you can discover life in a medieval city as recounted by our diligent citizens.
From the pageantry and politics of a royal visit, to the hustle and bustle of a prosperous townhouse, there's bound to be something to get your students in a medieval mindset.
Loan boxes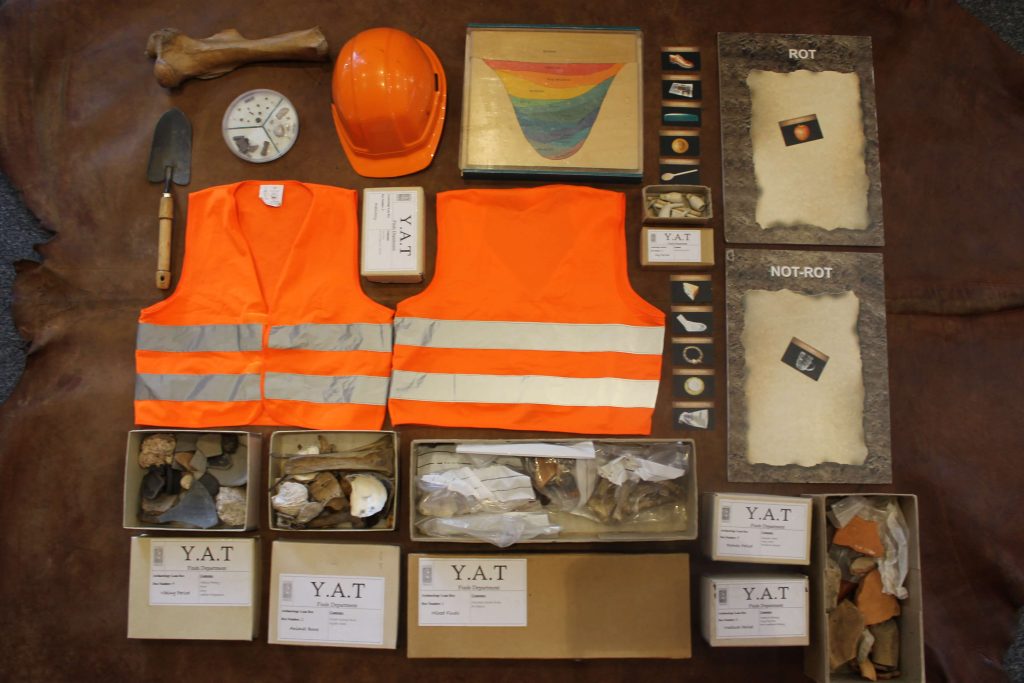 We have an exciting range of education loan boxes for you to borrow to bring a JORVIK Group learning experience into the classroom.
The boxes have been designed for Key Stage 2 learners but can be used by any age group; they can be adapted to suit the needs of SEND groups and home learners too.
Each box comes with a complete set of teachers' notes, giving background information or lesson ideas.
Viking Loan Box
Our Viking Loan Boxes contain real and replica artefacts that can be used to compliment a visit to JORVIK and to aid a study on the Vikings at school.
Time Period Loan Boxes
Our Tudor, Roman and Prehistory loan boxes contain a range of replica and original artefacts which give an insight into the daily life and vivid cultures of the time period.
Archaeology Loan Box
Our Archaeology loan box allows your pupils to explore the techniques used by an archaeologist when investigating finds, helping to illustrate chronology and providing plenty of opportunities for STEM learning within the context of historical enquiry.
Star Carr Loan Box
Designed with archaeologists from the Star Carr Archaeology Project, this box contains a variety of replica artefacts, including an example of the famous antler headdresses, to bring this exciting period to life!
We have so much on offer for schools, so if you would like to find out more please visit our website, call our Reservations team on 01904 615505 or email schools@yorkat.co.uk.