Ten decodable reading quest titles for younger readers with an accompanying workbook…
At a glance
Portfolio of highly structured and decodable phonic story books
Step-by-step progression for successful outcomes
Reading practice with a laser-sharp phonic focus
Synthetic phonics resources that sparkle
Top-quality, colourful books packed with excitement
---
Phonics knowledge is considered one of the key predictors of reading success. Getting the right resources is therefore crucial.
To comprehend what is being read, children must be able to decode words and join the parts quickly and accurately so they can interpret and analyse words while reading.
That is what Phonic Books is all about.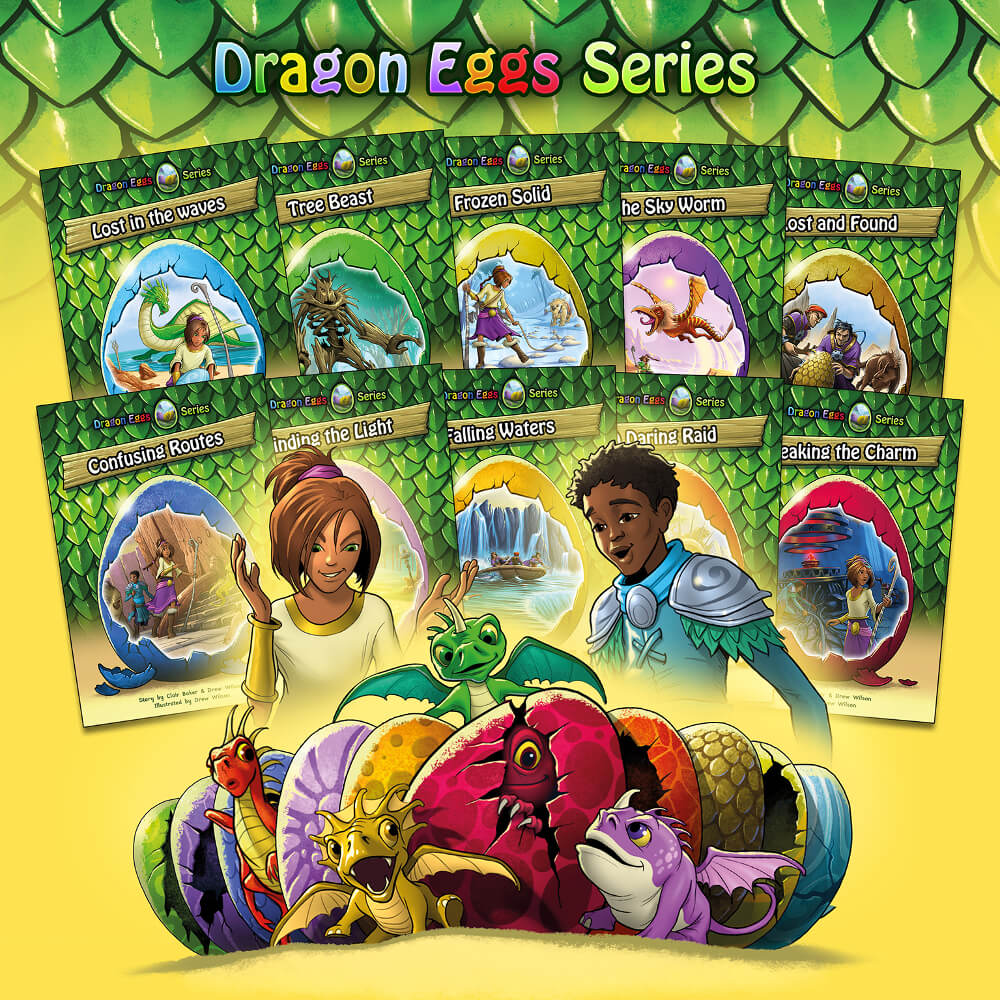 This new Dragon Eggs collection of books introduces words and word structures in a carefully planned scope and sequence to support reading accuracy, speed and expression. A common criticism of decodable books is that their inherent language constraints make them boring and stilted.
Well, Phonic Books certainly aren't; these are exciting, adventurous and multi-dimensional.
Constructing meaning from written language requires making a connection to oral language and must be connected to an individual's phonological memory.
One of the most powerful ways to make this connection is through stories, explicit instruction on learning to read and relentless practice – this is where Phonic Books excels.
The series is a daring decodable reading quest that breathes quality throughout. This delightful new collection of ten books is one splash of colour after another, with outstanding artwork that will turn children's heads.
With appealing characters and a really reader-friendly layout, these books are ones that pupils won't want to let go of.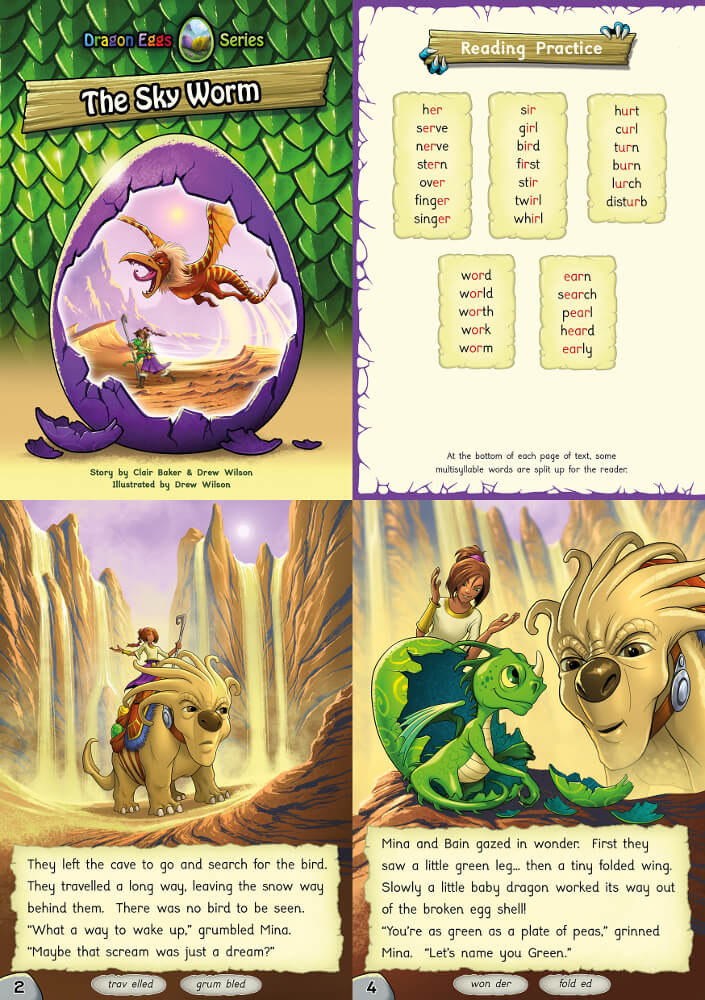 The back of the books feature a clearly flagged target phoneme alongside a brief description of the story. Inside there is a page showing the words that make up the specific reading practice, chapter contents and a vocabulary page explaining some of the story words.
Within each chapter there are also some multi-syllable words that are helpfully split up for readers.
The story chapters are short and sweet, making them ideal for keeping children's attention. What I like most is that these books expose pupils to highly consistent and prolific patterns in the text.
They get practice with letter-sound correspondences that they can apply to other texts. These books are the perfect partner for helping children to segment individual sounds in words and show how these sounds are represented by letters and how to blend the sounds/letters into words.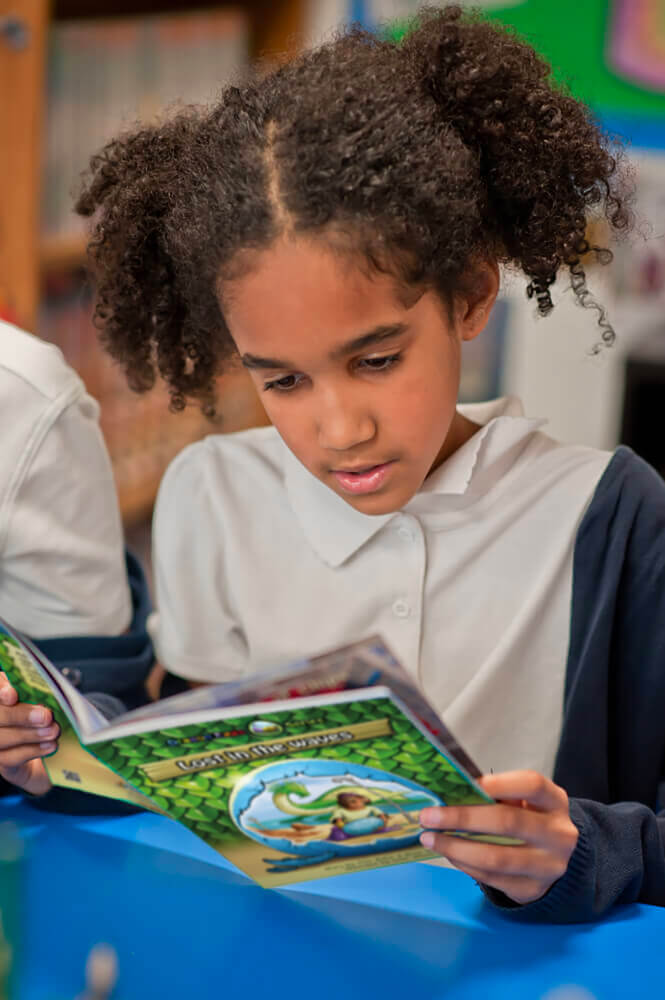 The books also make sense as mini stories and build knowledge. You can have rich conversations about the chapters, asking comprehension questions to demonstrate that reading is about meaning.
To support this series is a wonderful workbook containing a wide range of reading, spelling and comprehension activities and games linked to the stories. The Dragon Eggs series clearly has the potential to narrow the gap in reading achievement.
---
Verdict
Purposeful and playful phonics for explicit and systematic instruction
Builds automaticity in bottom-up skills so that words fly off the page
Improves decoding, word reading, comprehension, reading stamina and spelling
Equips children with reading strategies
Helps develop reading fluency and comprehension in tandem
Upgrade if…
You want a fast-track decodable approach to teaching reading fluency and encouraging reading independence.
Dragon Eggs series, £39; workbook, £25. For more information call 01666 822 543 or visit phonicbooks.co.uk.
Reviewed by John Dabell