Explore the amazing human body in this free online festival taking place 9th-11th March 2022.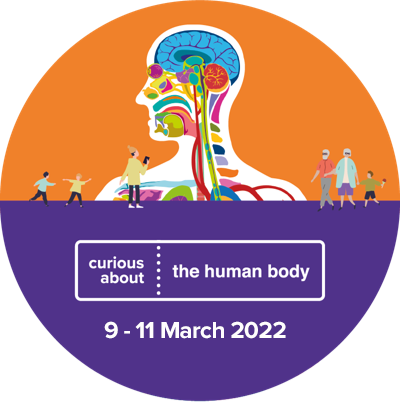 Curious About The Human Body offers school children the opportunity to engage with STEM professionals through live online talks, videos and additional digital resources.
The festival has been specially curated for pupils aged 7-14 and is broken into four content sections:
Body bits – which looks at how the different body systems work such as heart and lungs, the mind, and immune systems
Health tech – which explores innovative technology used to investigate and diagnose such as using virtual reality to understand diseases better, machine learning algorithms to prevent the next pandemic and using artificial intelligence to detect cancer
Who are you? – which explores DNA and how your genes make you who you are; discover how DNA can be extracted and how fingerprints can be collected and analysed
Keeping healthy – which looks at how to support a healthy body like eating the right food or what a day in the life of a nutritionist looks like
Pupils will have the chance to meet the experts live and ask questions in online interactive talks between 9th-11th March.
For example, Professor Judith Pratt from the University of Strathclyde will take pupils on a tour of the brain. Find out more about what happens to the human body in space with former TEDx speaker from King's College London, Lauren Church. There's also an opportunity to chat with former TeamGB Paralympic Games winner and Channel 4 sports commentator Paul Noble.
Some of the other contributors to Curious About The Human Body include British Lung Foundation, Siemens PLC, the European Institute of Innovation and Technology, the Industrial Centre for Artificial Intelligence Research in Digital Diagnostics, European Space Agency, University of Dundee Leverhulme Research for Forensic Science and the Life Science Centre in Newcastle, plus many more.
More names will be confirmed and added to the line-up nearer the time.
Curious About The Human Body has been organized by Glasgow Science Centre, which started the Curious About digital science festivals as a platform for school science engagement during the Covid-19 pandemic.
The festival website is live and allows you to browse the educational content available. You can also sign up to the mailing list to receive newsletter updates. Find out more here.