One of the UK's leading hand-dryer manufacturing firms is approaching hand hygiene and infection control education in a unique and engaging way, with the creation of a new set of superheroes that will be making their way into schools this January.
Oxford-based Airdri conjured up the Handwashing Heroes campaign to help to limit the spread of coronavirus and other infectious diseases within educational settings.
Its team of three super clean superheroes are here to promote good hand hygiene in a way that's less scary for young children.
The company has supplied free resources including sticker charts, stickers and posters featuring the Handwashing Heroes to every local school in Oxford and is making them available to the wider school community via its website.
Steve Whittall, Operations Director at the company explained more about the campaign:
"We wanted to teach primary school children the importance of washing and drying their hands thoroughly.
'In light of coronavirus, hand-hygiene and limiting the spread of viruses is something we all need to be aware of, but we also know that some children have understandably struggled with the idea of viruses and disease – it's a scary subject!
"We have created the Handwashing Heroes, a team of super-clean superheroes, here to help children continue to adopt good hand hygiene practises, in a fun and engaging way.
"Rather than focus on germs, viruses and the more frightening aspects of the topic, our heroes have arrived to encourage children to join their team and banish bacteria."
Any school outside of the Oxford area interested in receiving the free resources can contact superheroes@airdri.com or download and print their own from the company's website, here: airdri.com/kiddi-quad-schools-pack.
The campaign is part of Airdri's wider infection control strategy to support the country through the pandemic by promoting good hygiene, as well as spreading the word about sustainable hand-drying practises that could boost budgets too.
Steve continued: "Through creating high-quality hand-dryers over the past forty-plus years, we've picked up a certain amount of expertise on the topic of hand hygiene. We wanted to share that expertise and help to create good hand washing habits in the next generation, at a time when it has never been more important."
Hand hygiene facts:
The typical amount of time to dry your hands is for at least 15 seconds.
Hands need to be completely dry after washing because germs can be transferred much more easily to and from wet hands and surfaces.
Pre-pandemic, 40% of people didn't follow the correct hand-washing procedures.
Airdri's new child-friendly Kiddi Quad hand dryer

The Handwashing Heroes can also be found on the front of Airdri's new Kiddi Quad child friendly hand-driers – one of the most quiet, economical and environmentally friendly models to date.
The Kiddi Quad aims to help get young children used to the sight and sounds of hand-dryers in washrooms. With an extremely low sound output, it addresses the reasons behind the high numbers of children suffering with manussiccusphobia (fear of hand-dryers).
It comes in three different designs or alternatively the front of the dryer can be printed with any design, making it look less clinical and more fun and engaging for children.
Saving schools thousands
With extremely low running costs, Kiddi Quad could also save schools tens of thousands of pounds. Kiddi Quad costs just £84 per year to run, compared to £940 for a paper towel dispenser.
It's estimated that the average primary school could save over £8,000 a year by switching from paper towels to eco hand dryers, such as the Kiddi Quad.
Over a seven-year period this could add up to over £60,000 in savings. Positive news for schools with stretched budgets!
See the seven-year cost saving comparison below: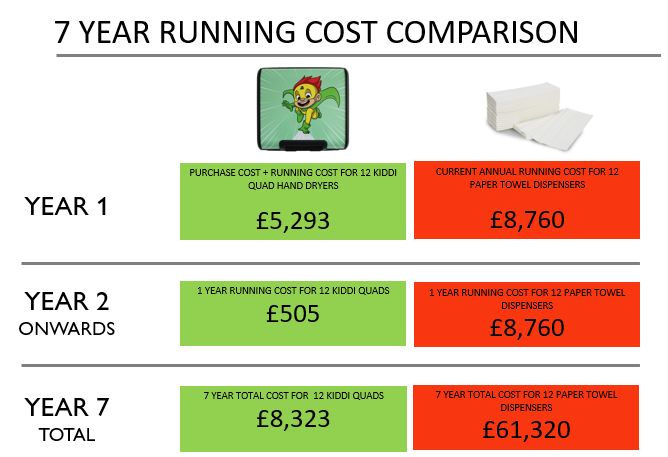 Right now, you can get 20% off the £299 retail price on all orders placed before 11 February 2022, just quote KIDDIQUAD20 when you get in touch.
To find out more about how Airdri can help with your school's washroom needs, contact 01865 882 330 or superheroes@airdri.com and the team will be happy to help.