Brake, the road safety charity, is excited to announce the return of the Kids Walk campaign, taking place on Wednesday 22nd June 2022 in schools across the UK to shout out for safe and healthy journeys for children.
Now in its 16th year, the charity has produced free road safety teaching resources to support schools taking part in the event – a short, supervised walk to promote important road safety messages within the local community.
Children aged 4-11 walk together in crocodile formation, while holding hands, in or around the school's neighbourhood to emphasise the importance of being able to walk without fear or threat from traffic.
Everyone registering for Brake's Kids Walk will receive guidance on how to take part as well as resources and activities to teach children vital road safety skills. Posters and banners help children call for the things they need to be able to walk safely in their communities, including footpaths, cycle paths, safe places to cross and slow and clean traffic.
Brake will also send a template manifesto document to help schools ask local or national decision-makers to prioritise safe and healthy journeys for children.
What's in your free action pack?
Lesson plans
Assemblies
Activities
Fundraising ideas
Template manifesto
Shaun the Sheep Kids Walk posters
Anyone is welcome to sign up here.
All children have the right to walk safely in their community.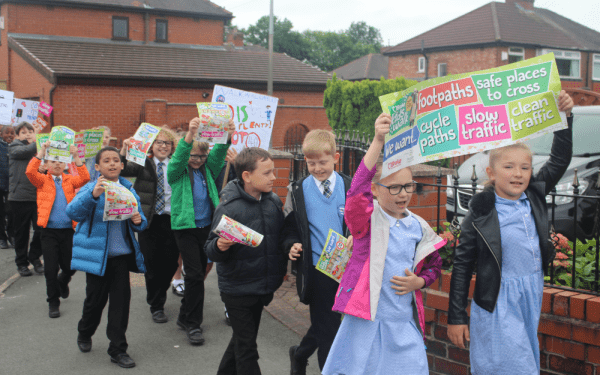 Brake's Kids Walk campaign aims to inspire and engage children about the dangers they face on our roads and the options they can make for journeys including walking and cycling.
It also raises awareness among parents, carers and all road users in the local community about the need to protect children on our roads..
If you've not taken part before, watch Brake's Kids Walk highlights film and encourage your school to take part.
Why is Brake's Kids Walk so important?
Children of all ages are at risk of being hurt or killed when walking near roads.
On average, six children are killed or seriously injured on roads in Britain every day – that's equivalent to a whole classroom of children every week. We must take action to reduce these figures.
Kids Walk teaches that for children to walk safely in their communities they need footpaths, cycle paths, safe places to cross, slow traffic and clean traffic.
Fundraise for Brake
The campaign is also a great opportunity for schools to fundraise for Brake. This helps the charity deliver its campaigns, produce new resources and support road crash victims.
From fun dress-up days to baking tasty treats, there are lots of ways to engage children with fundraising for road safety.
As well as supporting a worthy cause, fundraising helps children understand the concept of helping others and empathise with those less fortunate than themselves. For more inspiration visit brake.org.uk/fundraise.
Schools and carers are invited to register for free and get involved in our great annual event.
If you are taking part please share on social media using #KidsWalk – and don't forget to tag @brakecharity. Let's make it the best year ever together!
---
"Brake's Kids Walk is a great way for our school to raise awareness among the community of how we can create a safe environment to enable children to walk, while also fundraising to support a worthwhile cause."
Iris Smith, HLTA, Penshurst Primary School, Kent
---
Brake's Kids Walk is delivered by Brake, the road safety charity and sponsored by esure.