HUE Animation Studio provides children with special educational needs an engaging, gender neutral activity that promotes learning through play. The kit includes a colourful HUE HD camera together with stop motion animation software and a 64-page book full of tips and tricks.
Dr. Amanda Gummer, child development expert, discusses the limitless educational opportunities:
"Tech toys such as HUE Animation Studio provide an engaging way for children to develop a range of multi-sensory skills. Not only are they learning about the technical side of stop motion animation, but they are also able to explore their creative interests through storytelling or scriptwriting, scenery production, artistic direction, lighting and sound. This versatile product can help children create compelling school projects or have fun with friends making movies where each person takes on a role that suits their abilities and preferences. Our Balanced Play Pyramid helps parents understand the need to give children a healthy balance of play activities. It also helps remove some of the stigma around tech-based play. Products such as HUE Animation Studio promote the imaginative, social, child-led play that is so beneficial to children's development, and has an important place in a child's balanced diet of play." Dr. Amanda Gummer
Developing skills through stop motion animation
The multi-sensory nature of stop motion animation encourages children to express their knowledge, understanding and ideas both visually and audibly. It helps them develop a combination of social emotional skills including communication, collaboration and cooperation as well as fine motor, cognitive, and creative skills. It also gives them a basic introduction to many useful ICT techniques.
"HUE Animation is really fun and simple to use, with a cool camera, producing sharp images; great for all ages and abilities. We loved using this to create stop motion animations, as well as some nice drawn ones." Able Radio, a service for people with learning disabilities and autism
Children of all abilities have been shown to benefit from being able to express their emotions through the medium of stop motion animation and SEN teachers report positive experiences using the kit with their students:
"I have used HUE Animation software and cameras with my class of students who have autism and severe learning difficulties. They were able to create their own short movies with minimal support – the activity also encouraged them to work cooperatively, something that they can find very challenging. They were all very pleased with the results which we put onto our MLE to share with families." Sally Paveley, The Bridge School
In summary, HUE Animation Studio can be used to help children:
Use their imagination to create a story, write scripts and draw a storyboard template.
Create musical scores and sound effects. 
Develop artistic skills while creating models, props, backgrounds and scenery. 
Build ICT skills while creating special effects and editing videos.   
Express emotions through animated characters or abstract art. 
Improve hand-eye coordination and fine motor skills while animating puppets. 
This, in turn, leads to increased self-confidence, enhanced organisation skills and better communication.
How can stop motion animation help to deliver the curriculum?
Many special educational needs schools use animation as a method of teaching because it is an extremely visual medium that is perfect for getting across new concepts. Students can tell a story or explain a process via animation rather than by text. They become the authors and producers of their own knowledge, rather than passive recipients of classroom lessons.
Download four HUE activity guides, each containing everything you need to set up and manage a stop motion animation project.
Stop motion animation can be used for any subject and can be used to transform lessons into exciting, memorable experiences:
Mathematics can be brought to life using physical manipulatives allowing children to make concrete connections to abstract concepts. Here, Greta Leeby and her students show how HUE Animation Studio can be used to teach simple maths.
In science lessons students can illustrate and animate processes and life-cycles or capture time-lapse videos of plants growing, eggs hatching or chemical reactions.
In history lessons children can create animated re-enactments of historical events.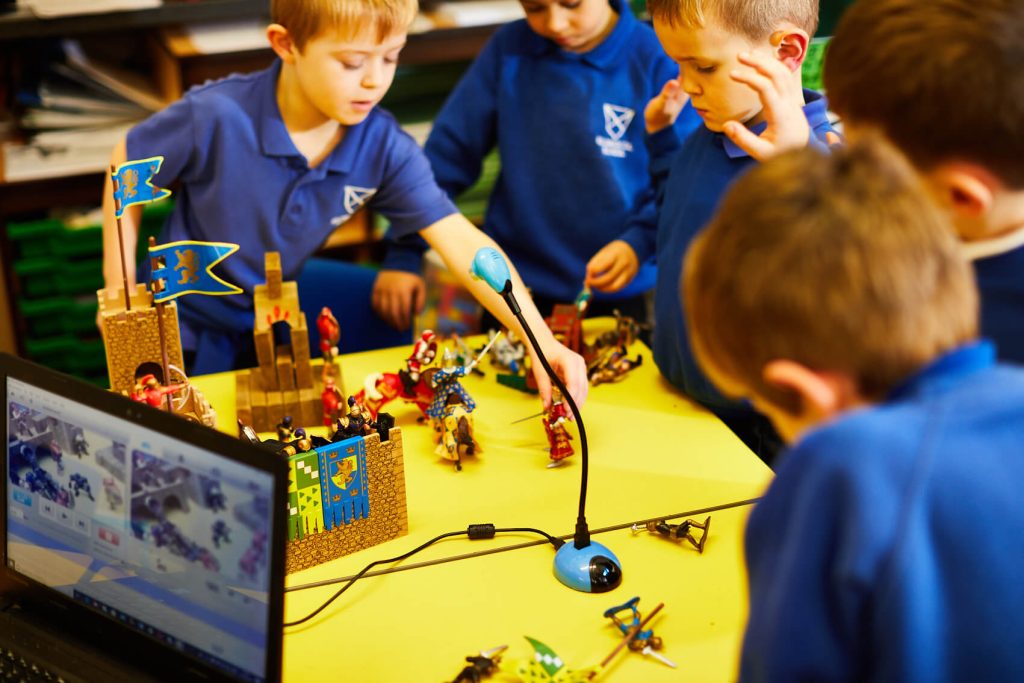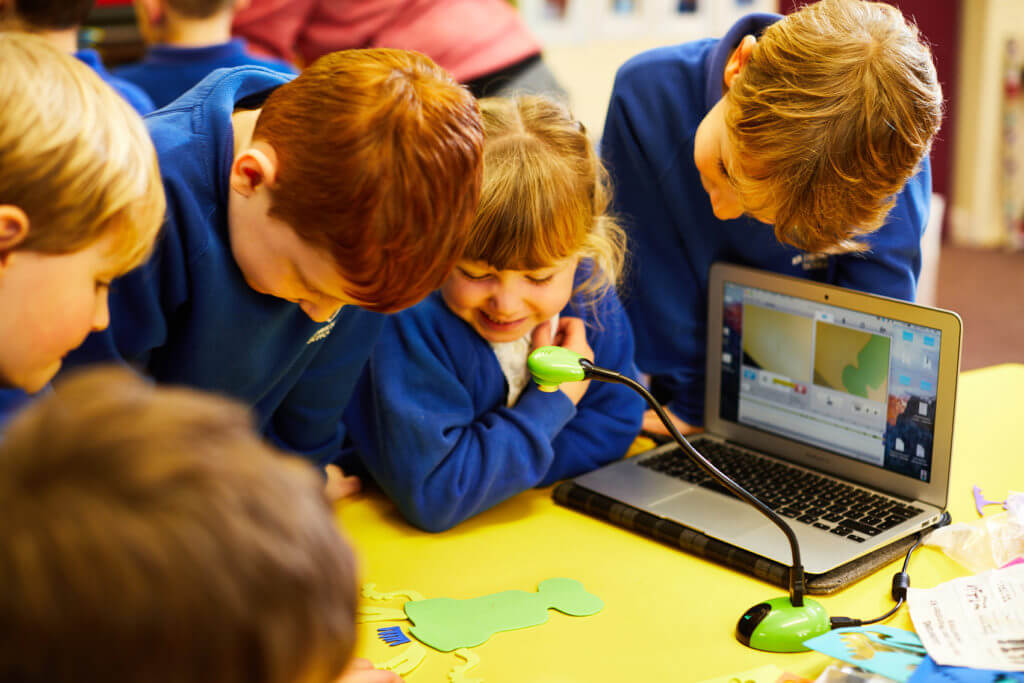 In English lessons digital storytelling can be a fun tool to teach plot structure and comprehension of written text. Using the HUE HD camera's built-in microphone, children can record themselves reading aloud and performing voice-overs directly into their animation projects. These processes allow them to develop their musical, writing and speech skills. Children can learn to express themselves through animation which can also help them engage with the world outside the classroom and communicate with other children, their parents and teachers.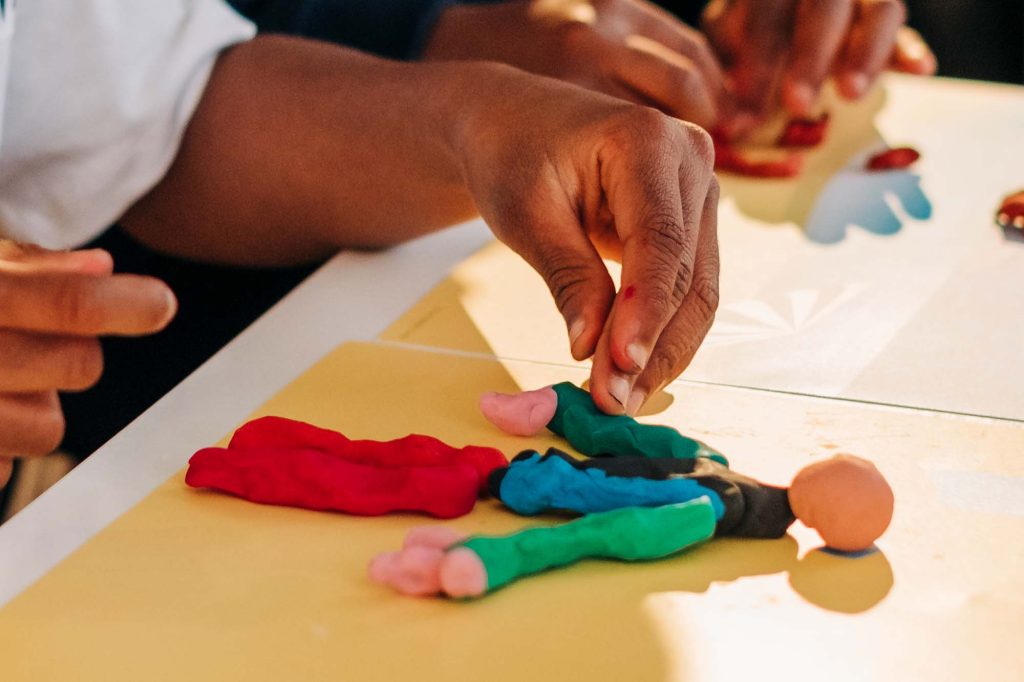 HUE Animation Studio is available for just £41.63 + VAT from the HUE shop.
For more information about HUE Animation Studio please visit huehd.com or send us a message via huehd.com/contact.