The Institution of Engineering and Technology shares four themed collections of educational activities to inspire learners across KS1 and KS2…
Coronation of King Charles III – fun, free celebration-themed activities
The Institution of Engineering and Technology (IET) is bringing the Coronation celebrations to your classroom through the wonder and excitement of STEM (science, technology, engineering and maths).
Our resources are packed full of free themed activities to keep children engaged in the run-up to the big day. Join in and find tea party ideas to inspire numeracy and design and technology skills with your 4–11 year olds.
The activities for both KS1 and KS2 are mapped to the curricula with lesson plans and presentations alongside the printables, so you'll have everything you need to hand. Why not get your whole school and PTA involved?
Certificates to congratulate your students and posters to brighten up your classroom
Are you looking to reward your students for their hard work? Did you know that we have a range of freely downloadable certificates to award achievements in maths, science and technology, or left blank for you to fill in another subject?
Or if you're interested in adding a bit of colour to your classroom, we have a number of posters available to print. Show children the amazing possibilities that a career in STEM has to offer with this free 100 jobs in STEM poster, or brighten up your room with this poster showcasing the real-world use of robotics.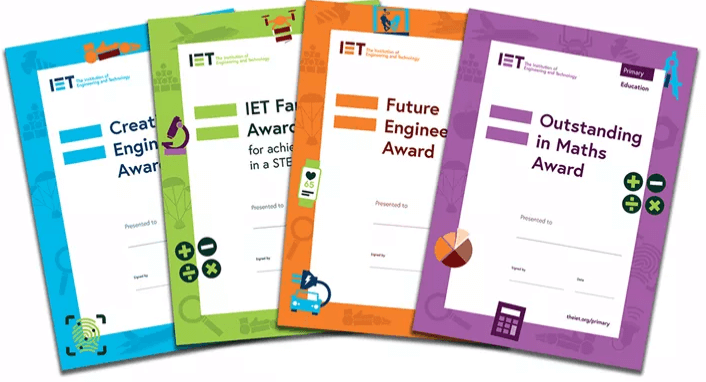 Maths resources – the Pi's the limit with these ideas for KS1 and KS2
Maths plays a key part in all of our lives so we have grouped some of our most popular maths resources here for you.
Don't forget that our resources are free and easy to use and customise within your lesson plans. Many are cross-curricular too, so will include an element of maths within them to help your students understand how it underpins so many of our actions every day.
Why not grab a 'pizza' the action to understand fractions through a pizza-cutter approach or solve multiplication problems with a fun bingo activity? Explore the free maths resources now!
If your pupils try any of our activities, we'd love to see your final creations or ideas, so please share your pictures with our social media channels, tagging @IETeducation. We can't wait to see them!