Minute of Listening is a free online music resource for EYFS, KS1 and KS2 children, providing a minute of creative and curious listening every day.
Our carefully curated collections of 60-second recordings introduce children to a range of music and sounds from Björk to Beethoven, folk music to field recordings, accompanied by bespoke lesson plans and teaching resources.

Minute of Listening is completely free for all teachers and home educators throughout the coronavirus emergency, and it couldn't be easier to get started. Simply sign up for a free account, then start exploring our collections; no payment information whatsoever is needed.
Sign up for a free account and start exploring.
How does it work?
Minute of Listening has been devised to support the National Curriculum across a number of subject areas, inspiring teachers at all levels to with new ways to engage their class in reflective listening and creative thinking.
You can start regular listening with a different minute every day or browse at your own leisure, you can explore our sounds by collection, by curriculum area and even by mood. Every sound has follow-up questions to encourage children to discuss what they heard, thought and felt, and we also offer bespoke teaching resources, lesson plans for longer activities and ideas for cross-curricular work too.
Learn more about how it works.
Want to give it a try first?
Looking for an engaging, fun way to see if Minute of Listening is right for you or your class?
Join us for our lunchtime Zoom session in March for an hour of fun, interactive listening and music-making, as we celebrate some of the sounds in our new Classical Music of South Asia collection with their creators.
Whether you're teaching students in a classroom or learning from home, these sessions are guaranteed to expand musical horizons for EYFS, KS1 and KS2 pupils alike (as well as their teachers!)
In our first session on March 2nd, we will be joined by the collection's curator and resident connoisseur of South Asian classical music Sasha Patel, as well as guest artist BC Manjunath.
The second session on 3 March features two more composers who contributed to the collection; Supriya Nagarajan and Duncan Chapman.
In the third and final session on 5 March, we'll explore the musical possibilities of the tabla with our patron Kuljit Bhamra (MBE).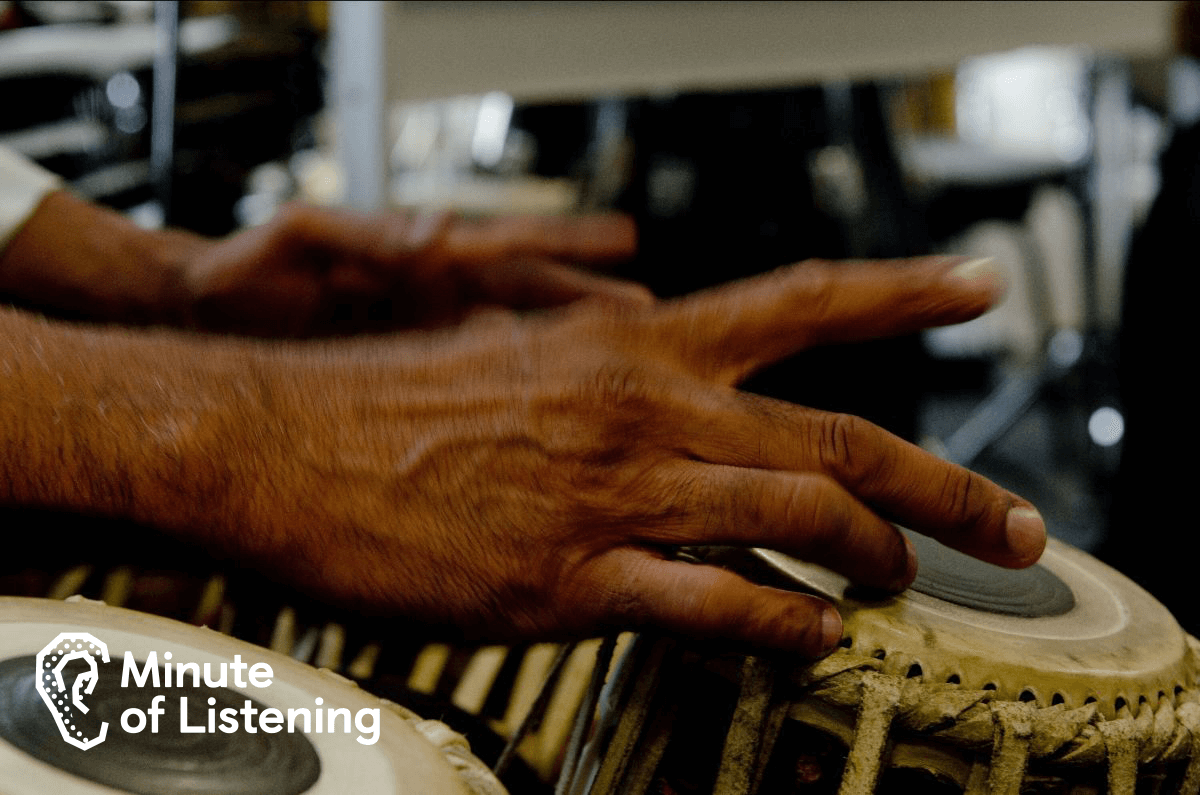 Expect to listen to and creatively engage with classical sounds and their more contemporary interpretations, as well as have a lot of fun along the way!
If you'd like to attend, simply sign up for a session of your choice below.
Learn more about Minute of Listening Live.
Exciting new sounds and music to explore every day
"Why not join a sitar lesson in Jaipur? Or meander into the beautiful temple city of Chennai?"
Supriya Nagarajan
Jump on a journey to expand your musical imagination with sounds that have travelled across time and space in totally new and unexpected ways.
From contemporary field recordings to vocalised rhythms and melodies performed at sunset, get ready to be surprised and entertained whilst learning a lot about all of the richest musical heritages in this world.
Alongside our main four collections, we regularly update Minute of Listening with specially curated sets of sounds throughout the year, including our International Women's Day, Back to School and Black Musical Histories minutes.
This month, we're thrilled to share our brand new 30-minute collection of classical music from India, Pakistan, Afghanistan and beyond! Paying equal attention to more established as well as lesser-known examples, this collection offers a fresh and progressive take on classical music from South Asia.
To start listening to all of this and more, simply sign up for a free account or log in, then you can explore our Classical Music of South Asia collection here!